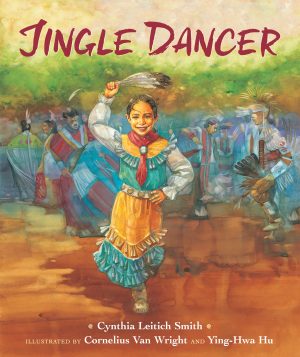 JINGLE DANCER by Cynthia Leitich Smith, illustrated by Cornelius Van Wright and Ying-Hwa Hu (HarperCollins, 2000)(Heartdrum, 2021). Ages 4-up.
Jenna, a contemporary Muscogee (Creek) girl in Oklahoma, wants to honor a family tradition by jingle dancing at the next powwow. But where will she find enough jingles for her dress?
A warm family story, beautifully evoked in Cornelius Van Wright and Ying-Hwa Hu's watercolor art.
The paperback edition features new cover typography, updated text and ancillary materials, including a new author's note. Published in partnership with We Need Diverse Books.
Awards and Honors
2020 Teaching for Change: Social Justice Books Selection
Reading Is Fundamental 2011 Multicultural Books List
Notable Children's Trade Book in the Field of Social Studies and a Selector's Choice for 2001
2001 Texas Library Association 2 x 2 Reading List (two through second grade)
Finalist, Oklahoma Book Award (children's/YA division)
Runner-up, the Western Writers Association Storyteller Award
2001 Cooperative Children's Book Center Choice
"Debuts That Deliver" (Book Magazine)
Editor's Choice, Library Talk
Read Across Texas Bibliography (Texas State Library and Archives Commission)
"Best Multicultural Children's Books for Early Childhood Educators" (Montessori Life)
Suggested Title, Recommended Native Literature for Youth Reading Circles from American Experience: "We Shall Remain," PBS, April 2009
Recommended Title, GREAT BOOKS FOR GIRLS by Kathleen Odean (Ballantine, 2002)
Listed Title, Talk Story: sharing stories, sharing culture: a joint project of the American Indian Library Association and the Asian/Pacific American Librarians Association
Featured Title, Native American Children's Literature Reading List (First Nations Development Institute)
Read In Color Recommended Reading List (Little Free Library)
Order JINGLE DANCER by Cynthia Leitich Smith.
Depending on the title, Cynthia's books may be found from Native bookstores like Birchbark Books and Native Arts and Red Planet Books and Comics, her local independent BookPeople in Austin, other terrific Texas bookstores like Blue Willow Bookshop and Brazos Bookstore, retail sites supporting indie bookstores like BookShop (Affiliate), IndieBound and Libro.fm (audio books), brick-and-mortar chains like Barnes & Noble and Books-A-Million, and online retailer Amazon.com (Author Central).
Reviews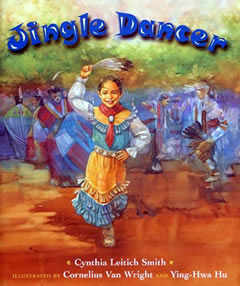 "…a boon for teachers frustrated by the dearth of Native studies materials." — Indian Country Today
"The way Jenna gathers her jingles (borrowing enough to make a row, but not so many that the lender's dress will 'lose its voice'), and her promise to dance for the women who cannot dance for themselves illustrate the importance of family and community ties." — Booklist
"Watercolor paintings in bright, warm tones fill each page. In scenes where she is dancing, backgrounds of blurred figures effectively represent both the large audience and the many generations whose tradition the gathering honors. Seeing Jenna as both a modern girl in the suburban homes of her intertribal community and as one of many traditionally costumed participants at the powwow will give some readers a new view of a contemporary Native American way of life."  — School Library Journal
"…a treasure, one that I love to share with friends, colleagues, students, and others who look for the best children's books about American Indians." — American Indians in Children's Literature
"The illustrations gracefully complement Smith's heartening portrait of a harmonious meshing of old and new." — The Reading Teacher
"Engaging colors and flowing words make this book a joy to read over and over." — ALA/OLOS Subcommittee for Library Services to American Indian People/American Indian Library Association (2007)
"The story, set in the present day, dispels the idea that Native people no longer exist. It also demonstrates that Native ways of being are part of the lives of Native children, families, and their nations, today." — First Nations Development Institute (2016)

April 2000 | 9780688162412; 068816241X| HarperCollins | Hardcover | PB | 32 Pages | Ages 4-up
February 2021 | 9780063018112 | Heartdrum | Paperback