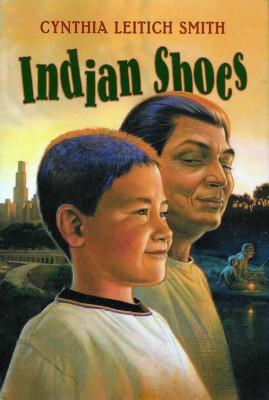 INDIAN SHOES by Cynthia Leitich Smith, cover art by Sharon Irla (Cherokee), interior art by MaryBeth Timothy (Cherokee)(Heartdrum, 2021). Hardcover edition features cover and interior art by Jim Madsen (HarperCollins, 2002).
What do Indian shoes look like, anyway?
Like beautiful beaded moccasins…or hightops with bright orange shoelaces?
Ray Halfmoon prefers hightops, but he gladly trades them for a nice pair of moccasins for his Grampa. After all, it's Grampa Halfmoon who's always there to help Ray get in and out of scrapes — like the time they are forced to get creative after a homemade haircut makes Ray's head look like a lawn-mowing accident.
This collection of interrelated stories is heartwarming and laugh-out-loud funny. Cynthia Leitich Smith writes with wit and candor about what it's like to grow up as a Seminole-Cherokee boy who is just as happy pounding the pavement in windy Chicago as rowing on a lake in rural Oklahoma.
The paperback edition features a new cover, new interior illustrations, updated text and ancillary materials, including a new author's note.
Order INDIAN SHOES by Cynthia Leitich Smith. Purchase a hardcover edition from Birchbark Books, a Native-owned bookstore in Minneapolis. Purchase a hardcover edition from Red Planet Books & Comics, a Native-owned bookstore in Albuquerque. Purchase a hardcover, paperback or library binding edition from BookPeople, an independent bookstore in Austin. Purchase a hardcover, paperback or Nook edition from Barnes & Noble. Purchase a hardcover, paperback or Kindle edition from Amazon.
Ray and Grampa Halfmoon also appear in "Between the Lines" by Cynthia Leitich Smith in ANCESTOR APPROVED: INTERTRIBAL STORIES FOR KIDS (Heartdrum, 2021).
NCSS Notable Trade Book in the Field of Social Studies
Finalist, Texas Institute of Letters
CCBC Choice
NCSA Children's Crown Award List
NEA Native American Book List
2003 Bank Street Best Books List
Saratoga Reads All-City Read
Featured Title, Texas Book Festival
Featured Intermediate Title, "Read On, Wisconsin," March 2004
Reviews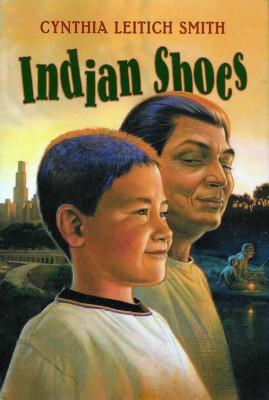 "So permeated with affection that many readers will just bask in the warmth and envy Ray his cool Grampa." — The Bulletin of the Center of Children's Books
"An excellent collection of interrelated short stories will appeal to newly independent young readers ready to tackle one or more of these accessible stories." — Cooperative Children's Book Center
"A very pleasing first-chapter book from its funny and tender opening salvo to its heartwarming closer. An excellent choice for younger readers." — Kirkus Reviews
"These stories are goofy, quirky, and laugh-out-loud funny, and poignant, sometimes all together. INDIAN SHOES is about belonging to family and community, about helping neighbors, about learning life's lessons, and about sometimes feeling different but most times knowing who you are in the world."  — Multicultural Review
"The stories' strength lies in their powerful, poignant evocation of a cross-generational bond and in the description of the simple pleasures two charming characters enjoy."  — Booklist
"Images of sitting around the kitchen table with the smell of bacon frying are almost palpable, and the relationship between these two [Ray and Grampa] is as heartwarming to see as an old family photo album."   — BookPage
"[INDIAN] SHOES is a good for any elementary-reluctant reader, and a necessity for indigenous children everywhere." — School Library Journal
"This book ably springs Ray Halfmoon free from the paint-and-feathers representations of  American Indians." — The Chicago Tribune
"These loosely connected short stories are well-suited for readers (ages 7-10) who might be overwhelmed by a single novel-length story." — St. Louis Post Dispatch
Author Insights
"In writing INDIAN SHOES, I was mindful of the love between Ray and his grandfather. It's true that books about urban Indians are rare, even though they make up a significant percentage of the population. But the Chicago-specific setting is no accident. I lived in the South Loop and Streeterville neighborhoods for a total of three years. There's a vitality to the City of Big Shoulders, the sense that anything is possible. I believe Ray and Grandpa carry that same can-do attitude in facing their own challenges and living their dreams."
Illustrator Insights
From interior artist MaryBeth Timothy (Cherokee):
As I was reading about the wonderful interactions between Ray and his Grampa, I could see the characters coming to life in my mind. With each chapter, they became more and more real to me. By the end of the book, I felt like I knew Ray, Grampa, Aunt Wilhelmina and Uncle Leonard like they were part of my family. The wonderful stories made it easy to imagine each scene. I hope that my illustrations help bring the book to life for you as well.
The chapter "Indian Shoes" reminded me of when I was a child and desperately wanted to buy something special for my mother. I remember dumping out all of my money, and everything else that was mixed in, onto the counter. So the money jar was a reflection of what I thought a boy of Ray's age might have saved along with his money (the toy army man, sticks of gum, marbles and a button).
In the Cubs game image, I wanted to show the whole stadium, seats and background to get the feel of the busy environment and what Ray and Grampa would have seen.
When creating the image of Grampa trying on the moccasins (with his old boots in the background), I could just feel Ray as he watched with excitement and pride. I remember giving my mother her gift and my heart just about to burst with happiness when I saw how much she loved it.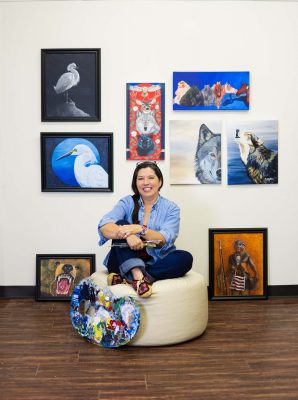 The chapter "Don't Forget the Pants", was funny and a bit scary at the same time. I could just imagine poor Ray panicking and embarrassed that he had no pants with his suit and the wedding was about to begin! And the sweet little flower girl, so nervous and about to cry, having to stand in front of all those people! I have felt that before. And it made me want to run and hide. I wanted to show all those feelings, through her eyes.
In the chapter, "Guess Who's Coming to Dinner?", Ray and Grampa had their hands full with all of the neighbors' pets! I wanted to paint a scene that showed how each of the pets (and even Ray) were nice, comfy and warm there in front of the fireplace. And it's always nicer to warm up with hot cocoa and roasted marshmallows!
The image of Ray painting a picture of Grampa's moccasin in the chapter, "The Accident" was also reminiscent for me. There were many times that I tried to paint something and it didn't turn out right, or when it did, one of my sisters would spill something on it, or it would get torn. I loved the idea of Ray's little ferret watching over his shoulder. I wanted to show Ray holding up the painting, looking at it, not quite sure how he felt about it at that moment. Maybe he was asking the ferret what his opinion was?
In "Team Colors," I wanted to show the array of emotions that the characters went through. First Ray gets the "bowl cut", which no kid ever wants! Grampa is obviously trying hard to fix his mistake. Then when Ray finally takes off his hat in the dugout, Wow! What a surprise for his teammates!
The images I created for the chapter "Night Fishing" have to be my favorites. When I read about Aunt Wilhemina and her cooking, it took me back to my childhood, going to my Gramma's house, which was also in Oklahoma! I could picture the old, country style kitchen, her cast iron skillet with bacon sizzling. Then watching as she cut up potatoes and onions to fry. Yum! To create that "Oklahoma country" feeling, I added the window looking out at the yard and tree swing. Also, the little things on the windowsill, like the tomatoes waiting to ripen are just bits from my childhood memories.
The tree house scene was a fun one. When I read that part of the chapter, I knew I had to add the tree house! I mean, what kid doesn't want a tree house?! It was something that I never was able to have, so I created one that I think I would've enjoyed as a kid. I imagined Uncle Leonard would have done a great job building it, so it would last a long time!
The night fishing scene was a bit sentimental. It made me think of my Dad. We used to always go fishing when I was a kid. I miss that. It was also the last illustration in the book, so it made me a bit sad that the story was over. I like to imagine that Ray and Grampa had many more fishing trips to Oklahoma. And I think they made it a tradition to fish in the same spot, at the same time of day and of course with Grampa wearing his lucky hat!
April 2002 | 9780060295318; 0060295317 | HarperCollins | Hardcover | Chapter Book/Short Stories/Fiction | Interior Art | 80 Pages | Ages 7-up
February 2021 | 9780064421485 | Heartdrum | Paperback
February 2021 | 9780063049871 | Heartdrum | Ebook