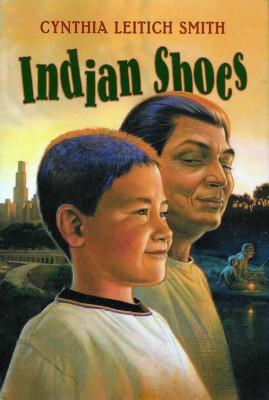 INDIAN SHOES by Cynthia Leitich Smith, illustrated by Jim Madsen (HarperCollins, 2002).
What do Indian shoes look like, anyway?
Like beautiful beaded moccasins…or hightops with bright orange shoelaces?
Ray Halfmoon prefers hightops, but he gladly trades them for a nice pair of moccasins for his Grampa. After all, it's Grampa Halfmoon who's always there to help Ray get in and out of scrapes — like the time they are forced to get creative after a homemade haircut makes Ray's head look like a lawn-mowing accident.
This collection of interrelated stories is heartwarming and laugh-out-loud funny. Cynthia Leitich Smith writes with wit and candor about what it's like to grow up as a Seminole-Cherokee boy who is just as happy pounding the pavement in windy Chicago as rowing on a lake in rural Oklahoma.
Order INDIAN SHOES by Cynthia Leitich Smith.
NCSS Notable Trade Book in the Field of Social Studies;
Finalist, Texas Institute of Letters;
CCBC Choice;
NCSA Children's Crown Award List;
NEA Native American Book List;
2003 Bank Street Best Books List;
Saratoga Reads All-City Read;
Featured Title, Texas Book Festival;
Featured Intermediate Title, "Read On, Wisconsin," March 2004.
Reviews
"So permeated with affection that many readers will just bask in the warmth and envy Ray his cool Grampa." — The Bulletin of the Center of Children's Books
"An excellent collection of interrelated short stories will appeal to newly independent young readers ready to tackle one or more of these accessible stories." — Cooperative Children's Book Center
"A very pleasing first-chapter book from its funny and tender opening salvo to its heartwarming closer. An excellent choice for younger readers." — Kirkus Reviews
"These stories are goofy, quirky, and laugh-out-loud funny, and poignant, sometimes all together. INDIAN SHOES is about belonging to family and community, about helping neighbors, about learning life's lessons, and about sometimes feeling different but most times knowing who you are in the world."  — Multicultural Review
"The stories' strength lies in their powerful, poignant evocation of a cross-generational bond and in the description of the simple pleasures two charming characters enjoy."  — Booklist
"Images of sitting around the kitchen table with the smell of bacon frying are almost palpable, and the relationship between these two [Ray and Grampa] is as heartwarming to see as an old family photo album."   — BookPage
"[INDIAN] SHOES is a good for any elementary-reluctant reader, and a necessity for indigenous children everywhere." — School Library Journal
"This book ably springs Ray Halfmoon free from the paint-and-feathers representations of  American Indians." — The Chicago Tribune
"These loosely connected short stories are well-suited for readers (ages 7-10) who might be overwhelmed by a single novel-length story." — St. Louis Post Dispatch
Author Insights
"In writing INDIAN SHOES, I was mindful of the love between Ray and his grandfather. It's true that books about urban Indians are rare, even though they make up a significant percentage of the population. But the Chicago-specific setting is no accident. I lived in the South Loop and Streeterville neighborhoods for a total of three years. There's a vitality to the City of Big Shoulders, the sense that anything is possible. I believe Ray and Grandpa carry that same can-do attitude in facing their own challenges and living their dreams."
April 2002 | 9780060295318; 0060295317 | HarperCollins | Hardcover | Chapter Book/Short Stories/Fiction | Interior Art | 80 Pages | Ages 7-up