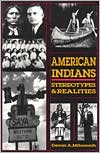 AMERICAN INDIANS: STEREOTYPES & REALITIES by Devon A. Mihesuah (Clarity Press, 1997). Valuable overview—deconstructs and re-educates, especially recommended to teachers, but also a good fit for young adults. Ages 12-up.
AMERICAN INDIAN STEREOTYPES IN THE WORLD OF CHILDREN: A READER AND BIBLIOGRAPHY by Arlene Hirschfelder, Paulette Fairbanks Molin (Minnesota Chippewa Tribe from the White Earth Reservation), and Yvonne Wakim (Cherokee) (Scarecrow, 1999). Notably Chapter 5 is Reading is Fundamental for Truths or Stereotypes. Look for the latest edition.
A BROKEN FLUTE: THE NATIVE EXPERIENCE IN BOOKS FOR CHILDREN by Doris Seale and Beverly Slapin (AltaMira Press, 2005). "[A] book of reviews, critically evaluating childrens books about Native Americans, along with stories, essays, and poems from its contributors. This book will be a valuable resource for community and educational organizations, and a key reference for public and school libraries, and Native American collections."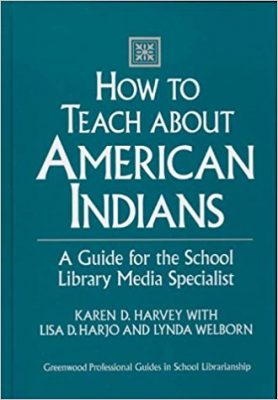 HOW TO TEACH ABOUT AMERICAN INDIANS: A GUIDE FOR THE SCHOOL LIBRARY MEDIA SPECIALIST by Karen D. Harvey, Lisa D. Harjo (Choctaw) and Lynda Welborn (Greenwood, 1995). Recommended to both school librarians and teachers.
A KID'S GUIDE TO NATIVE AMERICAN HISTORY: MORE THAN 50 ACTIVITIES by Yvonne Wakim Dennis (Cherokee) and Arlene Hirschfelder (Chicago Review Press, 2009). From the promotional copy: "Hands-on activities, games, and crafts introduce children to the diversity of Native American cultures and teach them about the people, experiences, and events that have helped shape America, past and present."
NATIVE AMERICA IN THE TWENTIETH CENTURY: AN ENCYCLOPEDIA edited by Mary B. Davis with assistant editors Joan Berman, Mary E. Graham, and Lisa A. Mitten (Mohawk) (Garland, 1994). A vast collection of articles, forty percent of which are by Native people, address a variety of topics such as BIA schools, art, health, individual Native Nations, supplemented by bibliographies, maps, and photographs.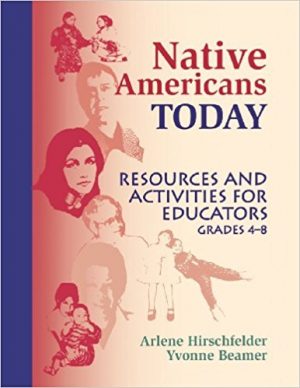 NATIVE AMERICANS TODAY: RESOURCES AND ACTIVITIES FOR EDUCATORS GRADES 4-8 by Arlene Hirschfelder and Yvonne Beamer Wakim (Cherokee) (Libraries Unlimited, 2000). Wakim has worked in Indian education and community services for more than 25 years. Hirschfelder has written numerous non-fiction books on Native people and has worked for the Association on American Indian Affairs for more than 20 years.
RED ON RED: NATIVE AMERICAN LITERARY SEPARATISM by Craig S. Wormack (Muscogee (Creek)-Cherokee). A fascinating examination of the way in which Native literature should be evaluated–on its own terms with the understanding that it is not a branch on the tree of mainstream literature but rather a tree unto itself (to paraphrase the author). Unfortunately, there wasn't space for the author to consider Native children's literature, which has its own (younger) primary audience and criteria, but we recommend the title with that caveat.
THROUGH INDIAN EYES: THE NATIVE EXPERIENCE IN BOOKS FOR CHILDREN edited by Beverly Slapin and Doris Seale (Santee Cree) (American Indian Studies Center, 1998). This book is worth buying for the poems, art, and essays alone. By reading all of the reviews, one can extrapolate an approach to employ in evaluating other books and in considering this area of children's literature as a whole.Look for the fourth edition. ISBN 0-935626-46-8. It may be ordered from Oyate or from the American Indian Studies Center, UCLA, 3220 Campbell Hall, Los Angeles, CA 90095-1548; (310) 206-7508; (310) 206-7060 fax.
Education & Library Science
American Indian Library Association: an affiliate of the American Library Association. PEEK: "a membership action group that addresses the library-related needs of American Indians and Alaska Natives. Members are individuals and institutions interested in the development of programs to improve Indian library, cultural, and informational services in school, public, and research libraries on reservations. AILA is also committed to disseminating information about Indian cultures, languages, values, and information needs to the library community."
The Cradleboard Teaching Project: provides Native curriculum to tribal and mainstream schools; founded by Buffy Sainte-Marie (Cree).
Journal of American Indian Education: "The Journal of American Indian Education is a peer reviewed scholarly journal, which publishes papers specifically related to the education of American Indians and Alaska Natives." It is published three times annually by the Center for Indian Education at Arizona State University's College of Education. Full text of past volumes is online, includes search engine and subscription information.
Native American Education Links from Dr. Jon Allan Reyhner at Northern Arizona University.
Resources for Tribal Libraries by Elaine Cubbins at the University of Arizona.
Literary Evaluation
American Indian Youth Literature Award from the American Indian Library Association. PEEK: "presented every two years. The awards were established as a way to identify and honor the very best writing and illustrations by and about American Indians. Books selected to receive the award will present American Indians in the fullness of their humanity in the present and past contexts."
Columbus Day & Teaching Critical Reading Skills by Debbie Reese from American Indians in Children's Literature. PEEK: "Columbus did not 'discover' America. That's an easy error to spot. With that in mind…a critical literacy lesson that teachers can do to help their students develop the skills to read critically."
We Are Still Here? An Interview with Debbie Reese from NCTE. PEEK: "I wish that teachers would do all they could to push against that monolithic 'primitive' and 'uncivilized' depiction that is so pervasive and damaging to our youth, but all youth, too, who play and learn alongside our children."
Writing, Tonto, and the Wise-Crackling Minority SIdekick Who's First to Die by Cynthia Letiich Smith from Cynsations. PEEK: "characters have sensibilities of their own, sometimes in direct contradiction to ours. Of course they will have flaws and make mistakes. Some of them may be genuinely lousy individuals. (I have written Lucifer. I am not the devil.) But how we frame our characters' thoughts and behaviors, to varying degrees, still comes back to us."
Experts

American Indians in Children's Literature from Debbie Reese. PEEK: "provides critical perspectives and analysis of indigenous peoples in children's and young adult books, the school curriculum, popular culture, and society."
Critical Bibliography on North American Indians for K-12 from the Anthropology Outreach Office at the Smithsonian Institution.
Resources and Kid Lit About American Indians from School Library Journal. PEEK: "At a conference held at the University of Wisconsin's Cooperative Children's Book Center in the early 1990s, James Ransome was asked why he had not illustrated any books with American Indian characters. His response, in short, was something to the effect of, 'I haven't held their babies.'"
Media
American Indian Newspapers and Magazines: list of links to tribal newspapers, Indian Country Today, and the Native American Journalist's Association from The Seminole Tribe of Florida.
Native America Calling: The National Electric Talking Circle: a project of Koahnic Broadcast Corporation (think radio interviews, NPR).
Organizations
The American Indian College Fund: non-profit organization that raises scholarship, endowment, and operating monies for Native American tribal colleges.
Native American Rights Fund "Standing Firm for Justice": the premier legal advocacy organization.
Oyate: evaluates educational resources and fiction by and about Native people, leads workshops for teachers, and distributes excellent examples of such materials, making an effort to highlight Native authors and illustrators.
Returning The Gift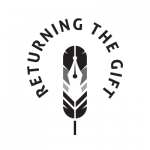 : "Founded in 1992, Returning the Gift Literary Festival (RTG) is a conference created by Indigenous writers specifically for Indigenous creatives after years of under-representation and isolation at other industry events. Since then, RTG conferences have been held all over the United States and Canada, included Indigenous artists and authors from all over the world, and honored the work of many amazing Indigenous creators."
Talk Story: Sharing Stories, Sharing Culture: a joint project of the American Indian Library Association and the Asian/Pacific American Librarians Association.
Wordcraft Circle of Native Writers and Storytellers: "to ensure the voices of Native and indigenous writers and storytellers — past, present, and future — are heard throughout the world."
Resources
American Indian Library Association's Children's and MG-YA Booklists.
2018 Summer Middle Grade & YA Book List by Naomi Bishop from the American Indian Library Association. CYN NOTE: Deeply honored to see HEARTS UNBROKEN on this list.
"A Different Drum: Native American Writing" by Cynthia Leitich Smith, "Field Notes," (The Horn Book Magazine, July 2002)(p.407). A discussion of the value of vulnerability of Native American writing styles in the mainstream market.
Four Native YA Authors on Their Message for Teens by Alia Jones from School Library Journal. CYN NOTE: Interview features Joseph Bruchac, Eric Gansworth, Dawn Quigley and Cynthia Leitich Smith. Article is free, but requires email registration to view.
Honoring Alaska's Indigenous Literature from Alaska Native Knowledge Network at the University of Alaska Fairbanks.
Indigenous #Kidlitwomen by Debbie Reese from American Indians in Children's Literature.
Interview: Lee Francis IV on Native Publishing, Bookstores & Indigenous Comic Con by Traci Sorell from Cynsations. PEEK: "There are great children's books and some young adult and then a whole bunch of adult lit but not anything that would help bridge the gap for those readers who might need more graphics. We also wanted, and still want, to work in changing the perceptions and representations of Native people by presenting stories of Native people as superheroes and unlocking the Indigenous imagination…."
Frequently Asked Questions about American Indians from the Native American Rights Fund.
Let's Indigenize Our Bookshelves and Fully Welcome Native Kids as Readers by Cynthia Leitich Smith from Nerdy Book Club. Peek: "I understood from a very young age that the Native part of myself didn't seem to belong in the world of readers. (Did we send that message to all Native kids? Do we still? At what cost to them and to their non-Indian friends…)."
Letter to an Emerging Indigenous Writer by Daniel Heath Justice from Lit Hub. PEEK: "You're part of a lineage, a tradition, a rich, vexed, complicated, troubled, and beautiful history of literary achievement. That can be a deep wellspring from which to draw strength. Please don't accept the idea, even from our own, that Indigenous writing is a contradiction in terms, that our writing is only a colonial construct. Our peoples have been communicating knowledge in various media and forms since time immemorial…"
"Mom, Look! It's George, and He's a TV Indian!" by Debbie Reese (Pueblo), September/October 1998, Horn Book (pgs. 636-643). See also "We are Still Here": An Interview with Debbie Reese from the National Council of Teachers of English (2016).
Native Knowledge 360° from the Smithsonian National Museum of the American Indian. PEEK: "…provides educational materials and teacher training that incorporate Native narratives, more comprehensive histories, and accurate information to enlighten and inform teaching and learning about Native America. NK360° challenges common assumptions about Native peoples—their cultures, their roles in United States and world history, and their contributions to the arts, sciences, and literature. NK360° offers a view that includes not only the past but also the richness and vibrancy of Native peoples and cultures today."
Native American YA Literature Panel, moderated by Elizabeth Bird, at The New York Public Library from The Narrative Breakdown. PEEK: "… authors Eric Gansworth and Joseph Bruchac and their editors, Cheryl Klein and Stacy Whitman, discuss the particular pleasures and challenges of writing, editing, and publishing Native American young adult literature."
Native American Spirituality in Children's Books by Debby Dahl Edwardson from Through the Tollbooth. Peek: "The question you, as a non-Native writer, should ask yourself is this: why don't Native writers put overt references to Native religion, spirituality and worship in their books? Take a minute to think about it. This is important."
Native Voices: Sharing Stories and Talking Back from We Need Diverse Books. PEEK: "I'm hopeful—in part because of voices like those I'm welcoming to this circle today, in part because I've seen Native and non-Indian children embrace contemporary Native characters and historical ones who're depicted as three-dimensional human beings." SEE ALSO Part 2.
Selective Bibliography and Guide for "I" is not for Indian: The Portrayal of Native Americans in Books for Young People: compiled by Naomi Caldwell-Wood and Lisa A. Mitten; published in conjunction with a program of the ALA/OLOS Subcommittee for Library Services to American Indian People/American Indian Library Association in 1991.
Techniques for Evaluating American Indian Web Sites by Elaine Cubbins at the University of Arizona.