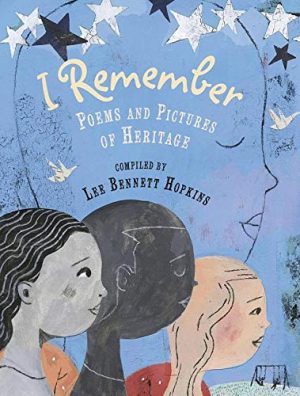 I REMEMBER: POEMS AND PICTURES OF HERITAGE, edited by Lee Bennett Hopkins (Lee & Low, 2019).
Diverse poets are paired with images by celebrated illustrators from similar backgrounds to pay homage to what is both unique and universal about growing up in the United States.
Featuring: "Amazing Auntie Ann" by Cynthia Leitich Smith.
Reviews
School Library Journal (starred): "Pairing the works of some of today's most important voices in children's poetry with illustrations by artists of equal talent makes this is a must-have for all elementary and middle grade collections."
Kirkus Reviews (starred): "…a collection of poems and illustrations sourced from a diverse pool of creators.Each double-page spread or multipage sequence captures a childhood memory, an artist paired with a poet welcoming readers into an expansive space of youth and memory."
Publishers Weekly (starred): "The corresponding artwork demonstrates a wonderful range of visual language and technique; there is truly something for everyone in these pages."
Booklist (starred): " A gorgeous must-have for all poetry units and an excellent collection for all libraries."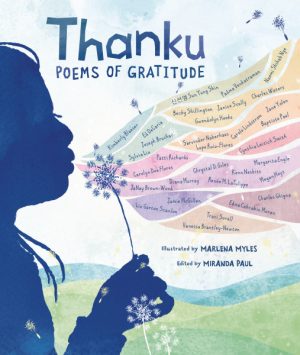 THANKU: POEMS OF GRATITUDE, edited by Miranda Paul, illustrated by Marlena Myles (Millbrook, 2019).
A fully illustrated, concept picture book celebrating gratitude and featuring numerous children's poets. 100% of author royalties are being donated to We Need Diverse Books.
Featuring: "Stories for Dinner" by Cynthia Leitich Smith.
Reviews
Kirkus Reviews: "The poets not only select a wide array of objects inspiring gratitude…but employ incredibly varied lyric forms…. Lovely lyric lessons in appreciating the ordinary."
Booklist: "Myles' full-color digital illustrations exhibit variety as well, and she is equally adept at creating panoramic vistas, playground close-ups, and inventive collages."
Publishers Weekly: "…contributor bios, easy-to-digest descriptions of poetic and literary devices used throughout, and a letter from Paul about 'the myths and half-truths' about Thanksgiving, and related misrepresentations of Native and First Nations people…a thoughtful resource for poetry students and teachers."
THE HERO NEXT DOOR, edited by Olugbemisola Rhuday-Perkovich (Random House, 2019).
An anthology about everyday kid heroes (without superpowers) who make the world a better place.
Featuring: "Girl's Best Friend" by Cynthia Leitich Smith.
Reviews
Kirkus Reviews (starred): "A stellar collection that, in celebrating heroes, helps readers find the universal in the specific."
Bulletin of the Center of Children's Books (starred): "…collection of thirteen impressively varied short stories highlights diversity both in the identities of its young protagonists as well as in its eclectic storytelling forms. …a consistently solid anthology that introduces and then celebrates the efficacy of short fiction as much as it does diverse voices."
School Library Journal: "Heroes with superhuman powers wear capes and save the world from destruction. That's not the kind of hero this book focuses on…. A great anthology with a message of spreading kindness and hope."
The Washington Post: "This warmhearted middle-grade collection celebrates not the 'larger-than-life icons' but 'the risk-takers, the friend-makers, the dreamers and doers' whose caring and courage help create a kinder world. . . . As with the two previous anthologies from We Need Diverse Books, this collection admirably succeeds in making available to all readers a wider and more representative range of American voices and protagonists."
THE HERO NEXT DOOR is featured in NEA's 2018-2019 #ReadAcrossAmerica calendar.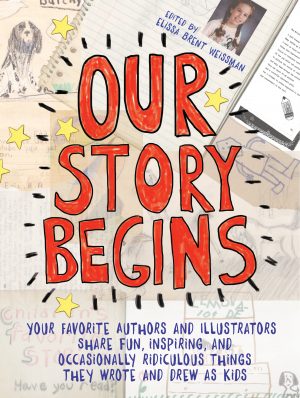 OUR STORY BEGINS: YOUR FAVORITE  AUTHORS AND ILLUSTRATORS SHARE FUN, INSPIRING, AND OCCASIONALLY RIDICULOUS THINGS THEY WROTE AND DREW AS KIDS, edited by Elissa Brent Weissman (Atheneum, 2017)
An anthology collection of quirky, smart, and vulnerable childhood works by some of today's foremost children's authors and illustrators.
Featuring: "Dreams to Write" by Cynthia Leitich Smith.
Amazon.com's Best Children's Nonfiction Books of 2017
Reviews
School Library Journal: "An authentic, generous, and inspiring selection for tweens who wonder where their doodling or journaling might take them."
Booklist: "…the main takeaway, of course, is that hard work and practice, as well as a lot of inevitable failure, is always part of honing a craft. A sweet, inspirational anthology for any kid who dreams of one day having their own name on the cover of a book."
Kirkus Reviews: "The art and writing samples from childhood are occasionally exciting but more often typical of the age represented—and thus encouraging rather than intimidating to young creatives. The memoirs—all (unsurprisingly) engaging—range from humorous to serious, and some slip in good advice, both about the tools of the craft and about self-marketing."
BCCB: "…a clear message throughout that this early work counts, whether you finish it, whether it's completely original, whether it wins you the regard you hoped… this has curricular use written all over it (there's even tips for young writers at the end) and the encouragement is strong and valuable."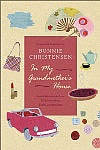 IN MY GRANDMOTHER'S HOUSE: AWARD-WINNING AUTHORS TELL STORIES ABOUT THEIR GRANDMOTHERS, edited and illustrated by Bonnie Christensen (HarperCollins, 2003)(OP).
An anthology collection of short stories by authors about their grandmothers.
Featuring: "The Naked Truth" by Cynthia Leitich Smith.
NYPL Books for the Teenage
Reviews
VOYA: "The most entertaining contributions are Cynthia Leitich Smith's 'The Naked Truth,' in which a granddaughter discovers that the nude figure painted in the basement is her grandmother, and Gail Carson Levine's 'A Visit to Grandma's,' as a granddaughter speaks out about her grandmother and her great aunts' disrespect of her mother."
School Library Journal: "An old painting in the basement allows Cynthia Leitich Smith to see her grandmother for who she really is, and to see herself in a new light as well."
Booklist: "A fine collection that will encourage teens to reflect on their own families and recognize the individuals behind the family roles."


PERIOD PIECES, edited by Erzsi Deak and Kristin Litchman (HarperCollins, 2003)(OP).
An anthology collection of short stories about girls starting their periods for the first time.
Featuring: "The Gentleman Cowboy" by Cynthia Leitich Smith.
Bank Street Best Book (starred)
NYPL Women in Books for the Teenage
Reviews
Children's Literature: "Others will laugh at the total embarrassment of Linda Sue Park's girl in the white pants or feel a touch of relief at Cynthia Leitich Smith's 'Gentleman Cowboy' whose many sisters taught him how to treat a girl."
Kirkus Reviews: "Cynthia Leitich Smith tells of the kindly cowboy, barely older than she, who rescues her from fear of heights on horseback and from being caught on said horse with no supplies or nearby bathroom."
School Library Journal: "An honest, touching, sometimes hilarious collection."
Booklist: "Whether or not they have experienced the arrival of their first 'George,' 'Auntie,' or 'Dona Rosa,' girls will enjoy these stories—funny and self-deprecating, frank and reassuring—which may encourage them to shed embarrassment and take ownership of their bodies."