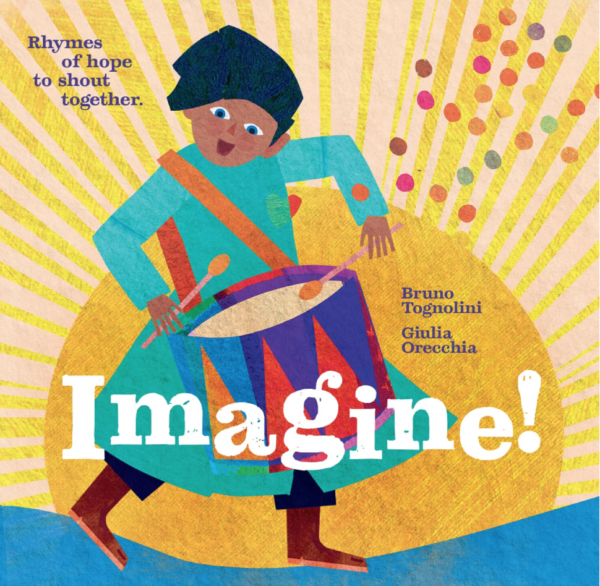 By Cynthia Leitich Smith, Gayleen Rabakukk, Stephani Eaton, Suma Subramaniam, Bree Bender, AJ Eversole and Gail Vannelli for Cynsations
Spotlight Image: Imagine! Rhymes of Hope to Shout Together by Bruno Tognolini, illustrated by Giulia Orecchia, translated by Denise Muir (Red Comet Press, 2022).
Author/Illustrator Insights
Why Authors Should Keep Writing "Difficult" Books for Kids by Kim Ventrella from Medium. "Storytelling gives readers and creators power over difficult topics, even when we're not consciously aware of it. It's the same reason…people gathered around campfires for centuries telling scary stories. The goal was not to give the listener nightmares, but to take power away from the monsters by putting them into narratives that we control."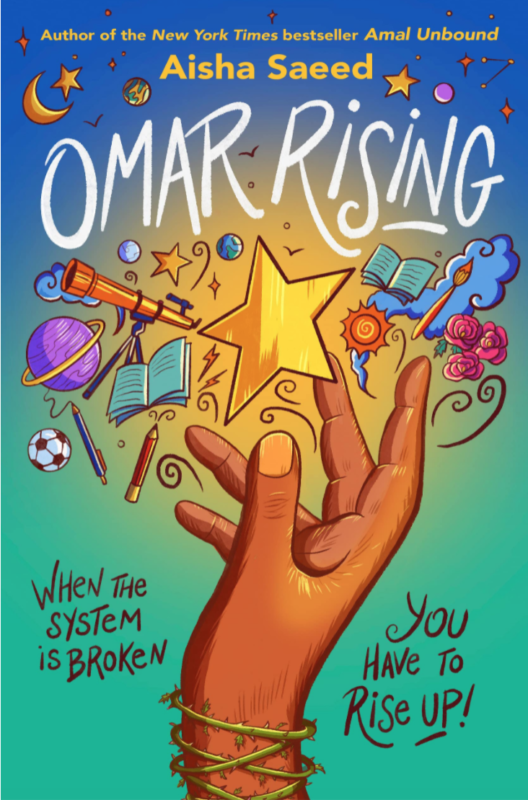 An Inside Look With Aisha Saeed by Patrick Andrus from Read Wonder. Peek: "It's an unfortunate fact that the world can be unfair….One of the most powerful things about stories is the power of feeling seen. I hope kids in similar circumstances will read [the main character's] story and know they are not alone, and I hope kids will feel emboldened to keep on keeping on."
What Adaptations of "Little Red Riding Hood" Tell Us About the Lasting Power of Fairytales by Neha Patel from Book Riot. Peek: "[E]ach fairytale has a core lesson that remains intact, despite being…retold…[I] wonder if it's these lessons…that lend themselves to the longevity of fairytales. Retellings…take advantage of the creative capital given to us by previous writers, [and] also serve as a way to continue a cultural narrative and instill certain lessons for the next generation."
Paula Merlán: On Inspiration in Nature by Robert Lee Brewer from Writer's Digest. Peek: "I would like readers to…get excited about those little big things that surround us. This book also aims to make us reflect on the impact new technologies have on our society and how, on many occasions, they catch and hold too much of our attention and gain too great prominence in our lives."
Lawless Spaces & More With Author Corey Ann Haydu from Elisa Zied. Peek: "My number one current advice…is to get up early….There's something about writing before I have to be anyone else—a parent or a wife or a friend or a person in the world in any meaningful way—that really clarifies the work for me. I work faster, and better, and more enjoyably."
Foot Soldier for Justice, Kathlyn J. Kirkwood by Julie Danielson from Chapter 16. Peek: "My hope is that my young audience will be inspired by my story to act on their passion…as long as they are thinking about the world at large and working to make it a better place for all….[M]y goal is to paint a picture of the world that will inspire passion and birth lifelong activists."
Equity & Inclusion
Talking With Tang Yaming: Crossing Borders With Picture Books by Deborah Iwabuchi and Andrew Wong from SCBWI Japan Translation Group. Peek: "[Besides] discussion on making books that venture into foreign places…Tang also acknowledged the importance of portraying and handing down local history and culture to future generations. Both lines of thought seemed to converge toward finding the stories or voices that need to be heard before they are lost to marginalization, poverty, modernity, and urbanization."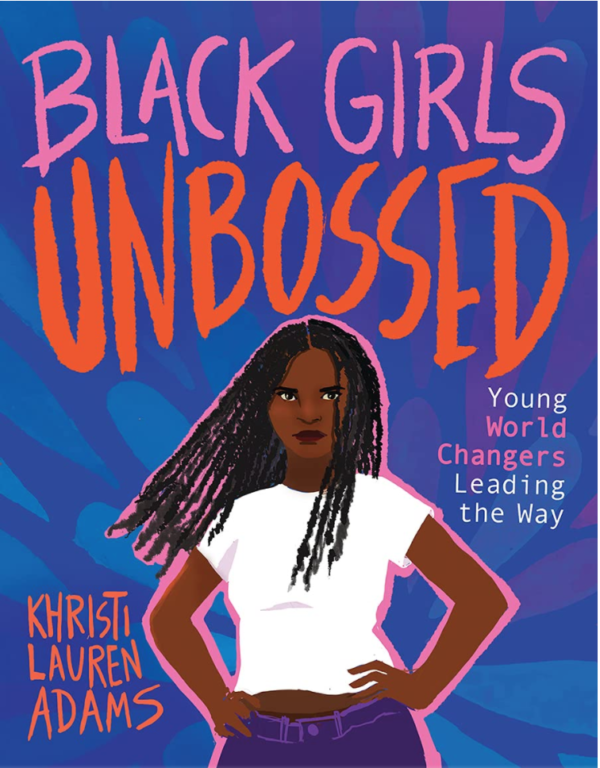 Social Impact Heroes: Why & How Khristi Lauren Adams Is Helping To Change Our World by Yitzi Weiner from Medium. Peek: "When I first pitched the proposal…[it] was rejected. That particular publishing company felt that the demographic of focusing on Black girls was too narrow. It was suggested that I revise…to include all girls. This lit a fire underneath me, because the point I was trying to make was that…Black girls are always pushed to the margins."
Q&A With A. J. Sass, Ellen Outside the Lines by Alaina Lavoie from We Need Diverse Books. Peek: "There were…few books about neurodivergent or disabled characters available to me when I was a kid and when I managed to find any, it often felt like the character's disability was used as a plot device or portrayed in a negative light, as something to be overcome to ensure a happy ending."
Q&A With Heather Kamins, The Moth Girl by Laia Feliu from We Need Diverse Books. Peek: "One of the hardest things for me to deal with as a teen was other people twisting my story…by saying how brave or strong I was when that was the last thing I felt like…or talking about me with pity or disgust. In a sense, the whole book is…a way to reclaim my own story."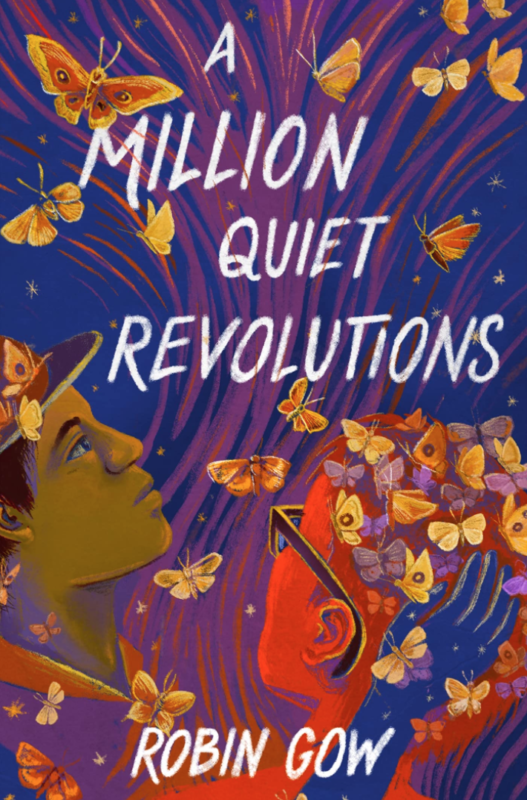 Digging in the Past for Our Futures by Robin Gow from We Need Diverse Books. Peek: "Luckily, people who are learning about LGBTQ+ history are getting younger and younger, but I still think we have a long way to go….For so much of our lives we've been told there are stretches of time where we didn't exist. But when we begin to look deeper, we find we have always been here."
Cover Reveal and Q&A for The Turquoise Room/El cuarto turquesa by Monica Brown, Illustrated by Adriana García by JoAnn Yao from We Need Diverse Books. Peek: [Adriana García:] "[P]assage of time…was the greatest challenge for me…The story spans over four generations of dreams so to illustrate the characters growing into women was very involved. I decided to use identifying signifiers for each character so that we could recognize them as they got older. I wanted to make sure I kept their essence throughout…."
Writing Craft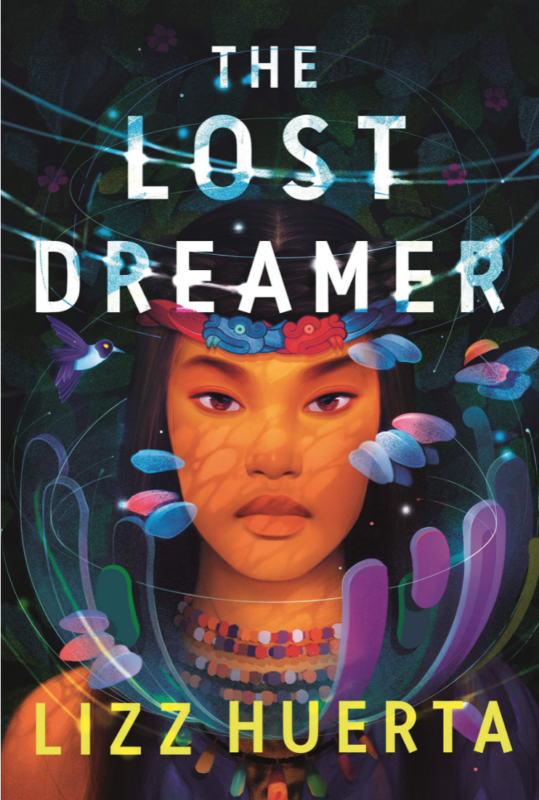 MacKids Spotlight: Lizz Huerta from MacKids School and Library. Peek: "My creative process usually starts with meditation. I still my mind and invite the story in, I invite the characters in and tell them I trust their story. My writing…mantra is 'Trust the story choosing to emerge through you.' After I meditate I…write, not judging myself, not editing, letting what wants to flow, flow."
Author Rajani LaRocca Discusses the Craft of Writing Verse Novels by Suma Subramaniam from Diverse Verse. Peek: "I often wrote 'paired poems'—where an idea or theme or phrase was mentioned in one poem and…repeated later. I made a running list of topics I wanted to include…Then I would write the poems in whatever order I felt inspired to do. It was only later, in revision, that I decided on the order…."
Q&A With Akwaeke Emezi, Bitter by Isabel Taswell from We Need Diverse Books. Peek: "I don't have expectations for readers….I wrote this for myself and I got what I needed…out of it. When I release my books…I have no desired outcome. When people engage with my work, they are in conversation with the work, not the creator. I want people to find out what they think, what they believe."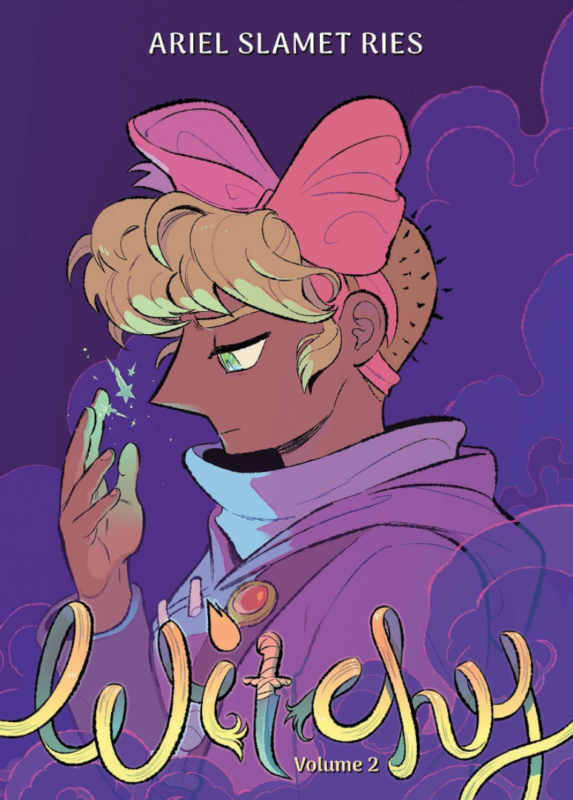 Interview With Illustrator Ariel Slamet Ries by Michele Kirichanskaya from Geeks Out. Peek: "I pay a lot of attention to page layout and composition. Coupled with good writing…I think you can get away with everything else looking pretty rough….Creating a page with a good flow for the reader can take a bit of work, but…there's nothing more off-putting than a page that's hard to parse."
Publishing
Congratulations to the winners of Bologna Prize for the Best Children's Publishers of the Year:
Sourcebooks Acquires duopress by Claire Kirch from Publishers Weekly. Peek: "Sourcebooks has acquired duopress, a 15-year-old independent publisher headquartered in Baltimore….duopress will become an imprint of Sourcebooks Kids, with 15 frontlist titles scheduled for release each year under that imprint….Under the deal, Sourcebooks has acquired more than 100 titles and products, including children's high contrast titles…."
Booksellers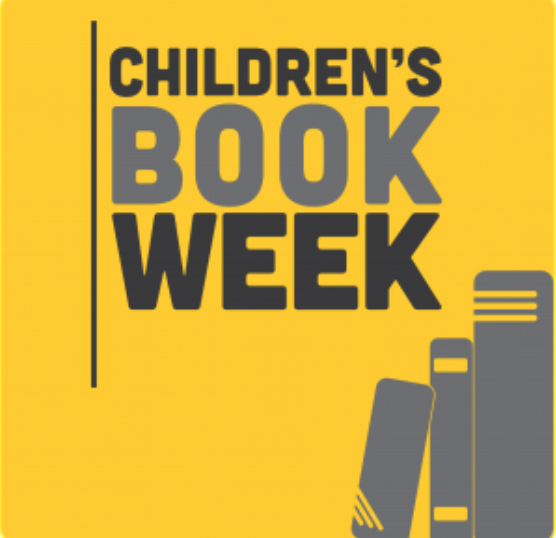 Indie Bookstores Team Up to Celebrate Children's Book Week from Publishers Weekly. Peek: "The 2022 Children's Book Week will take place May 2 to May 8. Held in partnership with Bookshop.org and the Children's Book Council, IndiesUNITE! will host a free virtual event on May 7 to celebrate Children's Book Week. It will be hosted by Kevin Noble Maillard and feature…[several] authors and illustrators…."
Marketing
Tips for Marketing Your Children's Book by Christine Evans from Writer's Digest. Peek: "With the advent of online marketing and social media influencers, there are now myriad ways to get your book front and center on people's minds….Make a Plan. Find out what your publisher will be doing to market and publicize your book….Build a Website….I use Wix and I really like how easy it is to use…."
Libraries
K.C. Boyd Named 2022 School Librarian of the Year by Kara Yorio from School Library Journal. Peek: "As the librarian at Jefferson Middle School Academy in Washington, DC, Boyd has transformed a collection to reflect the student body, created a culture of reading, foregrounded media literacy,…and developed programs to meet her students' academic and social-emotional needs. 'It's an honor and privilege to be named School Librarian of the Year…,' says Boyd."
Education/Other Resources/Events
Author-Illustrator Floyd Cooper to Be Honored With Annual Event by Pamela Brill from Publishers Weekly. Peek: "The 2022 Children's Book Week will include the first annual Floyd Cooper Day…Teachers, librarians, and booksellers across the country will be encouraged to hold readings of his books on Friday, May 6…The event will celebrate Cooper, who died last July after illustrating more than 100 children's books in more than 30 years."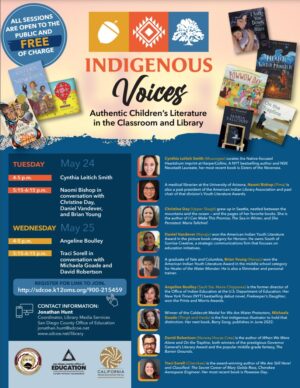 The San Diego County Office of Education presents Indigenous Voices: Authentic Children's Literature in the Classroom & Library with Native authors Cynthia Leitich Smith, Angeline Boulley, Traci Sorell, Christine Day, Brian Young, David Robertson, and Michaela Goade, among others. The online event takes place May 24 and May 25 from 4 p.m. to 6:15 p.m. pacific, 6 p.m. to 8:15 p.m. central, 7 p.m. to 9:15 p.m. eastern. Register here by May 24.
The Texas Library Association's in-person 2022 Conference will take place April 25 to April 28. The event will include author events, networking opportunities, educational sessions by librarians and leaders in the field, an exhibit hall, and more. Some of the children's author/speakers include Cynthia Leitch Smith, Dhonielle Clayton, Derrick Barnes, Christina Soontornvat, and Don Tate.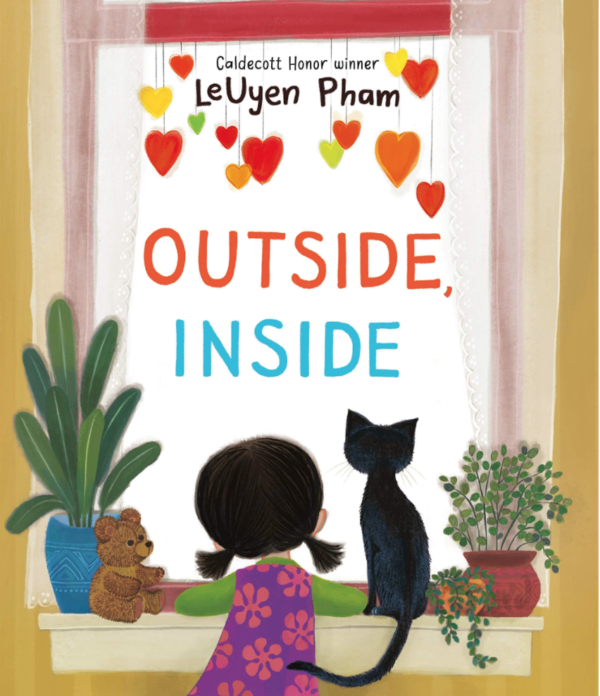 The in-person Los Angeles Times Festival of Books will take place April 23 and April 24 on the University of Southern Californa campus. The large lineup of participants includes authors, poets, artists, and more. Some of the children's authors/illustrators include Darcie Little Badger, Kekla Magoon, Malinda Lo, Nikkolas G. Smith, and LeUyen Pham. General admission is free; some events, panels and individual author conversations require tickets.
The White Bear Lake Area Schools American Indian Education Program presents "Native American Library Panel, Importance of Representation & Accurate Dissemination," with Debbie Reese (founder of American Indian Children's Literature) and other author/library/education specialists. The event takes place May 11 at 4:30 p.m. to 5:30 p.m. pacific, 6:30 p.m. to 7:30 pm. central, 7:30 p.m. to 8:30 p.m. eastern. No pre-registration is necessary, attend virtually here: https://meet.google.com/xjj-vpry-boa.
Awards
Congratulations to the 2022 IBBY-iRead Outstanding Reading Promoter Award winners: Zohreh Ghaeni, from Iran, "is a children's literature expert, lecturer, researcher, and major reading promoter." Jane Kurtz, from the U.S, "has spent the last 25 years helping to develop indigenous authors and illustrators in Ethiopia…while also establishing an infrastructure for publishing books and promoting literacy…." IBBY "represents an international network of people…committed to bringing books and children together."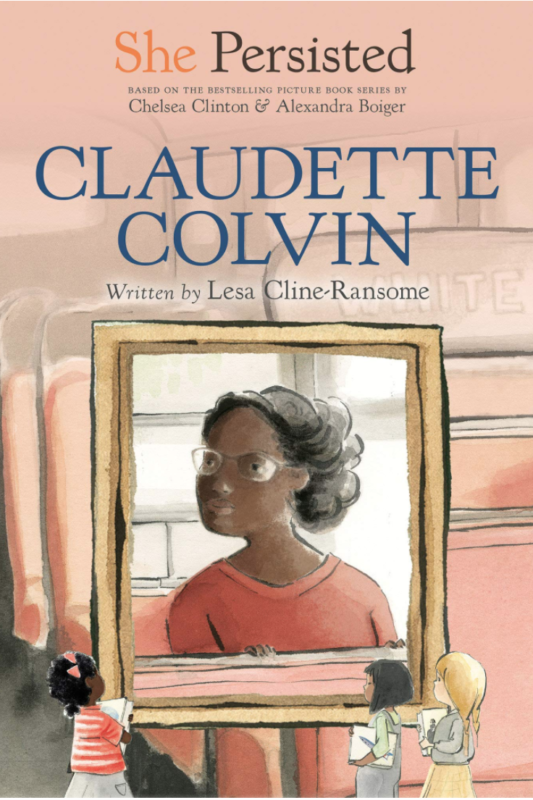 Congratulations to the 2022 winners and honor books of the Maryland Library Association Children's Services Division's 2022 Maryland Blue Crab Young Reader Award, which honors the Best Beginning and Transitional Fiction and Nonfiction for Children. The winners are:
Congratulations to the winners of the Hans Christian Andersen Award 2022: Marie-Aude Murail of France as Author, and Suzy Lee of the Republic of Korea as Illustrator. The award "is the highest international distinction given to authors and illustrators of children's books."
Congratulations to the 2022 Carle Honors Honorees, who are "selected each year by a committee chaired by children's literature historian and critic Leonard S. Marcus…" The honorees are Faith Ringgold (Artist), Dolly Parton's Imagination Library (Angel), Ajia (Bridge), and Cheryl and Wade Hudson (Mentors).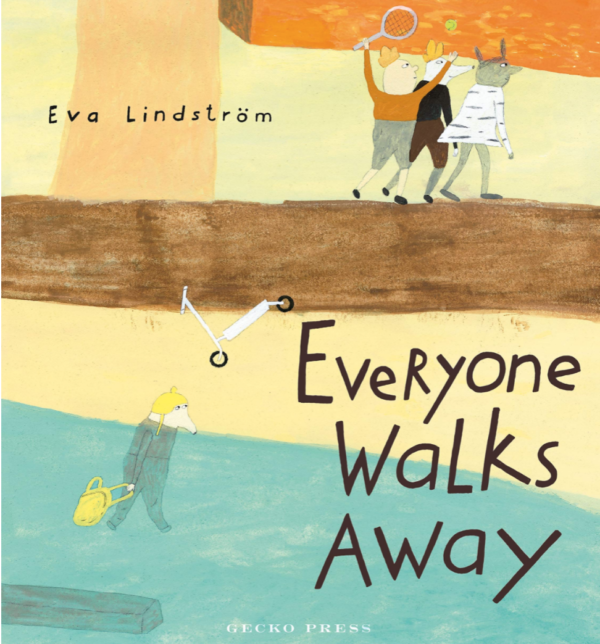 Sweden's Lindström Wins 2022 Astrid Lindgren Memorial Award by Claire Kirch from Publishers Weekly. Peek: "Swedish picture book author and illustrator Eva Lindström was selected from among 282 nominees from 71 countries as this year's recipient of the Astrid Lindgren Memorial Award, the world's largest children's book award…Lindström, 70, is the author and illustrator of five picture books…She has also illustrated books written by other authors…."
Author-Illustrator Beatrice Alemagna Honored at Bologna from Publishers Weekly. Peek: "[On] the first day of the 59th annual Bologna Children's Book Fair, an 'extraordinary award for an extraordinary artist' was presented to Beatrice Alemagna. Alemagna is the author-illustrator of over 40 books that have been translated and published in 25 countries….Alemagna has…been selected several times [at the BCBF] for awards and exhibition…."
Scholarships & Grants
We Need Diverse Books' Emergency Fund for Diverse Creatives and Educators is accepting new applicants and has updated its eligibility criteria so more diverse creators and publishing professionals, and K-12 educators who are experiencing financial need, can apply for grants that range from $500 to $1,000. Apply here.
Applications are now being accepted for We Need Diverse Books' Internship Grant Program for diverse college students interning with publishers and literary agencies. This year, 24 grants will be awarded, split between children's and adult publishing internships, with 12 in each category. Additionally, thanks to a generous grant from Estee Lauder, four grants are specifically earmarked for Native college students. Application deadline is May 1. Learn more and apply here.
This Week at Cynsations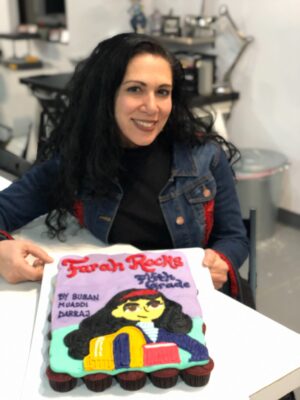 More Personally – Cynthia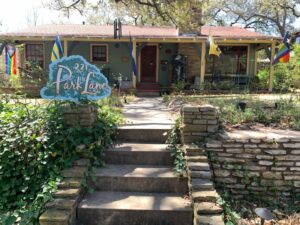 What a week! It's been several years since Central Austin navigated a tornado warning. Fortunately, no lives were lost, but my heart goes out to my friends in the northern suburbs who suffered property damage. At the time, I was staying at Park Lane Guest House in South Austin, which is a lovely, dog-friendly local bed-and-breakfast with individual cabins, a fantastic host and delicious food. I love a staycation. It's so restful without the stress of traveling. In other news….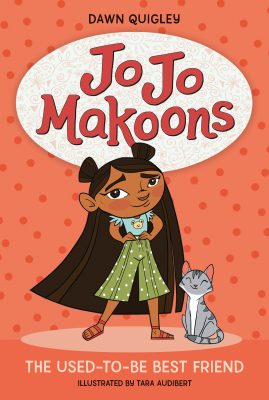 Congratulations, Dawn Quigley and Tara Audibert! Jo Jo Makoons: The Used-to-Be Best Friend (Heartdrum, 2021) was named an Honor Book for Transitional Fiction by the Maryland Blue Crab Young Reader Award program!
I also especially appreciated reading these two posts:
The Power of Persistence by YA Author Padma Venkatraman from Dr. Bickmore's YA Wednesday. Peek: "I share inspirational quotes from some phenomenal authors whom I admire for two reasons: their brilliant books and their shining dedication to writing through long lean years (especially early in their careers, pre-WNDB and well before the pandemic)."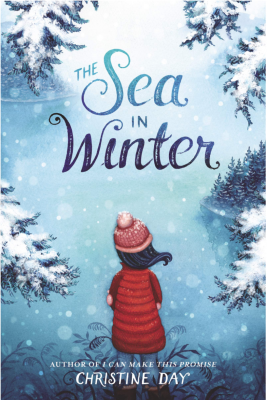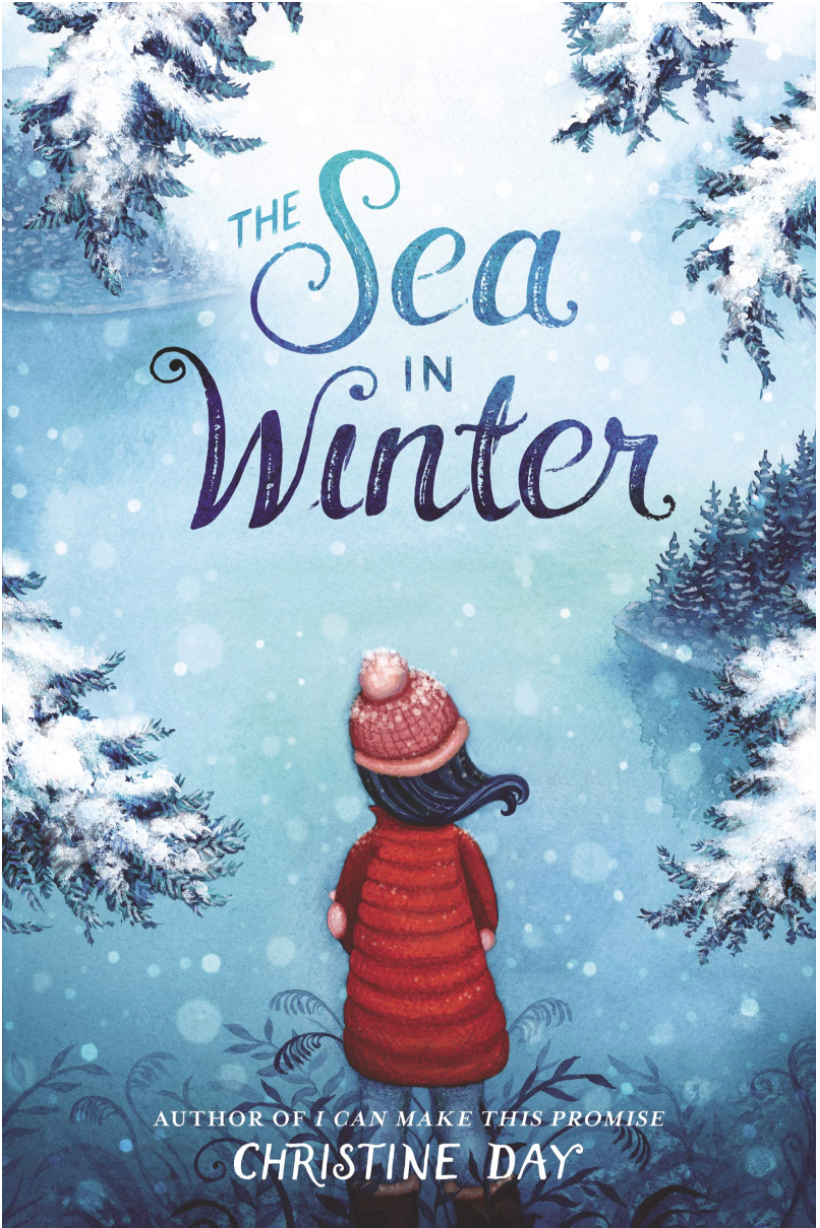 10 Middle Grade Novels That Address Mental Health with Compassion by Amanda MacGregor from School Library Journals. Peek: "These middle grade titles from the past three years depict compassionate, accurate mental health representation featuring a diversity of characters and diagnoses." Note: I was pleased to find The Sea in Winter by Christine Day, cover by Michaela Goade (Heartdrum, 2021)(educator guide) included on the list.
More Personally – Gayleen
This week's #Kidlit for Ukraine benefit, organized by Marc Tyler Nobleman, Julie Gribble at  KidLitTV and hosted by Rocco Staino, raised nearly $15,000 for Save the Children. More than two dozen authors shared stories of hope. Marc has an inspiring timeline of how this awesome event came together in just three weeks on his blog, reinforcing my belief that kidlit can change the world.

I attended the virtual event and snapped a photo of Austin author K.A. Holt with her tiny microphone (which she hopes makes you laugh). I felt very accomplished in linking my phone and television to watch the videos on a larger screen. This may be my new strategy for attending virtual conferences.
More Personally – Gail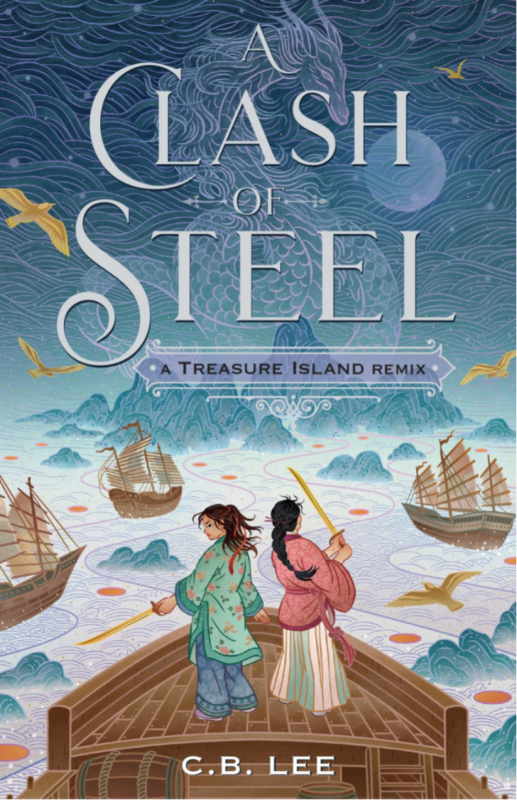 I recently read A Clash of Steel: A Treasure Island Remix Book by C. B. Lee (Feiwel & Friends, 2021). The worldbuilding in this YA adventure novel is so fascinating and rich in detail that I stayed fully and joyfully immersed in the 1826 South China Sea realm of ships and pirates and treasures.
Providing this setting experience for readers, however, was no easy task. As C.B. stated in Author Interview: A Clash of Steel, a Queer Asian Retelling of Treasure Island, "I think the most challenging thing for me…was the sheer amount of research and the historical aspect….[G]etting the details right [was] important to me, everything from the food to the language to the political details…."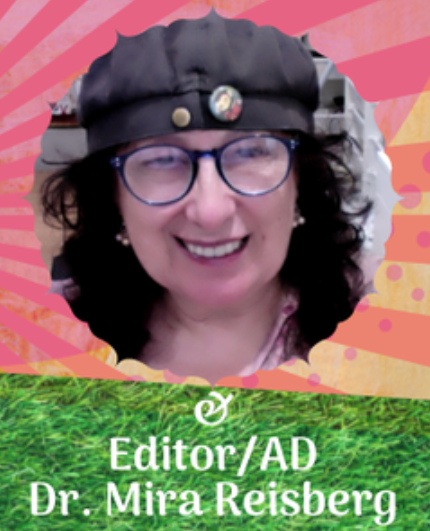 Also, this week I began a course with the Children's Book Academy called Middle Grade Mastery, led by award-winning children's author/illustrator, acquiring editor, and art director Mira Reisberg. Mira's courses are incredibly inspiring, insightful, and informative. Now that I have the first draft of my middle grade novel finished, it's time to work with Mira on overhauling the beginning, tackling the messy middle, and creating a compelling ending.