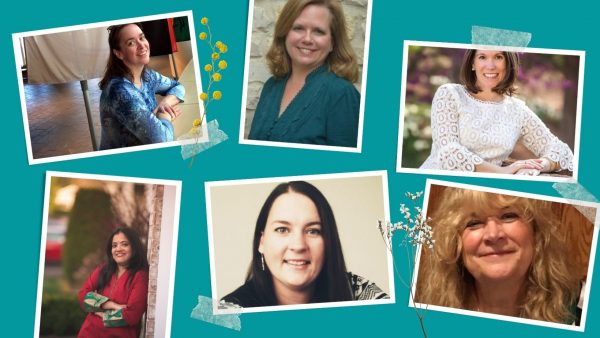 Cynsations blog contributors and featured subjects must be members of the children's-YA literary community (writers, illustrators, editors, agents, booksellers, teachers, librarians, publishing professionals, etc.). For blog-related queries, do not use the form below. Use this address without spaces instead: CynsationsIntern @ gmail.com.
Our staff is (from right to left, top to bottom): Publisher Cynthia Leitich Smith; Editor-in-Chief/Author's Assistant Gayleen Rabakukk; Managing Editor Stephani Martinell Eaton, Intern Suma Subramaniam; Intern; Bree Bender, Industry News Reporter Gail Vannelli, and the Cynsational Reporters.
More Information
Cynsations launched in 2004, in part to update readers on Cynthia's writing and in part as an extension of Children's and YA Literature Resources and Writer Resources, both hosted at her official author site.
Cynsations is a source for conversations, publishing information, writer resources and inspiration, bookseller-librarian-teacher appreciation, news in children's and young adult literature/publishing, and author outreach. It's primarily a resource for those writers seeking the insights and tools to facilitate forward movement and success, defined broadly.
Cynsations highlights trade-published children's and YA literature from board books to upper-level young adult books. The focus includes fiction and creative nonfiction, realistic and speculative fiction. Books related to the craft of creating youth literature and/or connecting it to young readers and related literary analysis are occasionally featured.
Cynsations has an ongoing commitment to new voices, creative risktakers, quality mid-listers, rising and well-established authors. Guest articles are written by members of the children's-YA writing, literature, media and publishing community. Cynsations doesn't solicit or accept posts from outside freelance contributors. Books for consideration are provided by authors, publishers, independent publicists, and purchased by Cynthia Leitich Smith, her interns and/or her reporters.
Cynsations doesn't critically review specific titles, and inclusion/mention of a book or author/illustrator doesn't constitute an endorsement.
To enter a giveaway, readers must be at least 18 years of age.