HEARTS UNBROKEN by Cynthia Leitich Smith (Candlewick, Oct. 9, 2018)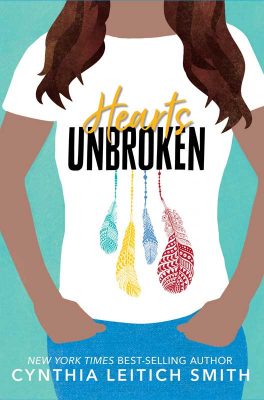 When Louise Wolfe's first real boyfriend mocks and disrespects Native people in front of her, she breaks things off immediately and dumps him over email.
It's her senior year, anyway, and she'd rather spend her time on her family and friends and working on the school newspaper.
The editors pair her up with Joey Kairouz, the ambitious new photojournalist, and in no time the paper's staff find themselves with a major story to cover: the school music director's inclusive approach to casting The Wizard of Oz has been provoking backlash in their mostly white, middle-class Kansas town.
From the newly formed "Parents Against Revisionist Theater" to anonymous threats, long-held prejudices are being laid bare and hostilities are spreading against teachers, parents, and students—especially the cast members at the center of the controversy, including Lou's little brother, who's playing the Tin Man.
As tensions heighten at school, so does a romance between Lou and Joey—but as she's learned, "dating while Native" can be difficult. In trying to protect her own heart, will Lou break Joey's?
Order HEARTS UNBROKEN by Cynthia Leitich Smith: BookPeople; Indiebound; Amazon; Barnes and Noble.
Cover Thoughts
What I adore about this cover is that it's so unabashedly casual and contemporary. Accessible and inviting. Modern depictions of Native teens, especially girls, are rare. Showing a character in a T-shirt and jeans, simply standing, comfortably relaxed, is fairly revolutionary.
Centering the T-shirt imagery is something I discussed with my Candlewick editor, Hilary Van Dusen, who was working with Pamela Consolazio, the jacket designer. To me, the art vaguely suggests the feel of a powwow T-shirt. So, it's grounded in daily life, but intentionally not groundbreaking. You'd find a few similar Ts in my closet.
On another note, I'm glad that the design largely leaves facial casting to the young reader's imagination. I love the covers of two of my previous novels, Rain Is Not My Indian Name (HarperCollins, 2001) and Tantalize (Candlewick, 2007), both of which clearly show the face of the protagonist. But prose novels are such deeply interior experiences. Sometimes it's best for young adults to envision the story, including its hero, in their own theaters of the mind.
Beyond that, I highly approved of the decision to use a teen-friendly handwriting font for "Hearts" and a firmer, more formal one for "Unbroken." When I think of real-life teens like my fictional Louise, I am optimistic about the future. Young Native hearts are strong.

Author Insights
HEARTS UNBROKEN began as a long overdue apology to a high school boyfriend.
We'd met as teen journalists. I was a reporter. He was a photographer. One who'd recently quit varsity football in favor of the student newspaper and weathered the social fallout. I was impressed, charmed. We quickly bonded over brainy movies, classic Ford Mustangs, and our shared love of storytelling.
Then one cloudy afternoon, in a fit of adolescent nerves, I stammered the worst possible thing with the best possible intentions. In attempting to take our relationship to the next level, I'd deeply insulted him instead.
Today, I'd say the imnpact of my words was far more important than my intent. But as a fumbling, flailing teenager, it had all felt so much more complicated.
On one level, HEARTS UNBROKEN is an exploration of speech–journalistic, political, artistic, religious, and interpersonal as well as speech rooted in hate. On another, it's a romantic story about two teenage reporters asking whether everyone deserves a chance at the spotlight.
Oct. 2018 | 978-0-7636-8114-2  | Candlewick Press | Hardcover | YA Novel/Fiction | Interior Design Elements | 304 Pages | Ages 14-up | Other Editions: