HEARTS UNBROKEN by Cynthia Leitich Smith (Candlewick, 2018 hardcover, May 2020 paperback)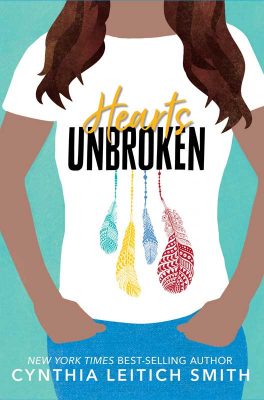 When Louise Wolfe's first real boyfriend mocks and disrespects Native people in front of her, she breaks things off immediately and dumps him.
It's her senior year, anyway, and she'd rather spend her time on her family and friends and working on the school newspaper.
The editors pair her up with Joey Kairouz, the ambitious new photojournalist, and in no time the paper's staff find themselves with a major story to cover: the school musical director's inclusive approach to casting "The Wizard of Oz" has been provoking backlash in their mostly white, middle-class Kansas town.
From the newly formed "Parents Against Revisionist Theater" to anonymous threats, long-held prejudices are being laid bare and hostilities are spreading against teachers, parents, and students—especially the cast members at the center of the controversy, including Lou's little brother, who's playing the Tin Man.
As tensions heighten at school, so does a romance between Lou and Joey—but as she's learned, "dating while Native" can be difficult. In trying to protect her own heart, will Lou break Joey's?
Read an except of HEARTS UNBROKEN from Candlewick Press.
Authors Love HEARTS UNBROKEN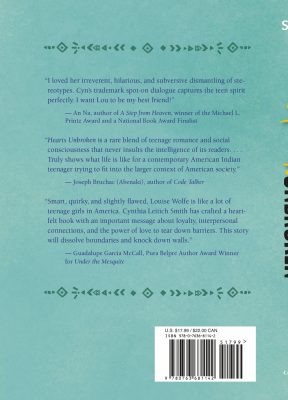 "I loved her irreverent, hilarious, and subversive dismantling of stereotypes. Cyn's trademark, spot-on dialogue captures the teen spirit perfectly. I want Lou to be my best friend!" —An Na, author of A STEP FROM HEAVEN, winner of the Michael L. Printz Award and a National Book Award finalist
"HEARTS UNBROKEN is a rare blend of teenage romance and social consciousness that never insults the intelligence of its readers. Truly shows what life is like for a contemporary American Indian teeenager trying to fit into the larger context of American society." —Joseph Bruchac (Abenaki), author of CODE TALKER
"Smart, quirky, and slightly flawed, Louise Wolfe is like a lot of teenage girls in America. Cynthia Leitich Smith has crafted a heartfelt book with an important message about loyalty, intepersonal connections, and the power of love to tear down barriers. This story will dissolve boundaries and knock down walls." —Guadalupe Garcia McCall, Pura Belpré Author Award Winner for UNDER THE MESQUITE
Order HEARTS UNBROKEN by Cynthia Leitich Smith: BookPeople; Indiebound; Amazon; Barnes and Noble.
Oct. 2018 | 978-0-7636-8114-2  | Candlewick Press | Hardcover | YA Novel/Fiction | Interior Design Elements | 304 Pages | Ages 14-up | Other Editions: