HARVEST HOUSE by Cynthia Leitich Smith (Candlewick, April 11, 2023). Ages 12-up. Audio edition forthcoming from Listening Library.
Halloween is coming and Hughie Wolfe is volunteering at a new rural attraction: Harvest House.
He's excited about working on a fun, spooky project . . . until he learns that an actor playing the vengeful spirit of an "Indian maiden"—a ghost inspired by a local legend—will be the star of the show.
Local legend aside, unusual things have been happening late at night at the crossroads by Harvest House. Young women—particularly Indigenous women—are being followed by a creepy man; dogs are fretful and on edge; and wild animals are behaving strangely.
When the big sister of Hughie's best pal reports a disturbing encounter, Hughie and his friends decide to investigate, determined to find out if rumors of a looming supernatural threat are true.
As Moon rises on All Hallows' Eve, will they be able to protect themselves and their community by solving the mystery of the haunting at the crossroads?
Order HARVEST HOUSE by Cynthia Leitich Smith.
Depending on the title, Cynthia's books may be found from Native bookstores like Birchbark Books and Native Arts and Red Planet Books and Comics, her local independent BookPeople in Austin, other terrific Texas bookstores like Blue Willow Bookshop and Brazos Bookstore, retail sites supporting indie bookstores like BookShop (Affiliate), IndieBound and Libro.fm (audio books), brick-and-mortar chains like Barnes & Noble and Books-A-Million, and online retailer Amazon.com (Author Central).
HARVEST HOUSE (Candlewick, 2023)(Listening Library, 2024), HEARTS UNBROKEN (Candlewick, 2018, 2020)(Listening Library, 2023), and RAIN IS NOT MY INDIAN NAME (HarperCollins, 2001)(Heartdrum, 2021)(Harper Audio, 2022) are set in the same universe.
About the Cover Illustrator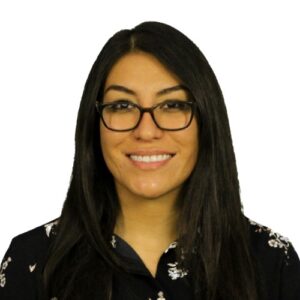 Britt Newton is a Colorado-based artist and citizen of Muscogee Nation. She is also the illustrator of REZ, THE DOG, written by Laura Bullock.
Britt says, "It was an amazing opportunity to bring this cover and characters to life—a modern Native YA mystery is something I would've loved as a teenager and being able to contribute to this project has been a dream!"
Media Kit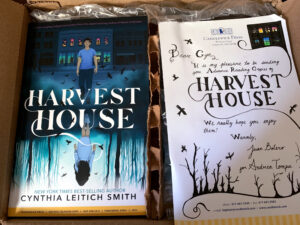 Harvest House Media Kit from Candlewick Press. Includes book specifications, flap copy, note from the author and companion book information.
Indigenous Languages
The Native languages referenced in Harvest House are living languages. My sources were The College of the Muscogee Nation, the Muscogee Nation, and the Muscogee Nation Language App.
Ojibwe People's Dictionary (OPD).
Mvskoke–English Glossary
Em vnicvkvs: help them (MNLA: Words)
Em vnicvs: help her/help him (MNLA: Words)
Heren vcafaste tomes: She treats me well. (MNLA: Describing People)
Hesci: hello (CMN)
Heruse tos: She is beautiful. (MNLA: Describing People)
Hvtvm cehecares: I will see you again. (MNLA: Words)
Ivpecicv: hurry up (to one person) (MNLA: Commands)
Letkv: run (MNLA: Commands)
Lopice tos: She is kind. (MNLA: Describing People)
Mvto: thank you (MNLA: Words)
Ojibwe–English Glossary
Miigwetch: thank you (OPD)
Nookomis: my grandmother (OPD)
Hardcover | $19.99 Published by Candlewick Apr 11, 2023 | 320 Pages | 5-1/2 x 8-1/4 | Young Adult | ISBN 9781536218602| Other editions: Audio