Cynsational reporters offer news, interviews, and articles from around the world and on various topics in children's-YA literature, writing, and publishing.
Mental Health and Neurodiversity
Rebecca Kirshenbaum has an MFA in WCYA from VCFA, an MA in children's literature from Simmons University, and an MA in English literature from Columbia. She really, really likes being a student. She grew up in Cleveland and roots for all Cleveland sports teams even though she now lives in Boston.
She lives with her husband Mark, her teenage sons, Caleb and Eli, plus a lot of animals – guinea pigs Frisky and Sprinkles, a bunch of fish, and her family's therapy dog (aka best dog in the world), Quimby. (All you kidlit people should get the Ramona reference!). When not reading and writing, she teaches fourth and fifth grade literacy and organizes her bookshelves in rainbow order.
New England
Helen Kampion writes poetry, picture books, and middle grade novels. She has published stories in magazines and written non-fiction articles for The National Children's Book and Literacy Alliance (NCBLA, thencbla.org) where she serves as Treasurer.
In addition to an MBA from Boston University, Helen holds an MFA from Vermont College in Writing for Children and Young Adults. She also founded the "In a Nutshell Short Story Award" at VCFA to encourage tight, focused writing.
As an Army child, Helen was born in England and lived in Germany, Japan, California, Virginia, and Florida. She now lives with her husband and two cats (her "mews") in Massachusetts. When she is not scribbling away, you will find her curled up with a book, a cat, and a nice hot cup of tea.
International
Originally from the U.S., Elisabeth Norton now lives with her family in Switzerland, where she teaches English as a Foreign Language at a Swiss technical school. She writes picture books, chapter books and middle grade novels and serves as the Assistant International Advisor for Outreach regional advisor for the Society of Children's Book Writers & Illustrators.
When not reading or writing, Elisabeth can usually be found knitting, hiking in the mountains or walking along the river in the forest near her home.
You can find out more about her writing and involvement in the world of books for young readers on her website.
Read an interview with Elisabeth.
Reporters At Large
Veeda Bybee is a former journalist who holds an MFA from the Vermont College of Fine Arts. She is a contributor to the YA anthology Rural Voices, edited by Nora Shalaway Carpenter (Candlewick, 2020) and Calling the Moon, edited by Aida Salazar  and Yamile Saied Méndez (Candlewick, 2022). She has also written historical fiction chapter books—Lily and the Great Quake, illustrated by Alessia Trunfio (Capstone, 2020) and, in partnership with the Smithsonian, Li On Angel Island (Stone Arch Books, 2020). Veeda is the daughter of Asian immigrants and lives in Nevada with her family.
Clara Hammett holds an MFA in Writing for Children and Young Adults from Vermont College of Fine Arts. She is from Jackson, Mississippi and is a former bookseller at Lemuria Books. She has reviewed children's books for The Clarion Ledger newspaper and owned former children's book review website Twenty by Jenny. She likes creating all forms of art and going for walks with her family. While she has held many jobs, her most recent one is that of mom. Her current reading stack ranges from Jane Austen to Jesmyn Ward and a lot of Sandra Boynton!
Michael Leali is a writer and educator. He received his MFA from Vermont College of Fine Arts. When he's not dreaming up stories, he's probably playing a board game, eating cheese, or grading papers somewhere in the suburbs of Chicago. The Civil War of Amos Abernathy (HarperCollins, 2022) is his debut novel. Michael Leali identifies as white, cisgender, gay, and uses he/him pronouns. Learn more about Michael at michaelleali.com.
Linda Joy Singleton is the author of over 50 books for children, including Curious Cat Spy Club, The Seer (Llewellyn/Flux) and Dead Girl series (North Star Editions). She's also written picture books, her most recent are Crane and Crane (Chronicle),  Lucy Loves Goosey (Simon & Schuster) and A Cat Is Better (Little Bee Books).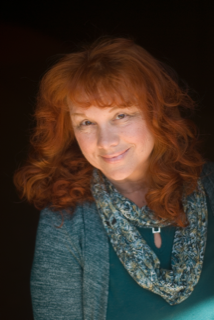 She wrote her first animal story when she was eight, dreaming of being a published author—and that dream came true! She's a longtime member of SCBWI and Sisters in Crime, a frequent speaker at schools, libraries, and conferences.
She lives in the Northern California foothills, surrounded by a menagerie of animals including dogs, cats, peacocks, horses and pigs.
Read a guest post from Linda.