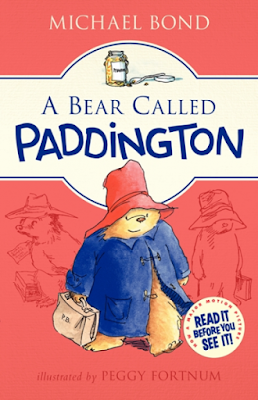 Author Michael Bond died in June while Cynsations was on summer hiatus.
Obituary: Michael Bond by Shannon Maughan from Publishers Weekly. Peek: "Bond, widely known for his books starring the duffle-coat-donning Paddington bear, died at his home in London following a brief illness. He was 91."
Veronica Horwell wrote in The Guardian of Paddington's beginnings. Peek: "He bashed out the bear opus in 10 days in the spring of 1957 on a typewriter in a tiny flat off Portobello Road." At the time, Bond was a television cameraman for the BBC and was inspired by the last toy on Selfridges' shelves the previous Christmas eve.
His story was rejected by seven publishers before Collins (now HarperCollins) paid him £75 for A Bear Called Paddington, illustrated by Peggy Fortnum (Williams Collins, 1958).
Bond went on to write 13 sequels which have sold an estimated 35 million copies and were translated into 40 different languages. It inspired a BBC television show and a motion picture in 2014, with a sequel due out this winter.
Colin Dwyer, writing for NPR, reports Bond "published more than 200 books." A statement from HarperCollins UK said, "Michael was a giant of children's literature."