TANTALIZE: KIEREN'S STORY by Cynthia Leitich Smith, illustrated by Ming Doyle (Candlewick, 2011).

TANTALIZE as you've never seen it before —from a Wolf's-eye view!
As a hybrid werewolf, Kieren is destined to join an urban Wolf pack and learn to master his shift. Soon, he'll leave everything behind home, school, his family, and Quincie, his human best friend…who's beginning to be a whole lot more than a friend.
For years, Kieren has managed to keep his desires—and his Wolf—at bay. But when the chef at Quincie's family restaurant is brutally murdered, Kieren resolves to be there for her, even if it means being framed and even if it means watching Quincie's beloved restaurant morph into a vampire lair.
But when the new chef begins wooing Quincie, how long can Kieren control his claws? How long can he protect her—and himself?
In an elegant graphic edition featuring cinematic sequential art by debut artist Ming Doyle and a lush, romantic cover by Sam Weber, best-selling author Cynthia Leitich Smith re-envisions her delicious dark fantasy through Wolfish eyes.
Order TANTALIZE: KIEREN'S STORY by Cynthia Leitich Smith. Purchase a paperback edition from Barnes & Noble. Purchase a paperback edition from Amazon.
Learn more about TANTALIZE (Book 1)(Candlewick, 2007), ETERNAL (Book 2)(Candlewick, 2009), BLESSED (Book 3)(Candlewick, 2011), DIABOLICAL (Book 4)(Candlewick, 2012) and the tie-in graphic novels TANTALIZE: KIEREN'S STORY, illustrated by Ming Doyle (Candlewick, 2011) and ETERNAL: ZACHARY'S STORY, illustrated by Ming Doyle (Candlewick, 2013). SEE ALSO the spin-off FERAL trilogy (Candlewick, 2013-2015).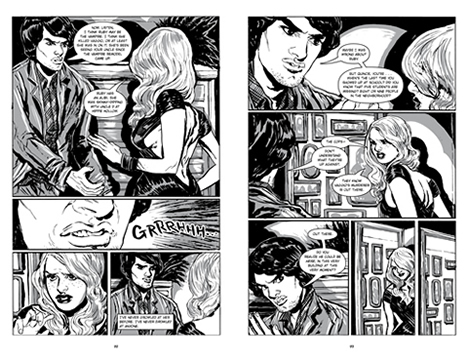 Click to view larger version. Text copyright © 2011 by Cynthia Leitich Smith. Illustrations copyright © 2011 by Ming Doyle.
Illustrator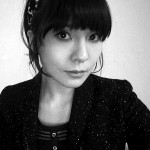 Ming Doyle was born in Boston to an Irish-American sailor and a Chinese-Canadian librarian. She earned her BFA from Cornell University with a dual concentration in painting and drawing. She has since depicted the exploit of zombie superheroes, demonic cheerleaders, vengeful cowboys, and dapper mutants.
TANTALIZE is her first full-length graphic novel—and marks her first encounter with a wereopossum.
Illustrator Interview: Ming Doyle on TANTALIZE: KIEREN'S STORY from Cynsations. PEEK:
"As a big Sherlock Holmes fan, I was quite drawn to the mysterious aspects of the story and had a lot of fun discovering clues and noticing patterns along with Kieren.

"The other quality that really struck me about this graphic novelization in particular was that the point of view followed Kieren at all. The prose book is told from Quincie's perspective, and I think it's a bit more common to see these sorts of stories from the heroine's eyes."
Reviews
"Readers of Smith's novel TANTALIZE (Candlewick, 2007) will be excited to see the story of the secondary character fully revealed in this graphic-novel spin-off…Like TANTALIZE, this parallel point of view leaves readers wanting to know more about what transpires in Kieren's and Quincie's futures."  — School Library Journal
"This format- and genre-blending story delivers on several counts as a vampire-werewolf adventure, a mystery, a romance with teeth and claws, an authentic look at diversity (both ethnic and species), and a darn good read." — Booklist
"The characters are well developed and the graphic novel format enhances the storyline. This popular novel, redone as a graphic novel, is a quick read for those who enjoy action with some romance. Smith has set up the story to continue in a sequel and leaves the reader wanting more." — Library Media Connection
"Smith, who first published TANTALIZE as a young adult novel, provides a face-paced, twisty, enjoyable ride and compelling characters who develop as the story unfolds. Doyle's illustrations capture the intensity of the emotions between the star-crossed couple." — Publishers Weekly
"This is the graphic novel version of TANTALIZE so it's a book that might appeal to reluctant readers and to people who really are visual thinkers. It's gothic, it's dark. But it also has humor. There's romance, very sweet romance, and there's controversy and there's justice issues and bad boys don't always get away, but you're not quite sure." — NPR Tell Me More
Resources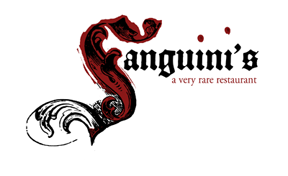 Shop Sanguini's at CafePress for TANTALIZE-FERAL verse T-shirts, hats, mugs, posters & more.
Illustrator Interview: Gene Brenek on the Logo for Sanguini's in the TANTALIZE-FERAL series from Cynsations. SEE ALSO Illustrator Interview: Gene Brenek on Images of Cynthia Leitich Smith's ETERNAL from Cynsations. PEEK:
"Certainly what separated the dead from the undead restaurants was the vampire mythology. So I started brainstorming and writing down anything that came to mind when I thought about vampires."
TANTALIZE-FERAL Verse Short Stories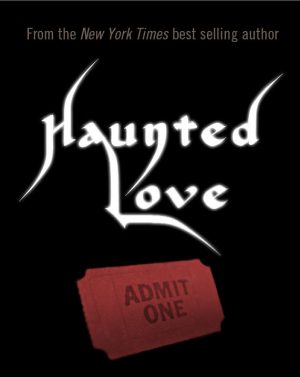 Cynthia has published short stories set in the TANTALIZE-FERAL series universe.
"Cat Calls" first appeared in SIDESHOW: TEN ORIGINAL TALES OF FREAKS, ILLUSIONISTS, AND OTHER MATTERS ODD AND MAGIC, edited by Deborah Noyes (Candlewick, 2009). It is available as a free e-book.
"Haunted Love" appears in IMMORTAL: LOVE STORIES WITH BITE, edited by P.C. Cast (BenBella, 2008). It is also available as a free e-book.
"Cupid's Beaux" appears in THINGS I'LL NEVER SAY: STORIES OF OUR SECRET SELVES, edited by Ann Angel (Candlewick, 2015).
Aug. 2011 | 978-0-7636-4114-6 | Candlewick Press | Trade Paper | YA Novel/Graphic-format Fiction | Interior Illustrations | 192 Pages | Ages 14-up