YA Short-Form Writing
FORESHADOW: STORIES TO CELEBRATE THE MAGIC OF READING AND WRITING YA, edited by Emily X.R. Pan and Nova Ren Suma (Algonquin, 2020).
A trove of unforgettable fiction makes up the beating heart of this book, and the accompanying essays offer an ode to young adult literature, as well as practical advice to writers.
Featuring an introduction by Cynthia Leitich Smith.
Contributors
Editors: Emily X.R. Pan; Nova Ren Suma.
Short Story Contributors: Tanya S. Aydelott; Tanvi Berwah; Gina Chen; Linda Cheng; Mayra Cuevas; Nora Elghazzawi; Desiree S. Evans; Rachel Hylton; Adriana Marachlian; Sophie Meridien; Maya Prasad; Flor Salcedo; Joanna Truman.
Introduction Authors: Melissa Albert; Becky Albertalli; Laurie Halse Anderson; Roshani Chokshi; Gayle Forman; Heidi Heilig; Jandy Nelson; Jason Reynolds; Adam Silvera; Cynthia Leitich Smith; Sabaa Tahir; Nicola Yoon.

VIOLENT ENDS, edited by Shaun David Hutchinson (Simon Pulse, 2015).
In a one-of-a-kind collaboration, seventeen YA writers come together to share the viewpoints of a group of students affected by a school shooting.
Featuring: "All's Well" by Cynthia Leitich Smith.
CCBC Choices
NYPL Best Books for Teens
Great Lakes Great Books Master List (MI)
Kansas State Reading Circle List Starred High School Title
Bank Street Best Children's Book of the Year Selection Title
Reviews
VOYA (starred): ""The storytelling is wonderfully intense and distinctive… Readers will be captivated."
Kirkus Reviews: "Engaging and heart-wrenching."
School Library Journal: "A fresh and thought-provoking take on a disturbing but relevant topic."
Publishers Weekly: "These stories humanize a troubled teenager, as well as the people who hurt him along the way, but the authors don't let anyone off the hook, Kirby least of all."
Contributors
Editor: Shaun David Hutchinson.
Contributors: Kendra Blake; Steve Brezenoff; Delilah S. Dawson; Trish Dollar; Margie Gelbwasser; Shaun David Hutchinson; Christine Johnson; E.M. Kokie; Tom Leveen; Hannah Mokowitz; Elisa Nader; Beth Revis; Mindi Scott; Neal and Brendan Shusterman; Courtney Summers; Cynthia Leitich Smith; Blythe Woolston.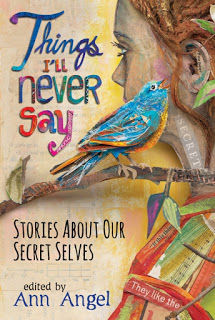 THINGS I'LL NEVER SAY: STORIES ABOUT OUR SECRET SELVES, edited by Ann Angel (Candlewick, 2015).
The one thing these diverse stories share is a glimpse into the secret self we all keep hidden.
Featuring: "Cupid's Beaux" by Cynthia Leitich Smith, a TANTALIZE-FERAL universe story.
Reviews
Booklist: "The balance and diversity that Angel has achieved here is marvelous, and nearly any teen who picks this up will find a bit of herself or himself—or at least a friend—inside these pages. A collection to treasure and share widely."
Publishers Weekly: "Rather than providing tidy solutions to the characters' dilemmas, the stories focus on the feelings of entrapment and anxiety that go along with living a lie."
School Library Journal: "…this collection will resonate with many young adults who have their own secrets as well as readers who vicariously live through the risqué lifestyles of others."
Contributors
Editor: Ann Angel.
Contributors: Ann Angel; Kerry Cohen; Louise Hawes; Varian Johnson; Erica L. Kaufman; Ron Koertge; E.M. Kokie; Chris Lynch; Kekla Magoon; Zoe Marriott; Katy Moran; J.L. Powers; Mary Ann Rodman; Cynthia Leitich Smith; Ellen Wittlinger.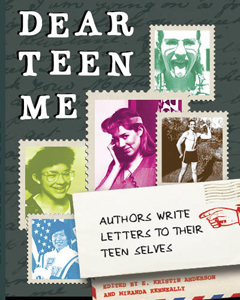 DEAR TEEN ME: AUTHORS WRITE LETTERS TO THEIR TEEN SELVES, edited by E. Kristin Anderson and Miranda Kenneally (Zest, 2012).
Advice from more than 70 YA authors to their teenage selves. The letters cover a wide range of topics, including physical abuse, body issues, bullying, friendship, love, and enough insecurities to fill an auditorium.
Featuring: "Friends in Dark Places" by Cynthia Leitich Smith.
Reviews
School Library Journal: "The one thing these diverse stories share is a glimpse into the secret self we all keep hidden."
Publishers Weekly: "The breadth of emotion and experience the entries cover guarantee that almost any reader will identify with some of the situations and anxieties expressed."
Booklist: "…along with plenty of (now) amusing anecdotes and hard-won insights, the letters dish up proof that, as Mike Jung puts it, 'time was on your side, though, and you made it!' Each letter ends with a brief biography and photo."
Contributors
Editors: E. Kristin Anderson and Miranda Kenneally.
Contributors: E. Kristin Anderson; Jessica Lee Anderson; Tom Angleberger; Sean Beaudoin; Charles Benoit; Robin Benway; Ilsa J. Bick; Marke Bieschke; Joseph Bruchac; Josh A. Cagan; Riley Carney: Terra Lynn Childs; Jessica Corra: Heather Davis; Daniel Ehrenaft: Laura Ellen; Beth Fantaskey; Caridad Ferrer; Michael Griffo; Janet Gurtier; Kersten Hamilton; Bethany Hegedus; Geoff Herbach; Faith Erin Hicks; Nancy Holder; K.A. Holt; P.J. Hoover; Ellen Hopkins; Stacey Jay; Carrie Jones; Mike Jung; Stasia Ward Kehoe; Tara Kelly; Miranda Kenneally; Stephanie Kuehnert; Mary Lindsey; Nikki Loftin; Katherine Longshore; Ken Lowery; Kekla Magoon; Mari Mancusi; Gretchen McNeil; Jodi Meadows; Elizabeth Miles; Saundra Mitchell; Hannah Moskowitz; Jenny Moss; Sarah Ockler; Lauren Oliver; Stephanie Pellegrin; Mitali Perkins; Cheryl Rainfield; Dave Roman; Jess Rothenberg; Jennifer Rush; Amy Kathleen Ryan; Tom Ryan; Leila Sales; Cynthia Leitich Smith; Jessica Spotswood; Erika Stalder; Rhonda Stapleton; Mariko Tamaki; Don Tate; Melissa Walker; Tracy White; Jo Whittemore; Sara Zarr; Jennifer Zielger.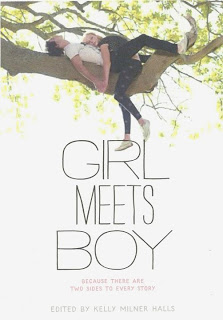 GIRL MEETS BOY: BECAUSE THERE ARE TWO SIDES TO EVERY STORY, edited by Kelly Milner Halls (Chronicle, 2012).
A collection of alternating point-of-view short story duets. CYN NOTE: Gender is not a binary; it's a spectrum. That said, this anthology is centered on the genders reflected in the title.
Featuring: "Mooning Over Broken Stars" by Cynthia Leitich Smith, a companion story to one by Joseph Bruchac.
Reviews
Kirkus Reviews (starred): "Common themes—that are less about gender-based perceptions than they are about teens struggling to be seen and loved for who they truly are—knit these stories together. Each of the authors excels at creating vibrant, sympathetic, honest characters with voices that will appeal to older teens, male and female alike."
Publishers Weekly: "…it's impossible to know everything someone is thinking and feeling—even when you are in a relationship together. This important idea is executed with finesse throughout."
VOYA: "Bobby Wildcat bemoans his short stature and the bullying he endures in his close-knit tribal community. Then, without warning, he finds himself drawn to Nancy Whitepath, the town's large and successful basketball talent. Bobby's insecurities often lead him to misinterpret how Nancy is responding to him."
School Library Journal: "In Joseph Bruchac's and Cynthia Leitich Smith's pair, Bobby has a crush on Nancy, a bruiser who punched her last date. Could someone that strong ever be interested in a guy who used to be bullied?"
Contributors
Editor: Kelly Milner Halls.
Contributors (listed by story pairings): Chris Crutcher, Kelly Milner Halls; Joseph Bruchac, Cynthia Leitich Smith; James Howe, Ellen Wittlinger; Rita-Williams-Garcia, Terry Trueman; Terry Davis, Rebecca Fjelland Davis; Sara Ryan, Randy Powell.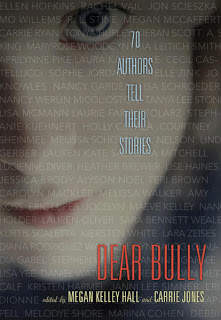 DEAR BULLY: 70 AUTHORS TELL THEIR STORIES, edited by Megan Kelley Hall and Carrie Jones (HarperTeen, 2011).
Stories about bullying—as bystanders, as victims, and as the bullies themselves—in this moving and deeply personal collection. Includes resources for teens, educators, and parents, and suggestions for further reading.
Featuring: "Isolation" by Cynthia Leitich Smith.
Reviews
The New York Times: "This anthology of personal essays provides empathetic and heartfelt stories from each corner of the schoolyard: the bullied, the bystander and the bully himself are all represented. Their words will be a welcome palliative or a wise pre-emptive defense against the trials of adolescent social dynamics."
The Boston Globe: "Two of them, both authors of novels for young adults (Megan Kelley Hall and Carrie Jones), have drawn on the power of the written word to focus attention on the problem and offer solace to the bullied."
Seventeen.com: "You'll love it if… You know someone (or are someone) who's ever been involved in any type of bullying incident. There's something in it for everyone, on all sides of the spectrum. You'll love it even more if you can find a story that inspires you to help someone else."
Booklist: "With authority often turning a blind eye and cyber-bullying rampant, this timely collection is an excellent resource, especially for group discussion, and the appended, annotated list of websites and further reading extends its usefulness."
School Library Journal: "Powerful…All of these stories feel authentic and honest, and readers will find a story or a person to identify with, to look to for comfort or guidance."
Contributors
Editors: Megan Kelley Hall and Carrie Jones.
Contributors: Cyn Balog; Lise Bernier; Z Brewer; Jessica Brody; Teri Brown; Cecil Castellucci; Crissa-Jean Chappell; Marina Cohen; Holly Cupala; Erin Dionne; Lucienne Diver; Claudia Gabel; Nancy Garden; Jeannine Garsee; Linda Gerber; Megan Kelley Hall; Kristin Harmel; Nancy Holder; Ellen Hopkins; Tonya Hurley; Sophie Jordan; Laura Kasischke; Lauren Kate; Jocelyn Maeve Kelley; Deborah Kerbel; A.S. King; Jo Knowles; Amy Goldman Koss; Stephanie Kuehnert; Eric Luper; Carolyn Mackler; Megan McCafferty; Lisa McMann; Dawn Metcalf; Saundra Mitchell; R.A. Nelson; Alyson Noel; Lauren Oliver; Micole Ostow; Marlene Perez; Aprilynne Pike; Amy Reed; Debbie Rigaud; Carrie Ryan; Kurtis Scaletta; Lisa Schroeder; Melissa Schorr; John Scieszka; Kieran Scott; Courtney Sheinmel; Melodye Shore; Janni Lee Simner; Cynthia Leitich Smith; R.L. Stine; Laurie Faria Stolarz; Tanya Lee Stone; Rachel Vail; Melissa Walker; Diana Rodriguez Wallach; Daniel Waters; Sara Bennett Wealer; Steven E. Wedel; Nancy Werlin; Kiersten White; Mo Willems; Maryrose Wood; Lisa Yee; Laura Zeises; Michelle Zink.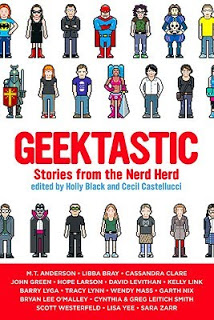 GEEKTASTIC: STORIES FROM THE NERD HERD, edited by Holly Black and Cecil Castellucci (Little, Brown, 2009).
Short stories from some of the best-selling and most promising geeks in young adult literature.
Featuring: "The Wrath of Dawn" by Cynthia Leitich Smith and Greg Leitich Smith.
Reviews
School Library Journal: "Simultaneously addressing the isolation and loneliness that geeks can feel as well as the sense of camaraderie and community that can be found when one embraces a world or ideology in which he or she can completely invest, Geektastic is a completely dorky and utterly worthwhile read."
Children's Literature: "Obsessed with Star Wars, Star Trek, or Medieval role-playing? Then this book is for you…..No matter who you were in high school, these stories will provide many nights of amusing nostalgia."
Los Angeles Times: "Is geek the new black? You'd certainly get that impression from reading this intriguing and humorous story collection."
Contributors
Editors: Holly Black and Cecil Castellucci.
Contributors: M.T. Anderson; Libba Bray; Cassandra Clare; John Green; Hope Larson; David Levithan; Barry Lyga; Tracy Lynn; Wendy Mass; Garth Nix; Bryan Lee O'Malley; Cynthia Leitich Smith; Greg Leitich Smith; Kelly Link; Scott Westerfeld; Lisa Yee.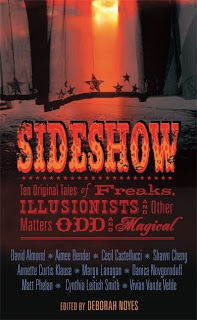 SIDESHOW: TEN ORIGINAL TALES OF FREAKS, ILLUSIONISTS, AND OTHER MATTERS ODD AND MAGICAL, edited by Deborah Noyes (Candlewick, 2009).
Freaks, magicians, psychics, and the passing strange take center stage in ten original tales by top YA authors and graphic novelists.
Featuring: "Cat Calls" by Cynthia Leitich Smith, a TANTALIZE-FERAL universe story.
Reviews
The Horn Book: "Behind the scenes with sideshow performers, these stories reveal the stranger truths the audience is never meant to see… Like the sideshows of old, these tales appeal to our continuing fascination with the unusual and engage us with the lure of the unknown and the power of surprise."
School Library Journal: "Several of the stories pack the same punch as old-fashioned O. Henry or Roald Dahl classics and are the stuff that will fill the English literature textbooks of tomorrow. Suspending disbelief, readers of this fantastic anthology may start investing in psychics and sleeping with the light on."
Booklist: "Layering strong writing with irresistible surprises, this collection, much like its topic, ismore than a little disconcerting and just about impossible to ignore."
Library Media Collection: "These stories are best savored slowly. The pleasure is in the details."
Contributors
Editor: Deborah Noyes.
Contributors: David Almond; Aimee Bender; Cecil Castellucci; Shawn Cheng; Annette Curtis Klause: Margo Lanagan; Danica Novgorodoff; Matt Phelan; Cynthia Leitich Smith: Vivian Vande Velde.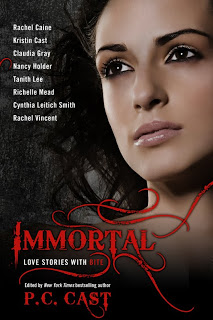 IMMORTAL: LOVE STORIES WITH BITE, edited by P.C. Cast (BenBella, 2008).
Gothic fantasies and paranormal romances.
Featuring: "Haunted Love" by Cynthia Leitich Smith, a TANTALIZE-FERAL universe story.
Contributors
Editor: P.C. Cast.
Contributors: Rachel Caine; Kristin Cast; Claudia Gray; Nancy Holder; Tanith Lee; Richelle Mead; Cynthia Leitich Smith.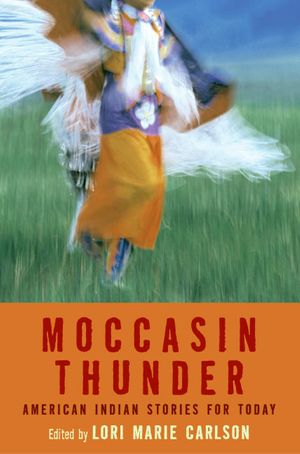 MOCCASIN THUNDER: AMERICAN INDIAN STORIES FOR TODAY, edited by Lori Marie Carlson (HarperCollins, 2005).
Stories that make up this collection are raw, original, and fresh. Although they are all about American Indians, they are as different from one another as they are from anything you've read before.
Featuring: "A Real-Live Blond Cherokee and His Equally Annoyed Soul Mate" by Cynthia Leitich Smith.
Reviews
School Library Journal: "This distinguished anthology offers powerful, beautifully written stories that are thoughtful and important for teens to hear."
Booklist: "Readers will welcome the change from generic reverential images of primitives stuck in the past."
Contributors
Editor: Lori M. Carlson.
Introduction: Dr. Helen Maynor Scheirbeck, Assistant Director for Public Programs, National Museum of the American Indian.
Contributors: Sherman Alexie; Joseph Bruchac; Richard Van Camp; Louise Erdrich; Lee Francis; Joy Harjo; Linda Hogan; Susan Power; Greg Sarris.
Cicada Magazine (March/April 2005).
Featuring: "Riding with Rosa" by Cynthia Leitich Smith.
Adult Short-Form Writing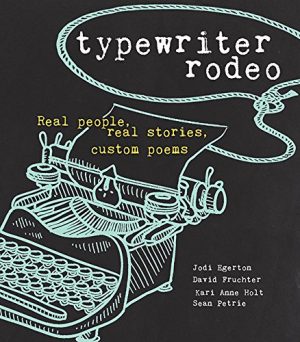 TYPEWRITER RODEO: REAL PEOPLE, REAL STORIES, CUSTOM POEMS, edited by Jodi Egerton, David Fruchter, Kari Anne Holt and Sean Petrie (Andrews McMeel Publishing, 2018).
Both a visual feast and a reference book in the style of Brandon Stanton's HUMANS OF NEW YORK, TYPEWRITR RODEO collects custom, typewritten poems from "rodeos" worldwide, portraits of recipients, and their personal stories. Typewriter Rodeo began in Austin, Texas, when four poets brought their typewriters to a maker fair and began offering spontaneous, custom-composed poems to an enthusiastic crowd. The event quickly blossomed and rodeos began popping up all over the world.
Featuring: "Casa Cyn" by Cynthia Leitich Smith.
Author-Poet Endorsements
Billy Collins, Two-term Poet Laureate of the United States: "Typewriter Rodeo is an exciting project that implicates perfect strangers in the business of poetry by spontaneously writing a poem about them. It's not that the composers think revision is for pantywaists, they just have to get on to the next person in line! And here in your hands is a lively, collage-form gathering of poems, photos, and back stories, which puts the work of these mad, ambush-style typists on colorful display. Who said poetry need be limited to the library and the classroom?"
Naomi Shihab Nye, Young People's Poet Laureate: "A gorgeously designed, uplifting book."
Tom Hanks, actor, author, and typewriter enthusiast: "Thank you for the book of damn fine poetry…. Yee Haw!"