Check out the book trailer for Clayton Byrd Goes Underground by Rita Williams-Garcia (HarperChildren's, 2017).
The first chapter comes to life as Clayton Byrd plays harmonica alongside his grandfather, Cool Papa Byrd, and the Bluesmen.

From the promotional copy:
From beloved Newbery Honor winner and three-time Coretta Scott King Award winner Rita Williams-Garcia comes a powerful and heartfelt novel about loss, family, love, and the blues.



Clayton feels most alive when he's with his grandfather, Cool Papa Byrd, and the band of Bluesmen—he can't wait to join them, just as soon as he has a blues song of his own. But when the unthinkable happens and Clayton's mother forbids Clayton from playing the blues, Clayton knows that's no way to live.


Armed with his grandfather's brown porkpie hat and his harmonica, he runs away from home in search of the Bluesmen, hoping he can join them on the road. But on the journey that takes him through the New York City subways and to Washington Square Park, Clayton learns some things that surprise him.
Video credits: Rita Williams-Garcia, Ferdinand Leyro, Kenneth "Chop" Alston, Mark "Blue Salim" Edwards, Timothy "Breeze" Winston, and Zuberi Zoboi.
Cynsational Reviews

★ "Clayton's love of his grandfather and his music is wonderfully drawn, as is his grief when he loses them…. Strong characterizations and vivid musical scenes add layers to this warm family story." — Kirkus Reviews (starred review)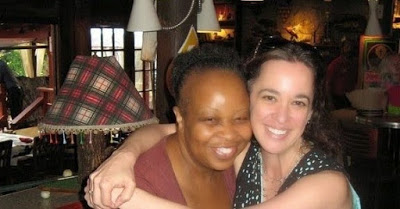 Congratulations, Rita! You're amazing!
★ "With the precision of a surgeon, Williams-Garcia lifts and examines layers of Clayton's hurt and anger: the loss, but also the inability of his dismissive mother to understand… The book's through line, though, is the music, and Garcia-Williams skillfully finds melody in words." — Booklist (starred review)
★ "This slim novel strikes a strong chord… [A] holistic portrait of a family in pain, a realistic portrait of grief and reconciliation, and a reminder that sadness and loss are wrapped up in the blues." — Publishers Weekly (starred review)
★ "An appealing, realistic story with frequent elegant turns of phrase. The third-person voice helps to keep Clayton's story from becoming self-absorbed, as he learns to navigate the literal and figurative underworld and then find his way back to the everyday world of family, friends, and school." — Horn Book (starred review)
★ "Williams-Garcia packs a lot of story in this slim book… This complex tale of family and forgiveness has heart." — School Library Journal (starred review)