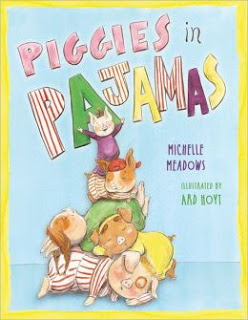 Congratulations to Michelle Meadows on the release of Piggies in Pajamas, illustrated by Ard Hoyt (Simon & Schuster, 2013). From the promotional copy:
After Mama has put her kids to bed, she settles in to make some phone calls. But she keeps hearing things from upstairs. Could her little piggies be jumping on the bed or playing dress-up instead of sleeping? But every time Mama goes up to check on them, they are all tucked in…until the noises begin again!


Kids and parents alike will relate to the eternal bedtime struggle so playfully depicted in this delightful picture book.
More News & Giveaways
Duckbill Books of India from All About Book Publishing. Peek: "…a partnership between Westland, India's fastest growing trade publishing and distribution house, Anushka Ravishankar and Sayoni Basu. 'We look forward to building a children's and young adults' publishing list which will be comparable to the finest in the world. Our list will contain an eclectic mix of books for readers ranging from six-year-olds to young adults,' said Anushka."
If You Struggle with Plot, Here's a Way to Think About It Differently by Stuart Horowitz from Jane Friedman. Peek: "…the best way to produce a first draft is to produce a large pile of pages and avoid trying to organize anything at all. At first."
Kidlit Celebrates Women's History Month: "We hope the blog will serve as both a resource and an inspiration for
librarians, educators, and parents, and all who are interested in the
intersection of women's history and literature for children and teens."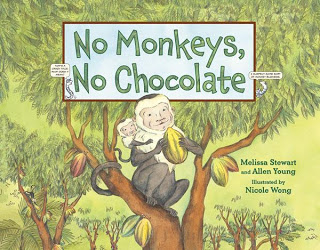 Behind the Books: Does Story Appeal to Everyone? by Melissa Stewart from Celebrate Science. Peek: "I strongly believe that left-brain thinkers are currently being underserved by the kidlit community."
Choose Wisely: Metaphors in Character by Jael McHenry from Writer Unboxed. Peek: "Whether you're writing in first person or third, historical fiction or sci-fi, war or romance, a character can't compare something they're encountering to something they've never encountered before."
Canadian Library Association Book of the Year: A History in Book Trailers from CanLit for Little Canadians. Peek: "Just as these past winners exemplify a full range of genres and themes, so too do these creative book trailers." See also Finalists for the 2013 Young Adult Book Award from the Canadian Library Association from Bookshelves of Doom.
2013 Ezra Jack Keats New Writer and New Illustrator Book Awards Winners Announced from Reuters. Note: congratulations to fellow Austinite and New Writer Honor Recipient Don Tate.
We Need Diverse "Diverse" Books by Shelley Diaz (assistant editor of SLJ's Book Reviews) from CBC Diversity. Peek: "People of color are an indelible part of American history, and the books that are created and marketed in schools and libraries have to reflect that. They shouldn't just be pigeonholed to their respective 'Heritage' Month, and forgotten about for the rest of the year, but displayed and celebrated with every topic covered in the curriculum."
Author Insight: Page Count Intimidation from Wastepaper Prose. Peek: "As a reader, is there a page count at which a book becomes daunting to you? Does this affect you as a writer?"
Being Open to Opportunities by Matthew Salesses from Glimmer Train. Peek: "I hate to turn down anyone genuinely interested in me or my work. How rare and amazing that attention is." On the flip side, check out Closing the Door by Mette Ivie Harrison.
When You're Writer's Personality is Rejected by Kristi Holl from Writer's First Aid. Peek: "Many people in your life won't like some of your creative personality. When that happens, it will feel like another form of rejection."
Meet the Latest Newbery Winner: How Katherine Applegate Created a Modern-Day Classic by Elizabeth Bird from School Library Journal. Peek: "Once a year, they open up his cage, I think, on his birthday and let people walk through, and there were tons of clippings and tons of
touching pictures from little kids and that sort of thing. So I got a pretty good picture of what his life was like."
Interview with Literary Agent Sarah Davies from Scribe: The Writers' League of Texas. Peek: "I'm looking for two main things. 1) A really original and arresting premise that I've not seen before, or which brings a fresh twist to a genre. 2) A mastery of craft and voice to bring that premise to life." See also Interview with Writer and Instructor Brian Yansky from Scribe.
Children's-YA Agents at 2013 Conferences from Vonna Carter. Peek: "This list focuses on agents who represent Picture Books, Middle Grade and/or Young Adult books, though many of them represent Adult works as well."
Back in the Day: Industry Veterans Remember the Early Years by Diane Roback from Publishers Weekly. Peek: "We asked industry veterans to reflect on memorable events from their early days in publishing—most of which could never happen today." Source: Gwenda Bond.
Award News
2013 Golden Kite Award Winners & The Sid Fleischman Award for Humor from SCBWI. Peek: "presented at the Golden Kite Luncheon, the centerpiece event of SCBWI's 42nd Annual Conference on Writing and Illustrating for Children, taking place in Los Angeles" from Aug. 2 to Aug. 5, will be presented to the winners on Aug. 4.
See also honor books. Note: congratulations to fellow Austinite Cynthia Levinson for We've Got a Job: The Birmingham Children's March (Peachtree) being selected as a nonfiction honor book.
Cynsational Giveaways
Review & Giveaway: Fox Forever (Jenna Fox Chronicles #3) by Mary E. Pearson from I Read Banned Books.
Cynsational Screening Room
Check out this video featuring Marilyn Singer by Ed Spicer from Spicy Reads. Includes poetry reading.
This Week at Cynsations
More Personally
Back in Austin, I'm preparing to teach a middle-grade-YA novel workshop with Lauren Myracle later this month at Vermont College of Fine Arts and revising book 2 in the Feral series. See also I'm Looking for a Hero (of the Asian Persuasion, Please) from Sara Fujimura.
Would you like to study writing with me (and Greg Leitich Smith and Nancy Werlin)? Check out information on this upcoming Whole Novel Workshop, sponsored by the Highlights Foundation!
Congratulations to Greg Leitich Smith on selling the sequel to Chronal Engine (Clarion)! Note: you can offer your cheers at GregLSBlog.
Personal Links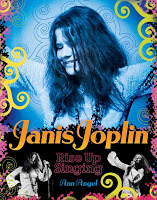 From Greg Leitich Smith:
Cynsational Events
Authors/Speakers at TLA 2013 April 24 to April 27 in Fort Worth from the Texas Library Association. Look for Cynthia Leitich Smith's signing and Spirit of Texas High School author panel.
YA lit readers! Join Cynthia Leitich Smith at 1 p.m. May 25 at Cedar Park (TX) Public Library.
Join Cynthia and Greg Leitich Smith at 11 a.m. at Lampasas (TX) Public Library.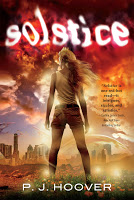 Join authors Cynthia and Greg Leitich Smith, Nancy Werlin and ICM Partners literary agent Tina Wexler at a Whole Novel Workshop from Aug. 4 to Aug. 10 sponsored by the Highlights Foundation. Peek: "Our aim is to focus on a specific work in progress, moving a novel to
the next level in preparation for submission to agents or publishers.
Focused attention in an intimate setting makes this mentorship program
one that guarantees significant progress." Special guests: Curtis Brown agent Sarah LaPolla, authors Bethany Hegedus and Amy Rose Capetta.
Save the Date! 5th Annual Austin Teen Book Festival by Jen Bigheart from I Read Banned Books. Note: Sept. 28, 2013.
Feral Nights & Solstice signing with P.J. Hoover from 2 p.m. to 4 p.m. at Barnes & Noble in Round Rock, Texas.