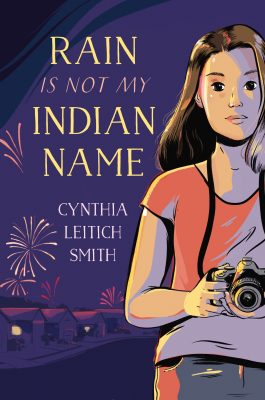 RAIN IS NOT MY INDIAN NAME by Cynthia Leitich Smith, paperback cover by Natasha Donovan (Métis)(Heartdrum, 2021). Hardcover edition features cover art by Lori Early (HarperCollins, 2001). Audio edition of original text read by Jenna Lamia (Listening Library, 2001).
In a voice that resonates with insight and humor, New York Times bestselling author Cynthia Leitich Smith tells the story of a teenage girl who must face down her grief and reclaim her place in the world with the help of her intertribal community.
It's been six months since Cassidy Rain Berghoff's best friend, Galen, died, and up until now she has succeeded in shutting herself off from the world. But when controversy arises around Aunt Georgia's Indian Camp in their mostly white midwestern community, Rain decides to face the outside world again, with a new job photographing the campers for her town's newspaper.
Soon, Rain has to decide how involved she wants to become in Indian Camp. Does she want to keep a professional distance from her fellow Native teens? And, though she is still grieving, will she be able to embrace new friends and new beginnings?
Order RAIN IS NOT MY INDIAN NAME by Cynthia Leitich Smith. Purchase a hardcover edition from Red Planet Books & Comics, a Native-owned bookstore in Albuquerque. Purchase a hardcover or paperback edition from BookPeople, an independent bookstore in Austin. Purchase a hardcover, paperback or Nook edition from Barnes & Noble. Purchase a hardcover, paperback, Kindle, audio book or audio cassette edition from Amazon.
RAIN IS NOT MY INDIAN NAME and HEARTS UNBROKEN (Candlewick, 2018, 2020) are set in the same realistic universe and the respective protagonists are cousins.
Writer of the Year (Children's-YA), Wordcraft Circle of Native Writers and Storytellers;
Finalist, Oklahoma Book Award;
Featured Title, If You Like Judy Blume, You'll Love These Books from What Do We Do All Day?
Featured Title, National Book Festival;
Featured Title, Texas Book Festival;
Dishchii'Bikoh High School Reader Award (DHS is on the White Mountain Apache Reservation in eastern Arizona);
"You Gotta Read This Book" Club, St. Petersburg Times;
Featured Title, GREAT BOOKS FOR GIRLS by Kathleen Odean (Ballantine, 2002);
Book of the Month, Red Tales, Aboriginal Voices Radio;
Recommended Title, THE CHILDREN'S LITERATURE LOVER'S BOOK by Joanna Sullivan (Jossey-Bass, 2003);
Recommended Title, DOES ANYBODY ELSE LOOK LIKE ME? A PARENT'S GUIDE TO RAISING MULTIRACIAL CHILDREN by Donna Jackson Nakazawa (Da Capo Press, 2004);
Recommended Title, SEVEN CHOICES: FINDING DAYLIGHT AFTER LOSS SHATTERS YOUR WORLD by Elizabeth Harper Neeld (Warner Books, 2003);
Suggested Title, Recommended Native Literature for Youth Reading Circles from American Experience: "We Shall Remain," PBS, April 2009.
Audio Version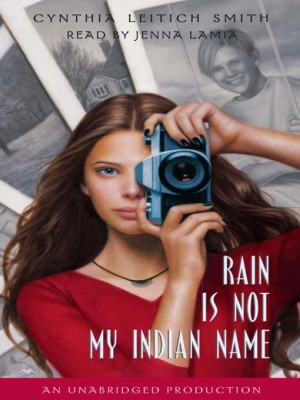 Read by actor Jenna Lamia (Listening Library)
November 2005 Book of the Month by Red Tales, Aboriginal Voices Radio, The Earth 106.5 (Nov. 2005)
"Jenna Lamia's motherless Rain is as fresh, earnest, and appealingly impertinent as the character demands, while her secondary characters sing with individuality…. Rich with sorrow and the longing for resolution in a life diminished by loss, the story of Rain's journey toward her own identity is captivating and exceedingly hopeful." — Audio File
"It's kind of like a combination of 'Northern Exposure' and 'Party of Five'." — Bob Langstaff, WAMV AM (Amhet, VA)

Reviews
"Tender, funny, and full of sharp wordplay, Smith's first novel deals with a whole host of interconnecting issues, but the center is Rain herself. What's amazing here is Rain's insights into her own pain, and how cleanly she uses language to contain it."  
— Kirkus Reviews
"There is a surprising amount of humor in this tender novel. It is one of the best portrayals around of kids whose heritage is mixed but still very important in their lives. It's Rain's story and she cannot be reduced to simple labels. A wonderful novel of a present-day teen and her 'patch-work tribe.'"  — School Library Journal 
"…readers will feel the affection of Rain's loose-knit family and admire the way that they, like the author with the audience, allow Rain to draw her own conclusions about who she is and what her heritage means to her."  — Publishers Weekly
"Smith (author of Jingle Dancer) portrays a protagonist with a genuine voice and an appealing sense of humor."  — Children's Literature
"Cynthia Leitich Smith's newest novel, RAIN IS NOT MY INDIAN NAME, is a powerful novel of two friends and the residual effects of a night of impulsive behavior. Smith's writing is inspired. Rain's heritage, sense of loyalty, her faith in herself and her abilities, and even the memories of her friendship are tested in this compelling story of a teenager who must face the realities of her life. A compelling read sure to be a popular choice among intermediate and young adult readers."  — 100 MOST POPULAR CHILDREN'S AUTHORS by Sharon L. McElmeel (Libraries Unlimited)
"Not since BRIDGE TO TERABITHIA have I read a book for young people which dealt with death in such a gentle but firm tone."  —Apache (Oklahoma, not Nation) News 
"Smith deftly tackles such dominant society icons and artifacts as football mascots, fake dreamcatchers, Elvis, Anime, Pez, cigar-store Indians and Barbie, and places them in a contemporary Indian cultural context alongside fried bologna sandwiches, two-steps, and star quilts. There is Indian Humor that not everyone is going to "get" …no vision quests and no mixed-blood identity crises…we see Cassidy Rain, called 'Rainy Day' by her mom, as a smart teenager with an acerbic wit."  — Multicultural Review
"RAIN IS NOT MY INDIAN NAME is a poignant chronicle of the tender years. As a main character, Rain proves truthful, pensive, able to laugh at herself and absolutely intriguing. The way she handles herself when the cards of her life are shuffled and cut with lies and secrets provides an inspiring tale for teens." — January Magazine

Author Insights
"Probably every first novel is at least quasi-autobiographical, and that's certainly true of this one. Like Rain, I grew up (in part) in Northeast Kansas and had ties to community journalism. I likewise enjoy Web design.

"More globally, it's often remarked that this book is stylistically drawn more from Native literary traditions than most children's books about American Indian characters. I think that's part of my responsibility as a Native author, to honor and preserve those techniques and sensibilities."
June 2001 | 9780688173975; 0688173977 | HarperCollins | Hardcover | Tween Novel/Fiction | 144 Pages | Ages 10-up