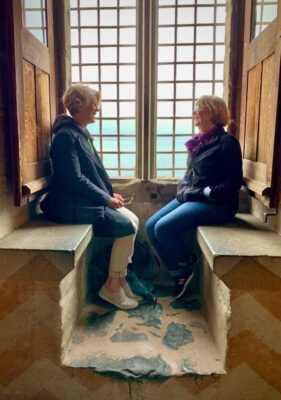 By Sandra Nickel & Kathi Appelt
Spotlight image: Sandra Nickel and Kathi Appelt talking at the Château de Chillon in Switzerland in 2019, photo by Ken Appelt.
After receiving her MFA in Writing for Children and Young Adults from Vermont College of Fine Arts, Sandra Nickel studied an extra semester with Newbery Honoree and two-time National Book Award Finalist, Kathi Appelt. Together, they focused exclusively on picture books. Here, Kathi and Sandra discuss Big Bear and Little Fish [illustrated by Il Sung Na, (Lerner/Carolrhoda Books, 2022)], which was a surprising result of their semester together.
KA: When it comes to your body of work, you tend to lean into no-nonsense, straight-ahead nonfiction. "Just the facts, ma'am," as they say. But here you come with this very whimsical, deeply imaginative friendship that would never occur in the wild . . . or the city either. And yet, you've created such a sweet improbability that it actually feels probable. Where then, did this improbable story come from? What called you to write it?
SN: When I started studying with you, I had three nonfiction picture books scheduled for release. I wanted to challenge myself. I wanted to try writing a book about friendship—a book that was reassuring and had a nugget of wisdom. I wanted to try something like Arnold Lobel's Frog and Toad stories [Harper & Row, 1970-1979].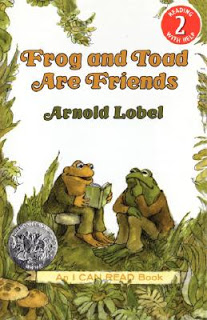 So, for a month I read Arnold's writing, slowly and repeatedly. When I finished, I was in a time crunch to get you some of my own writing. I was worried I couldn't do it. Sincerely worried. But, when I opened my laptop, Big Bear and Little Fish tumbled out. Those weeks reading Arnold had worked a sort of magic. Just like that, Bear and Fish were on the page: improbable, fully formed, and telling their own story.
KA: Big Bear reminds me so much of myself as a young mother. When my sons arrived, I felt so inadequate. You did such a great job of showing us this real fear of doing harm. So I totally understood Bear's reluctance to take Fish home. And I think this wariness translates into relationships of all sorts, doesn't it? Can you talk about this?
SN: Bear also reminds me of myself. I'm a worrier, and I worry a lot about unintentionally harming others. With that kind of fear, the easiest thing in the world is to not engage, to stay away. But if we do that, we start making assumptions about those who are different from us. And it's these assumptions that create all sorts of problems in all sorts of relationships. As far as I can tell, the best thing to do when facing this kind of fear is to wield kindness. It has this beautiful double-edged quality that protects the one using it, while also blessing the one who receives it. With kindness in hand, we can face the unknown.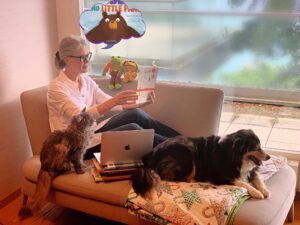 KA: I love Little Fish and her absolute certainty about life. We've all known these fearless sorts. Is Little Fish someone you know? Where did she come from?
SN: My husband was born with a brilliant, shining confidence that he is right. He has this way of quirking a grin and saying, "I know." You look nice today. "I know." That was kind of you. "I know." You were right about that. "I know." I'm not sure how this reads on paper, but in real life it's done with such an easygoing faith in himself, it comes off as positive and assuring. So, I guess it turns out that my husband is Fish, taking on the world fearlessly, as he accompanies the ever-anxious Bear that is me.
KA: It's always so wonderful when the art is an absolutely perfect match with the text. This book is a terrific example of that. Would you talk bout the art, and your role, if any, in it?
Il Sung Na did a brilliant job of bringing Bear and Fish to life. His use of color is inspired, and he is a master of expressions. I absolutely love Bear's range of emotion and that Il Sung gave Fish her distinctive red glasses.
As for my role in matching the art and text, when I write picture books, I think of myself as writing a play. I divide the story into scenes (usually 14 spreads). If the action in a scene isn't clear from the text, I write illustration notes that read like stage instructions. They might say something like "Bear walks home with a sleeping fish" and "Fish wakes up." This is all done to make the story clear to first-time readers. I expect that once the story is acquired, the art director and illustrator may have different ideas about the best way to present the story's scenes. That's their privilege, and I'm honored to have the benefit of their experience.
In the case of Big Bear and Little Fish, Emily Harris, the art director, switched two scenes for the better. Once Il Sung's illustrations came in, Carol Hinz—our wonderful editor—and I put our heads together to see if we needed to tweak the text. I try very hard not to let my words become precious to me. My goal is always to make the best book possible. If that means adjusting my text to match the illustrations, so be it. I'm delighted you noticed the perfect match. Thank you so much for saying so.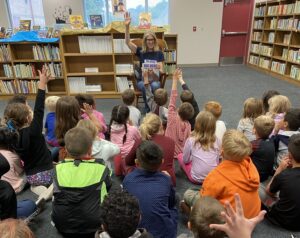 KA: Finally, I think your science-lover self crept in a little bit when Little Fish tells Bear that she lived in a bowl too. And in a thousand ways, that small bit of information makes this a decidedly Sandra Nickel book. Can you talk about that?
I just received an offer for my eighth book, and I've been thinking about the thread that ties all my stories together. By noticing this bit of information in Big Bear and Little Fish, I think you've found that thread! Whether I'm writing nonfiction or fiction, the wonder I have for our world always seems to creep in. I think this is especially true for my most recent, upcoming stories.
KA: What's next? More whimsy? More nonfiction? Both?
I have more whimsy coming in a story that draws on the very misunderstood pigeon and what it truly means to be oneself. And I'm thrilled to say another Bear and Fish story is on its way. The wonder that sneaks into Bear's Big Idea (Lerner/Carolrhoda, 2024) is a luminous moment of discovery reminiscent of Ruth Stone catching her poems in the wind. As always with Bear and Fish, there is also the beauty of friendship.
As for nonfiction, I've written a new biography in fairytale form about, you guessed it, a fairytale creator. And finally, I have a story about the inventor of the colorful Tiffany Lamps. Hint: It's not Tiffany. It's a woman who devised a way to convert the beauty of her much-loved gardens into glass. The wonder of our world slips into each of these, and I simply cannot wait for you to see them all.
Cynsations Notes
Big Bear and Little Fish has been named a Charlotte Huck Award Recommended Book. Find curriculum guides, discussion questions and activity sheets for Big Bear and Little Fish on Sandra's website.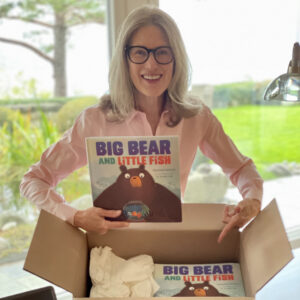 Sandra Nickel is a writer of nonfiction picture books for children. Her work includes The Stuff Between Stars: How Vera Rubin Discovered Most of the Universe, illustrated by Aimee Sicuro (Abrams Books for Young Readers, 2021), Nacho's Nachos: The Story Behind the World's Favorite Snack, illustrated by Oliver Dominguez (Lee & Low, 2020), and Breaking Through the Clouds: The Sometimes Turbulent Life of Meteorologist Joanne Simpson, illustrated by Helena Perez Garcia (Abrams Books for Young Readers, 2022).
She is the winner of a Christopher Award and holds an MFA in Writing for Children and Young Adults from Vermont College of Fine Arts. When at home in Switzerland, Sandra loves ambling and rambling and eating carrot muffins just as much as Bear and Fish do.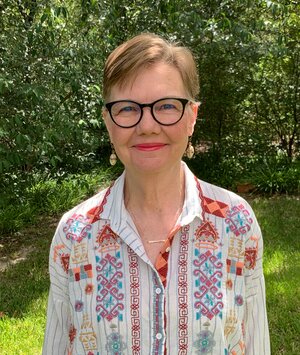 Kathi Appelt's books have won numerous national and state awards, including the Irma and Simon Black Award, Children's Choice Award, Teacher's Choice Award, the Oppenheimer Gold Award, Parent's Choice Award, Storytelling World Award, Growing Good Kids Award, Texas Writer's League Award for Children's Literature, the Texas Institute of Letters Award, Best Books for Young Adults, VOYA Top of the Shelf Award, and a host of others.
Her first novel, The Underneath (Atheneum Books for Young Readers, 2008), was a National Book Award Finalist and a Newbery Honor Book. It also received the Pen USA Award and was a finalist for the Heart of Hawick Children's Book Award. In 2009, she was named "Texas Distinguished Writer" by the Friends of the Abilene Public Library.
Her novel, The True Blue Scouts of Sugar Man Swamp (Atheneum Books for Young Readers, 2013), was a National Book Award Finalist in 2013. In 2016, Maybe a Fox, co-written with Alison McGhee (Atheneum/Caitlyn Dlouhy Books), won the Texas Institute of Letters Award for Middle-Grade Literature, and was named to the Texas Library Association's Texas Bluebonnet Master List. Her first young adult novel, Angel Thieves (Atheneum/Caitlyn Dlouhy Books), was published in 2019. Her 2021 novel, Once Upon a Camel (Atheneum/Caitlyn Dlouhy Books) made the Texas Bluebonnet Master List.
She is married to Ken, a musician, and all-around nice guy. Together they have two grown sons, Jacob and Cooper. Both of them are musicians too. They also share their home with six cats: Jazz, Ace, D'jango, Peach, Mingus, and Chica.
She serves as a faculty member at Vermont College of Fine Arts in their MFA in Writing for Children and Young Adults program.