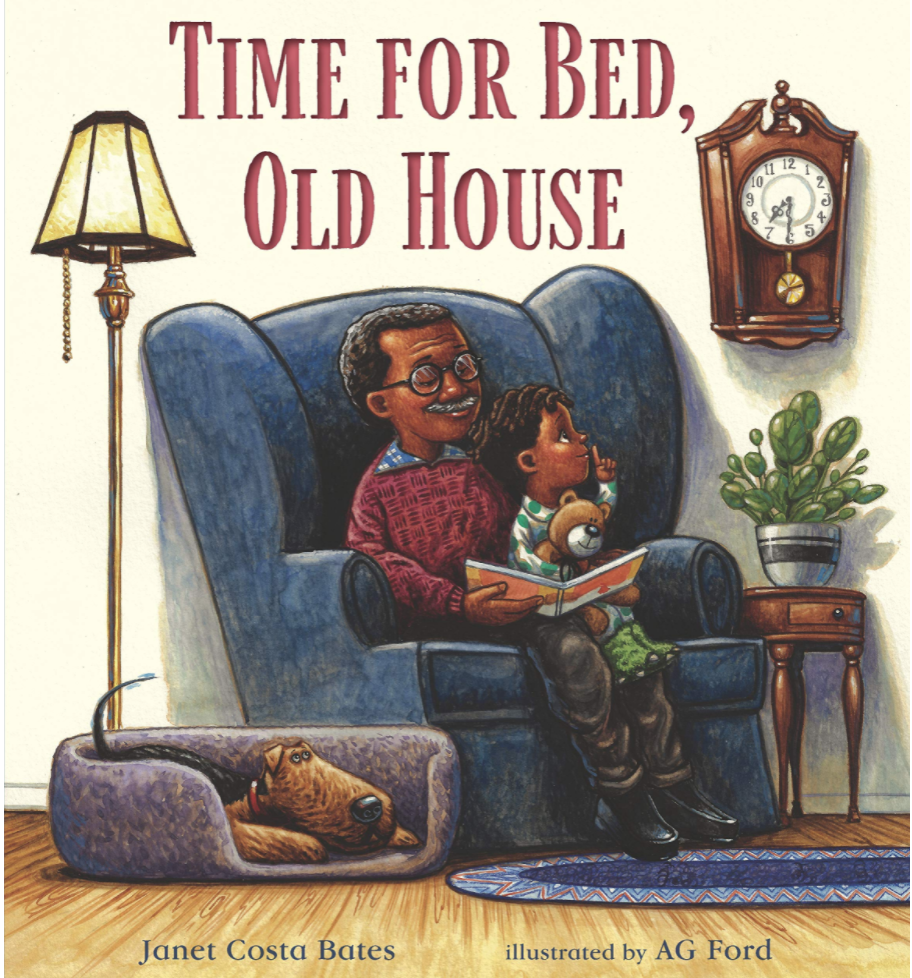 By Cynthia Leitich Smith, Gayleen Rabakukk, Stephani Eaton, Suma Subramaniam, Bree Bender and Gail Vannelli for Cynsations
Spotlight Image: Time for Bed, Old House by Janet Costa Bates, illustrated by A.G. Ford (Candlewick Press, 2021).
Author/Illustrator Insights
Q&A With Natasha Tarpley and Regis and Kahran Bethencourt, The Me I Choose to Be by Suniti Srinivasan from We Need Diverse Books. Peek: [Natasha Tarpley:] "[Y]ou need to have that sense of who you are before you can go out and engage with the world, because if you go out and engage…without completely feeling good about yourself then you are never going to be in that equal stance, you are never going to come to the world as a whole person."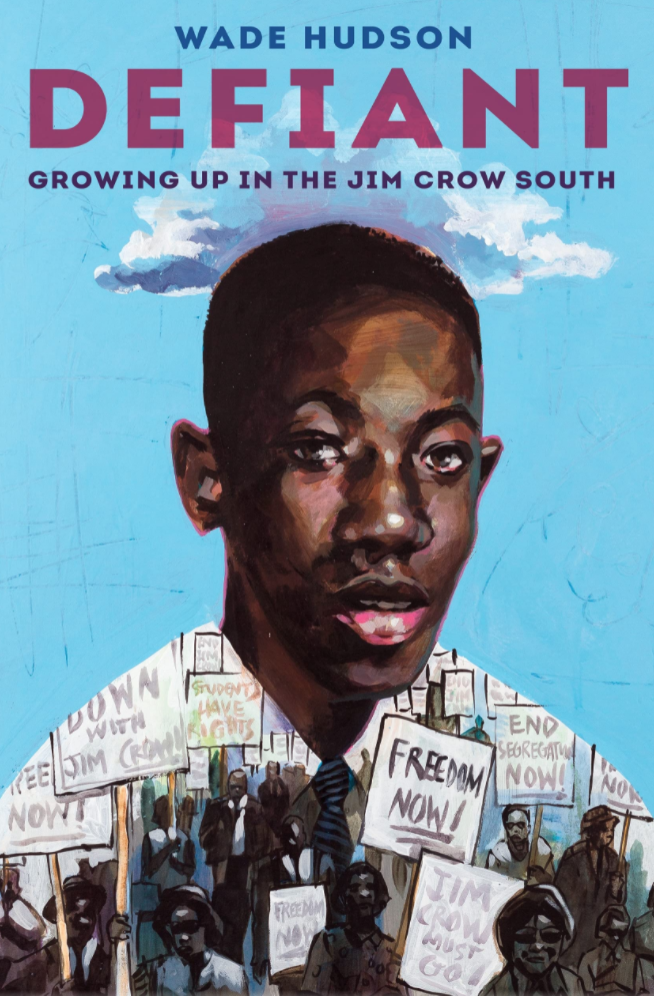 Wade Hudson Talks With Roger by Roger Sutton from The Horn Book. Peek: "What I hope to have captured in the book is what a major difference it makes feeling loved and supported and getting the proper nurturing from the community and your extended family and your neighbors. Being in an environment where people are looking out for you as you're growing up."
This Week We're Wild About Mayonn Paasewe-Valchev by Wild About Authors from Mill Valley Public Library. Peek: "My hope is that [the book] will help children suffering from a loss feel understood [and] will spark rich conversations about the many sources and forms of grief….I hope the story will fill readers with delight and wonder as [the characters] traverse a magical journey with three friends aiming to accomplish something spectacular and heroic."
An Interview With Cindy Wang Brandt, Author of You Are Revolutionary by Sabrina Ricci from Digital Pubbing. Peek: "If kids are to be…respected as adults are, then what excludes them from becoming revolutionaries, people who make a change in the world? It is a human right to have a say in the way we live our lives…[O]ur world still has a long way to go to extend children the rights they deserve…."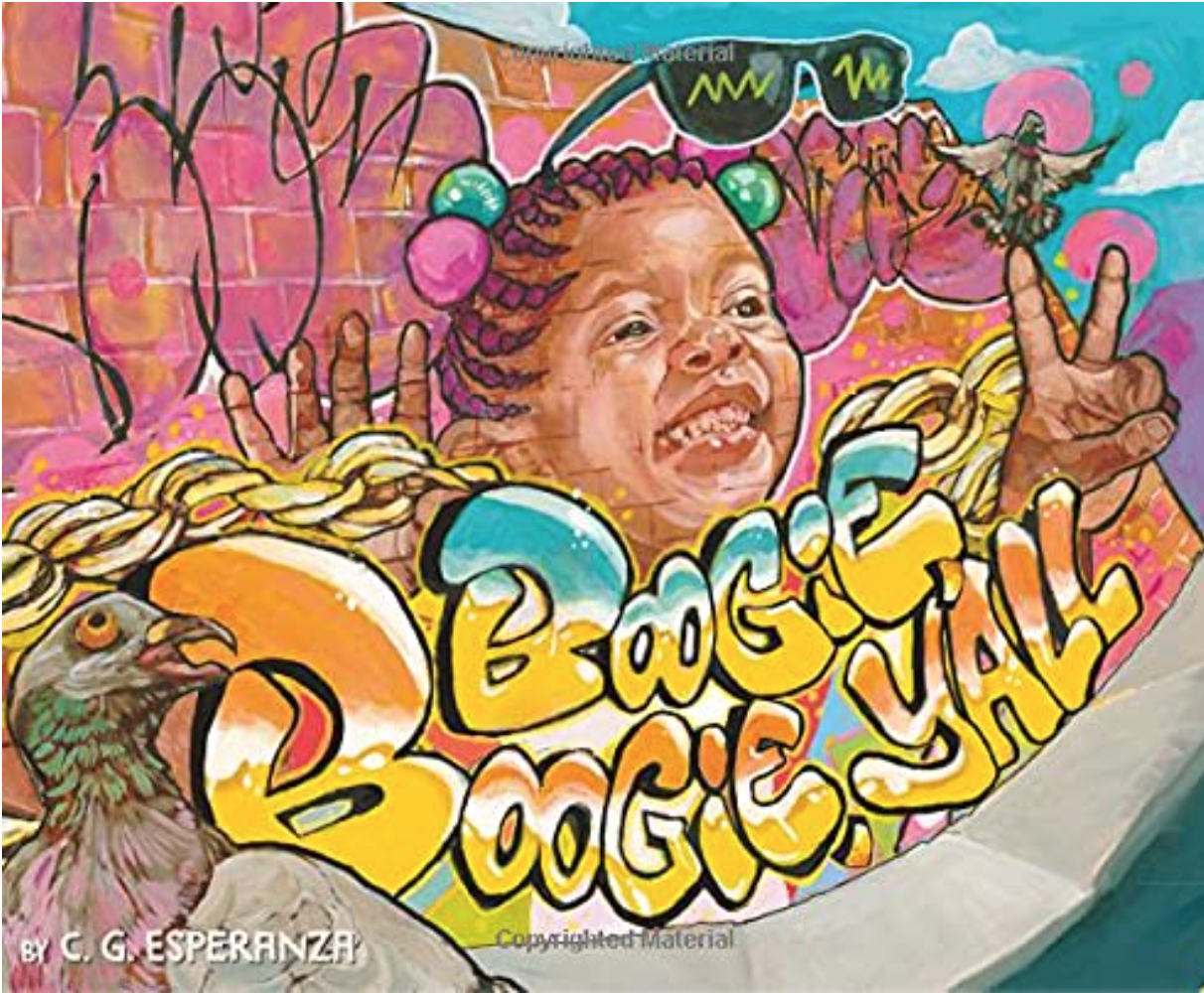 Author C.G. Esperanza on His Children's Book "Boogie Boogie, Y'all" and Its Hip Hop Influence with Shameika R. from Check the Rhymes. Peek: "The arts is an amazing way to have a doorway to everything else in the world…[I] would love for parents to have a stroll with their kids around their neighborhood and look around. If part of the things you see are graffiti…say, 'Hey, What do you think about that?'…See everything in a new light."
Equity & Inclusion
Interview With Author Jason June by Michele Kirichanskaya from Geeks Out. Peek: "I think it's hysterical that some people think there is this Queer Master Plan, and [I] instead wanted to show how each person in the LGBTQIA+ community has their own individual relationship wants and goals, and the chaos and joy and magic that can come about when you actually start accomplishing them."
Q&A With Nina Moreno, Our Way Back to Always by Aleah Gornbein from We Need Diverse Books. Peek: "[I] wanted to examine the pressure the world can sometimes put on teens with immigrant parents to perform success in ways that appeal to others instead of their own internal compass. To succeed is to be exceptional and shiny…There's not a lot of space to talk about self-care or taking…time to figure it all out."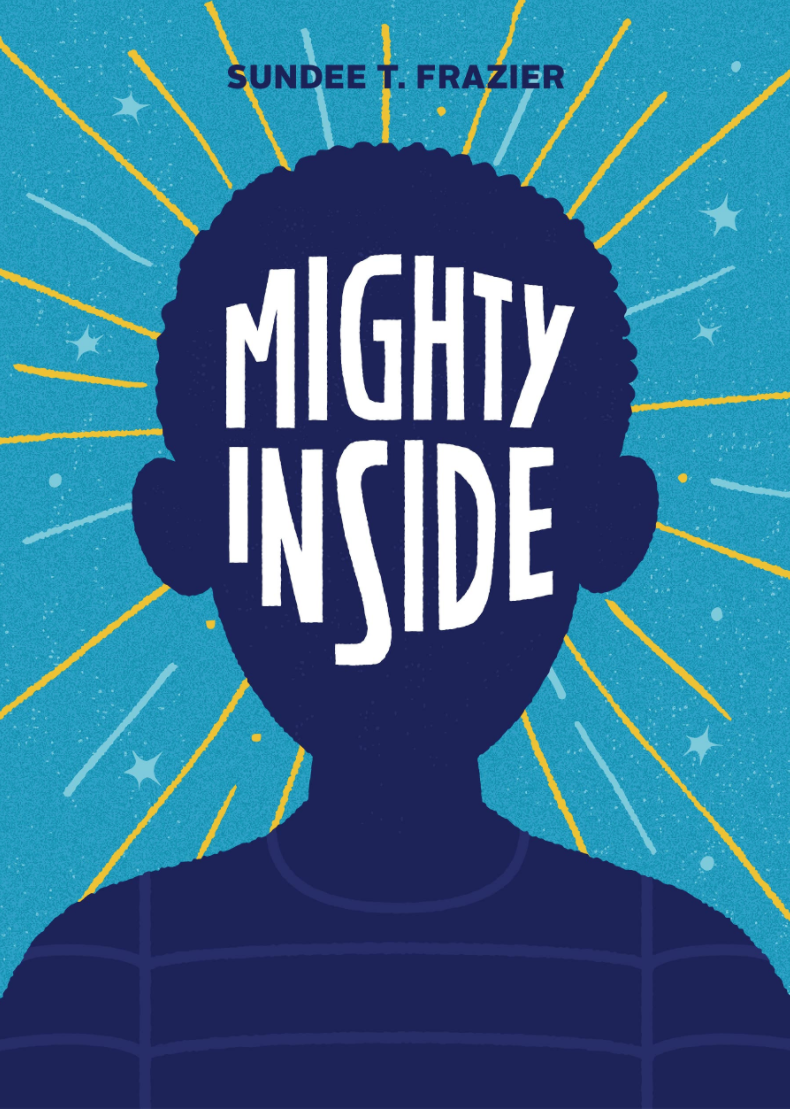 Q&A With Sundee T. Frazier, Mighty Inside by Meagan Gough from We Need Diverse Books. Peek: "My hope is that kids who are experiencing any form of racism or prejudice—from the blatant forms of name-calling and physical violence to the micro-aggressions of exceptionalism, stereotyping, and exclusion—will know they can speak up and say something, either directly to the perpetrators or to peers and adults who will stand with them."
Cherie Dimaline Talks With Roger by Roger Sutton from The Horn Book. Peek: "I get asked what I want my readers to take away from the work….I want people to consider what happened and how we make sure it doesn't happen again….[I] want them to see these brilliant, beautiful, tough, broken Indigenous characters as people. To love [them]…enough for readers to carry that love into their lives."
Q&A With A. R. Capetta, The Heartbreak Bakery by Alaina Leary from We Need Diverse Books. Peek: "I knew [the book] had to be full of the expansive possibilities of queer and nonbinary and trans love—which meant lots of relationships….In shaping the story this way…it was becoming not just a celebration of so many different flavors of love, but also the community and safe spaces that help us to feel brave…."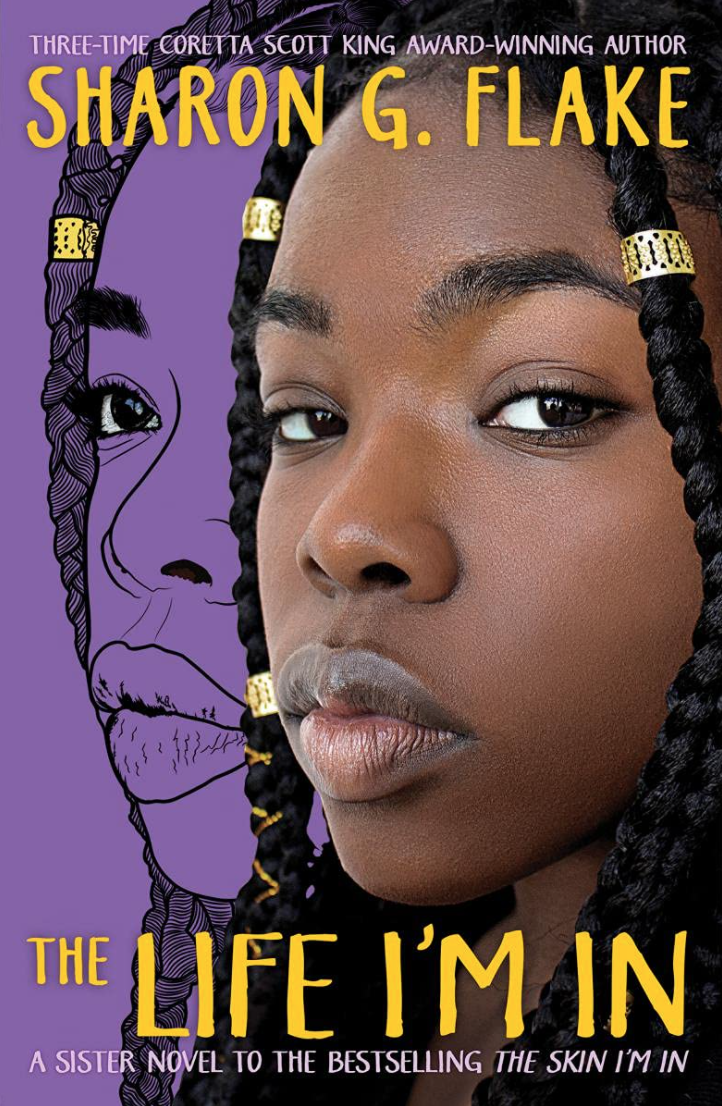 Decades Later, the Author of "The Skin I'm In" Brings Us a Sequel, "The Life I'm In" by Darcel Rockett from The Chicago Tribune. Peek: "Studies show that Black girls are considered less innocent and more adult-like than white girls—they're sexualized more than other girls. We have less empathy for them, and we have less compassion for them. Society as a whole is less willing to be there to catch them and be their safety net."
Writing Craft
Let's Talk Illustrators: Rashin Kheiriyeh by Mel Schuit from Let's Talk Picture Books. Peek: "I will draw so many different styles for my lead character. Sometimes I find it after couple of sketches and sometimes it takes more time, and I will choose the right fit among 20-30 sketches. After feeling satisfied with the main character I will sketch the rest of the characters."
Q&A With June CL Tan, Jade Fire Gold by Anushi Mehta from We Need Diverse Books. Peek: "Even though the story may come across as 'Chinese,' I would say that it's a short-hand way of describing it because I wrote it through the lens of diaspora. There are so many regional, historical, and diaspora-influenced differences in all these myths, legends, and traditions, so I wanted to put my own spin on them."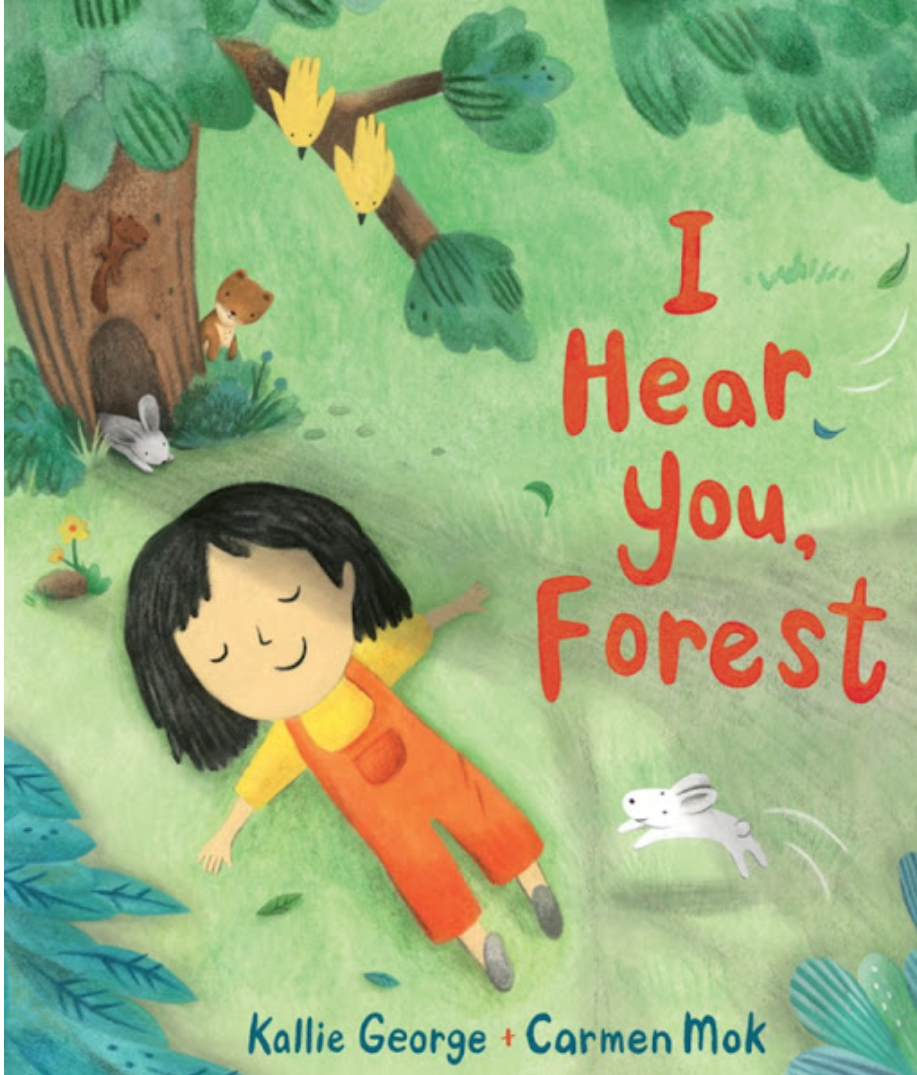 Let's Talk Illustrators: Carmen Mok by Mel Schuit from Let's Talk Picture Books. Peek: "I used to make art with digital paint brushes, but…changed back to…traditional mediums…There are endless possibilities with traditional paint brushes; as a result, my art became more unique with traditional mediums. I also use other mediums such as acrylic paint, watercolor, dry pastel and ink, but gouache and color pencils are my favorite combination…."
Why I Write Expository Nonfiction by Traci Sorell from Celebrate Science. Peek: "I consider myself a reader first, a student second, and then a writer….Regardless of what I'm reading, I want to be engaged by what is on the page….Expository nonfiction provides me with flexibility and expands the variety of tools available to engage readers—while remaining true to the facts."
Soman Chainani Interview: Beasts and Beauty by Britt Rivera from Screen Rant. Peek: "[N]ormally with a book you have some kind of master plan and you go in sort of knowing the overall structure, especially with a collection of stories. In this case, it was funny because my brain would not tell me what the next story would be until I got there."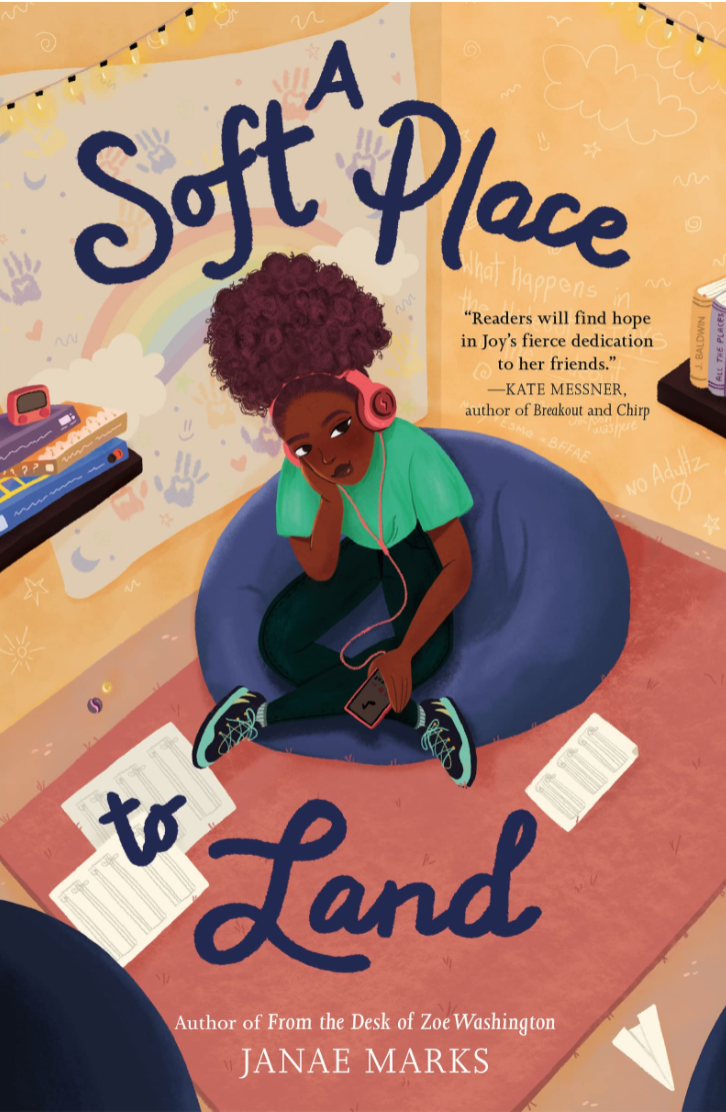 Interview With Janae Marks from A. B. Westrick. Peek: "I'm definitely a plotter!…[I] tried 'pantsing' one manuscript and it was a disaster….I like having some sort of roadmap, even if it's just a few lines per chapter. Then when I sit down to write, I have a…sense of what the next scene should be and I'm not as intimidated by the blank page."
Publishing
Where Have All the Midsize Book Publishers Gone? by Jim Milliot from Publishers Weekly. Peek: Jed Lyons [Rowman & Littlefield Publishing Group]…cited two reasons why it's difficult to build a midsize publishing house: time and money. The key to being a successful midsize publisher is having a quality backlist, and that takes time to build…Building a publisher also requires access to capital to support expansion…[Also] '[t]hey've been picked off'…"
I Like Substack. But the PR Is Getting Ridiculous from Jane Friedman. Peek: "As far as I can tell, Substack has a different core audience than Wattpad, Webtoon or Tapas. They currently reach the type who also visit independent bookstores, probably know about LitHub and Bookshop, and prefer and maybe fetishize print. We shall see if Substack can successfully push beyond this literary type." See also, Serialized Books Are a Burgeoning Business at Substack by John Maher from Publishers Weekly.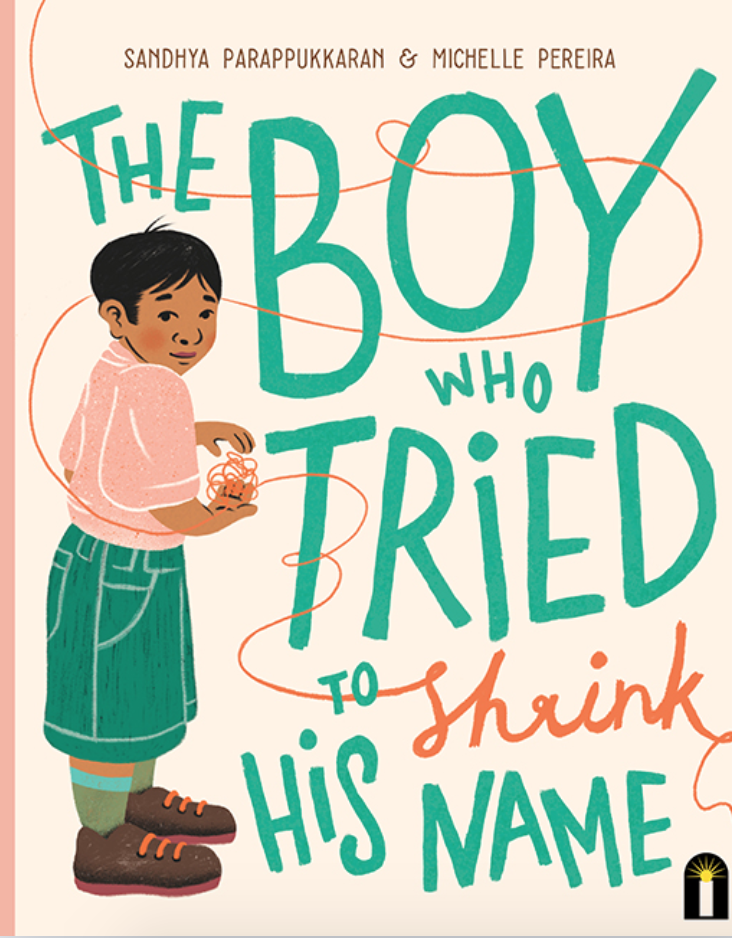 Hardie Grant Launches New Children's Imprint Bright Light from The Bookseller. Peek: "Hardie Grant is launching Bright Light, a new imprint from its children's division focusing on issues such as gender and diversity…[T]he list is billed as a 'ground-breaking collection of illustrated books for children, united by a vision to change the world one conversation at a time.'…[It] will publish more than 20 titles a year…."
Marketing
How Do Authors Craft a Great Website Bio? by Brian Feinblum from BookMarketingBuzzBlog. Peek: "After having viewed the websites of thousands of authors, I can safely conclude that many feature biographies that fail to do justice to the author….[W]hat do authors mess up when it comes to telling the world who they are? Plenty….[W]hat should you include in your bio that will help sell who you are?" [See list.]
Booksellers
A Room of One's Own 2021 Midwest Store of the Year from Publishers Weekly. Peek: "The Midwest Independent Booksellers Association announced…that its bookseller of the year for 2021 is A Room of One's Own in Madison. The Midwest Bookseller of the Year Award is given…to an indie bookstore that has had an extraordinary impact upon its community….MIBA described Room as one of the Midwest's 'most empowered, political, and feisty' indies…."
Spotlight on DC's Mahogany Books by Tracey Y. Smith from The Root. Peek: [Ramunda Young's Recommendations:] "[H]ave a strong online presence and own your own website, even if you already have a physical store. People can shop anytime so you make money while you sleep. [P]artner with other organizations. Be…part of the community, whether it's reading to kids or supporting local schoolteachers. Think about how you can serve other people."
Libraries
ALA Accepting Applications for $2 Million in NEH-Funded Covid-19 Relief Grants by Andrew Albanese from Publishers Weekly. Peek: "The American Library Association…invited libraries to apply for Covid-19 relief funding through its American Rescue Plan: Humanities Grants for Libraries. Under the program, up to 200 U.S. libraries of all types (public, tribal, K-12, academic, special, prison) will receive $10,000 through a competitive, peer-reviewed application process….ALA will accept applications through Dec. 2…."
Education/Other Resources/Events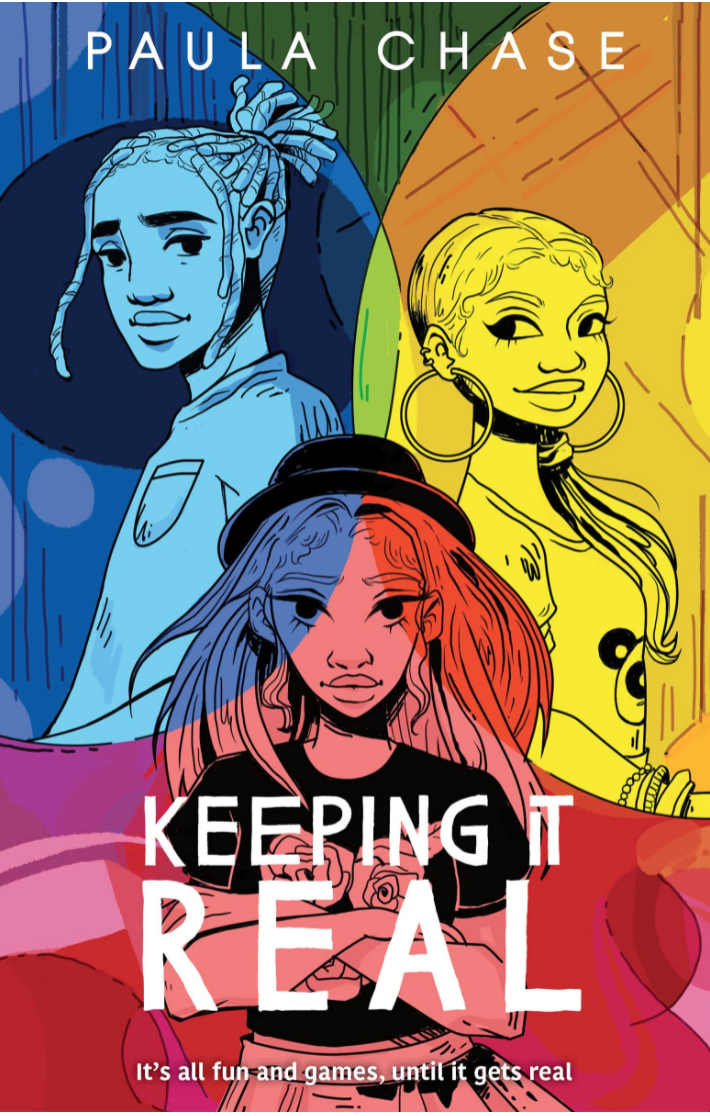 Join Third Eye Books' free online event, Author: Paula Chase—Keeping It Real. Chase has written nine children's books, including her new middle grade release, Keeping It Real (Greenwillow Books, 2021), which is "a powerful exploration of what happens when parents pick and choose what they shield their children from." She is also a co-founder of The Brown Bookshelf. The event takes place Oct. 21 at 6 p.m. pacific, 8 p.m. central, 9 p.m. eastern.
Because Black Women: How Art and Story Bring Two Civil Rights Icons to Life for Young Readers. "Traci N. Todd and Christian Robinson, the creators behind Nina: A Story of Nina Simone, and Tracey Baptiste and Tonya Engel, the creators behind Because Claudette, are joining Booklist and Penguin Young Readers…to discuss their new picture book biographies…."  This free virtual event takes place Oct. 18 at 1 p.m. pacific, 3 p.m. central, 4 p.m. eastern.
Join HarperKids' online event, Picture This: Home and Community, with illustrators Lian Cho, Kevin Henkes, Oge Mora, and Dan Santat as they discuss how in the last year and a half, the words "home" and "community" have taken on new meaning and how the illustrators' new picture books are informed by these themes. The event takes place Oct. 20 at 9 a.m. pacific, 11 a.m. central, 12 p.m. eastern. Register here.
Bringing Real Stories to Life. Join Chelsea Clinton and three authors of the "She Persisted" series team—Kekla Magoon, Rita Williams-Garcia, and Deborah Heiligman—as they discuss their new books in this series that "highlights the lives of amazing women who rose up against the odds." The event takes place Oct. 19 at 10 a.m. pacific, 12 p.m. central, 1 p.m. eastern.
Join Birchbark Books' free virtual event with Angeline Boulley and Cherie Dimaline as they celebrate and discuss Dimaline's new book Hunting By Stars (Amulet Books, 2021). The event takes place Oct. 20 at 5:30 p.m. pacific, 7:30 p.m. central, 8:30 p.m. eastern. Register here.
Awards
Congratulations to all the finalists and honorable mentions of the International Latino Book Awards, especially in the categories of Children, Youth, and Young Adult. The virtual awards ceremony will take place on Oct. 16 (for Children, Youth, and Young Adult categories) at 1 p.m. pacific, 3 p.m. central, 4 p.m. eastern. Register here.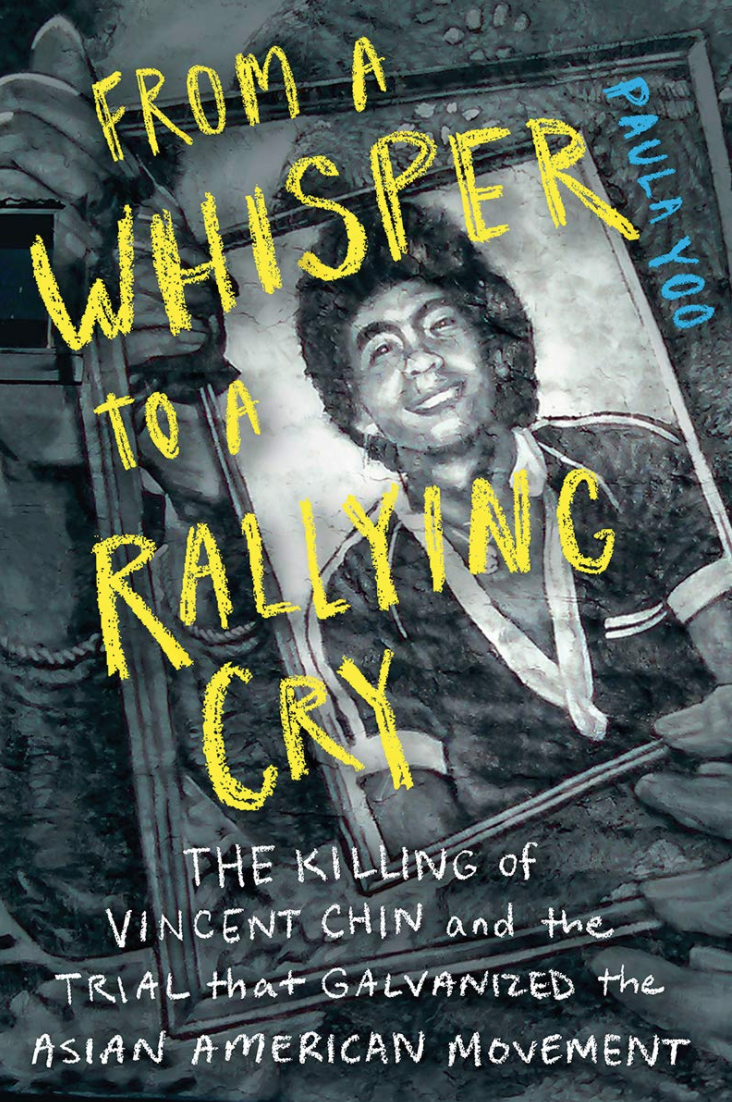 The virtual 2021 Boston-Globe Awards Celebration continues through October, with Nonfiction Week taking place Oct. 19 to Oct. 22 to honor the category winner, From a Whisper to a Rallying Cry: The Killing of Vincent Chin and the Trial that Galvanized the Asian American Movement by Paula Yoo (Norton Young Readers, 2021), and the two honor books, All Thirteen: The Incredible Cave Rescue of the Thai Boys' Soccer Team by Christina Soontornvat (Candlewick Press, 2020) and Unspeakable: The Tulsa Race Massacre by Carole Boston Weatherford, illustrated by Floyd Cooper (Carolrhoda Books, 2021). Celebration videos from Picture Book Week (Oct. 12 to Oct. 15) are still available for viewing.
Scholarships & Grants
Funds for Writers: Grants. Peek: "Here you'll find grants that cover a simple conference fee or a six-month retreat to write and get away from it all. Some pay for specifically designed projects and others exercise your ability to match writing with a social cause. No two are alike, so keep coming back to see what might suit your fancy."
This Week at Cynsations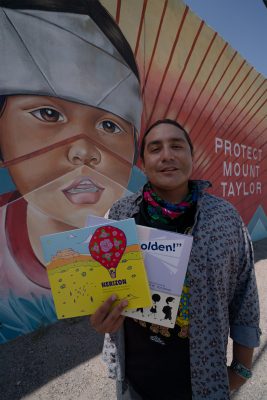 More Personally – Cynthia
Thank you to everyone who contributed to the We Need Diverse Books Native Fund campaign! It was very successful, exceeding our goal, and we're so grateful for all of your support. Your gift will help facilitate programs that serve Native and First Nations writers, illustrators and educators.
Thanks also to everyone who helped raise awareness of Indigenous voices in children's-YA literature over Indigenous Peoples' Day holiday. Remember to read Indigenous books and integrate them into your classrooms, homes and communities throughout the year.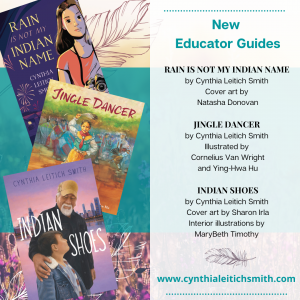 Thank you to Lakota author-educator Andrea Page for creating teacher guides for the updated editions of my first three books!
Looking for more educator resources? Check out Honoring Indigenous Peoples' Day with Teaching Ideas for Ancestor Approved from Mary Ann Cappiello from School Library Journal. Peek: "One of the marvels of this collection is that the stories are intersected, not separate. Seemingly minor characters from one story are the protagonists of other stories. Map the relationships between the various characters as they meet one another in different stories. Who is related to whom? Which characters get to know one another?"
On a related note, here's a new review of Ancestor Approved: Intertribal Stories for Kids (Heartdrum, 2021):
"What made them especially poignant is how they are focused on Indigenous joy above all else. These stories certainly talk about pain and intergenerational trauma, but their focus always comes back to the sense of friendship, family, and community that comes fiercely alive when Native peoples get the chance to gather." —Pine Reads Review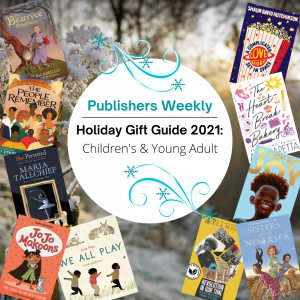 Two 2021 Heartdrum books, Jo Jo Makoons: The Used-To-Be Best Friend, written by Dawn Quigley and illustrated by Tara Audibert, and my own middle grade novel, Sisters of the Neversea, were named to the Publishers Weekly Holiday Gift Guide. Remember to do your holiday shopping early! Due to supply-chain issues, not all books may be available throughout the season.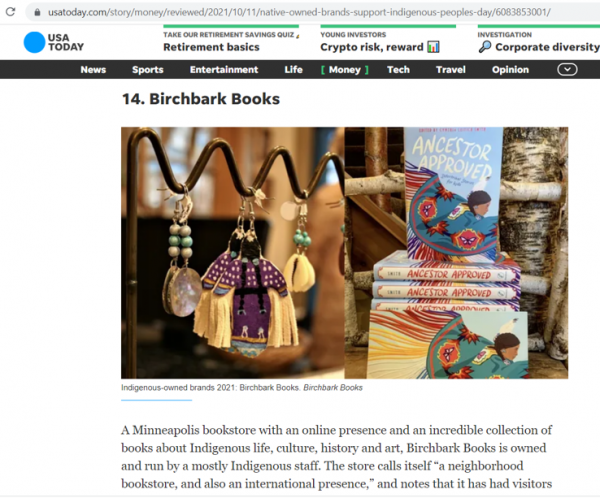 More Personally – Gayleen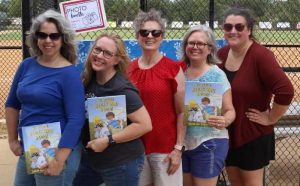 A local dog park provided the perfect venue for celebrating Susan Kralovansky's latest title, We Really, Really Want a Dog (Pelican, 2021). Our critique group assembled in person for the first time in more than 18 months to show our support. Left to right: Noelle McBride, Jennifer Coleman, Susan, Gayleen, Eileen Manes, not pictured: Alisha Gabriel.