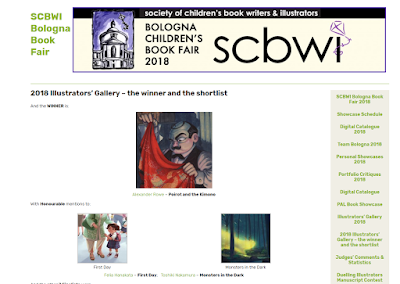 By Dina von Lowenkraft
for SCBWI Bologna 2018 and Cynthia Leitich Smith's Cynsations
Note: This is the first in a series of interviews focusing on the Bologna Children's Book Fair.


SCBWI Belgium + Luxembourg Regional Advisor Dina von Lowenkraft talks with the winners of the Bologna Showcase: Alexander Rowe, Felia Hanakata and Toshiki Nakamura.
Welcome, Alex, Felia and Toshi! Thank you for joining me for this discussion about your award-winning work in SCBWI's 2018 Illustrators' Gallery.


Alex Rowe's piece, 'Poirot and the Kimono' won top honors with Felia Hanakata and Toshi Nakamura both getting honorable mentions for their works, respectively, 'First Day' and 'Monsters in the Dark.'


Alex is originally from Tuscon, Arizon and graduated from the Rhode Island School of Design. Felia is from Indonesia and graduated from the Academy of Art University in San Francisco. Toshi is from Japan and also graduated from the Academy of Art University.
Felia to Toshi: I can't believe we went to the same school! Your work is great!
Toshi: I know! Such a coincidence! We probably overlapped a year or two, I guess. Thank you for the kind word, by the way. I love your piece. Great storytelling!
What struck me looking at your winning pieces is how different they all are.
Alex, can you share a bit about your creative process and what techniques you used to make 'Poirot and the Kimono'?


Alex: Totally, and that's the thing I love the most about the illustration world! We all have a voice, and a vision to match with that.
It stressed me out when I first graduated, just how many talented illustrators there are out there, but each one of us out there has a story only we can tell. It's exciting to see!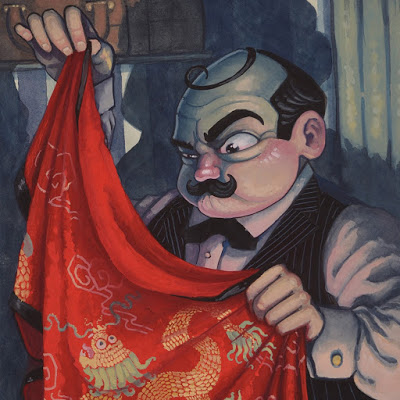 Poirot and the Kimono by Alex Rowe, used with permission.
My works are also each different because I want to work to illustrate for all ages and genres. My process is always the same: start with the thumbnail, and the first things I think of are light and color, then the character studies I've done prior to the piece.
My underpainting is done with the complementary colors to get me to think more about their relationship – for example, the first layer of the red kimono was lime green!
I use gouache most often, it's by far my favorite medium!
Felia to Alex: Your winning piece is stunning! I love the mysterious atmosphere.
You mentioned that you used lime green as the underpainting. I worked and used gouache a lot in the past, but never used underpainting for it.
Did you mix both watercolors and gouache? (I love acryla gouache, I think it strikes the perfect balance between transparent and opaque.) And since you work traditionally, how troublesome is the scanning and editing process?
Alex: It was really tricky making sure that the digital file matched the traditional, but the best way to go was finding a good friend in photography who helped show me the ropes in catching a good quality image of the work. At first, the biggest challenge I had was making the images too over saturated when I first started editing, it all looked awful! Now I'm excited to mix more digital media into the creation, not just the editing.
Toshi to Alex: Your piece is gorgeous! I have some experiences using gouache, but I've never done underpainting. I am just wondering if you paint complementary colors underneath, would it get a bit muddy or something since gouache is water-based medium? I'd love to know your method of working.
Alex: The paint doesn't get as muddy as you would think! The first layer of color is very thin, almost a wash, and I start getting thicker in application from there.
In some other pieces, I've been playing around at acrylic on top, but there are places in almost every painting where I like letting the original underpainting show through.
Felia, you mentioned that you worked with gouache in the past, what do you work with now? And can you tell us a little about your creative process for your piece 'First Day'?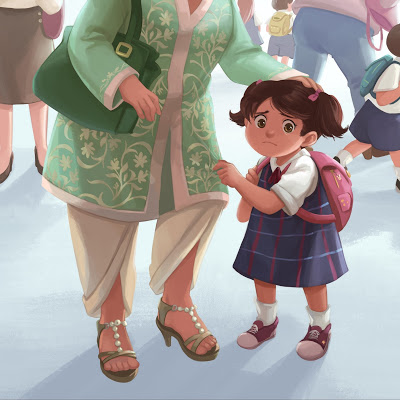 First Day by Felia Hanakata, used with permission.
Felia: I'm 100 percent digital nowadays! Except my sketchbook, which is all done in graphite.
I used to work with gouache a lot in the past and I love its opaque look, so even when I paint digitally, I try to achieve that "dry brush, texture-y" feeling.
As for the artwork itself. Whenever I feel frustrated with work I will move away and browse my sketchbook.
It was during this downtime that I found this old sketch I hadn't got to draw yet. So I decided to work on it on weekends. I thought it'd be nice to draw something school-related and I wanted to convey that "lonely, nervous feeling" on your first day of school.
From a very small thumbnail, I moved to the actual size, creating a cleaner sketch on Photoshop. And then I would make color roughs and decide on one. From there I made the clean line art, filled in base color, and organized my layers. After that, I painted to finish. This is how I work all the time–very streamlined.
Usually the hardest part is the sketch/thumbnail part because I have to brainstorm a lot!
Toshi, what was the inspiration for your piece 'Monsters in the Dark'?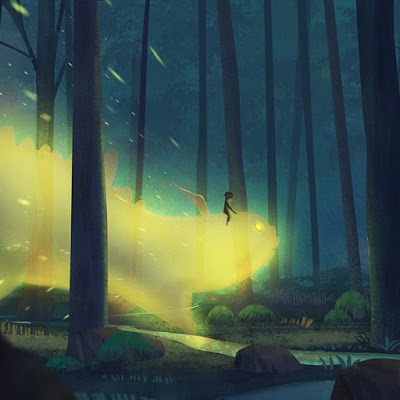 Monsters in the Dark by Toshi Nakamura, used with permission.
Toshi: 'Monsters in the Dark' is actually something I made as a concept piece for an animated short film that I've been working on with my friends for a while. This is an early concept that I made for a director of the film as an inspirational piece, so the film is going to be a quite different look from this. As for process, the concept of this piece came up in my mind pretty quickly. I believe this was just done in a day or so.
The director of the film had a vision vaguely, so I took the idea and translated in a visual image.
Synopsis of the film is this: 'A boy, haunted by his abused past, fears the love of his new family and runs away into a dark forest where he meets a monster that will transform his life forever.'
Making an animated film takes a huge amount of time and I wanted to produce something promptly that would inspire us to move forward and would visually explore and say 'this could be it.' At that time, we didn't have any monster design established yet, so it was quite challenging for me since I'd rarely designed creatures or anything like that.
The piece was done in Adobe Photoshop. I used to do this kind of concept piece with painterly techniques and more dimensionality, but for this piece I needed to create something flat and 2D feel because background in the forest scenes was going to be in 2D although the film itself would be consisted of hybrid technique combining 2D and 3D.
For the color, I was trying to make it as visually striking as possible. It is character-driven, so making contrast between character and environment could achieve to draw attentions from viewers.
Felia to Toshi: Since you're working for animation, how transferable are animation skills into children-book making/drawing? Molly Idle and Claire Keane were working in animation studios before, and now they have released stunning picture books! It's always fun to see other illustrators' backgrounds and inspirations and/or influences, and I'd love to hear your thoughts on it.
Toshi: I'm working in animation industry and I do design characters, environments and props… this is what we call "Visual Development." Basically, what I do is to design and develop visual assets that you see in animated films or animated TV shows. These design skills might not really be necessary in children's book making. However, early on the production, we'd create some concept art, which is an illustration/painting based on scripts/story to show what the scene or the visual style would look like. This exact skill can apply to children's book making: to infuse story into pictures.
One of Toshi's other illustrations, used with permission.
As far as I know, many artists working in animation studios are actually making children's books on the side. As a matter of fact, my agency, Shannon Associates, has several artists from major studios such as Blue Sky Studios and Dreamworks Animation. I hope I can do the same in near future!
As for the work style, I can totally understand your way. I'm like you, I do work almost completely 100 percent digitally with Photoshop. So many revisions come in the way, especially working in animation, so there's no way for me to be more efficient than working digitally. I actually love using gouache and a few of my favorite illustrations I did were done in gouache. Hopefully, I can work on some gouache illustration sometime soon!
I'm really intrigued that this comes from a short film idea, Toshi! Can you tell us a little more about how the look and feel of the film has evolved from the concept piece? The colors are very striking, especially the play of light that you have, is this something that has been kept in the animation?
Toshi: So, the story has changed quite a bit since I made this concept piece, and the monster design is also quite different now. Unfortunately we decided to go with different color instead of the bright yellow glow… but this happens in the animated production all the time, so I'm just glad that the director's got the vision to move along with. As we're close to finishing up pre-production and just about to start the production, we still need to figure things out when it comes to actual lighting and stuff. I wish I could tell more at this point.
Alex, I agree with Felia and Toshi – your piece, 'Poirot and the Kimono' is gorgeous! I wish I could see it in real life.
Alex: The piece is actually hanging at steam espresso bar in Denver, come on by for coffee if you'd like to see it in person!
Oh, I'm so jealous of everyone who is in Denver right now! What was the most challenging aspect of making this piece for you?
Alex: For this piece, the most challenging part for me was balancing the focal point for the viewer: I knew I wanted to make the scarlet kimono a big eye catcher, but also Poirot's face of being toyed with by the murderer in the story was second to me!
I wanted to make the scene conveyed with as few elements as I could.
I've always loved mysteries, and so I've always loved illustrating them. So leaving clues and hints in each painting, just like the writers do with their stories, is a big part of work like this for Agatha Christie's classic story.
Felia, you said you work 100 percent digital, what it is that you like about working in that medium?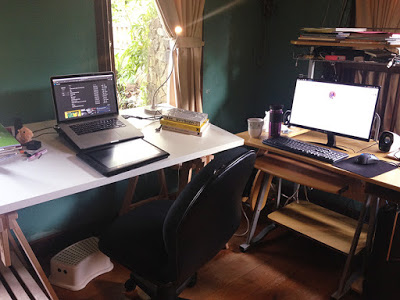 Felia's studio
Felia: I like to be efficient, and digital makes that possible. I was surprised at how much faster I'd gotten in the past year actually! Streamlining my workflow is one of the keys to that.
As I mentioned, I love the opaque and textured look of gouache so I try to achieve the same kind of feeling on my art. I absolutely love Kyle's brushes!
Many illustrators, when thinking about a career in children's publishing, think primarily of illustrating picture books even though there are more and more graphic novels and illustrated books for older readers. Is this something any of you are interested in pursuing?
Alex: It's so funny you should ask, my goal growing up was to illustrate nothing but adult stories! As a kid, I loved reading Sherlock Holmes, and those illustrations were another inspiration for me, so that was my big drive.
It's only after college that I started working towards children's books, but I'm exited for the growth in illustrations for young adult and older audiences.
I've been working on a pipe dream project for years, either book or graphic novel on the Black Plague of the 1300s, so here's hoping!
Felia: I can relate with you, Alex.
I didn't even know the children's book industry existed and was this big until six months before graduation. (Reading children's books is not a
tradition in Indonesia.)
I absolutely fell in love with it.
Illustrating picture books is of course my main focus, but lately I've been wanting to illustrate covers and for older readers as well. In fact I've written some rough drafts for a young adult graphic novel, although I'm stuck with the plot at the moment.
I also got some ideas for rewriting a fairy tale, and I look forward to working on it more. I really would like to write and illustrate my own picture book/graphic novel one day!
Toshi: I think I'm one of the many illustrators you mention. As I grew up with many animated TV cartoons and films and studied animation design in school, it naturally became my passion to illustrate picture books. Though it has been my primary focus and interest in the publishing, I'm getting more interested in adult stories lately.
To be honest, I'd just be delighted to illustrate any stories that may interest kids and/or adults! I look forward to opportunities to work on both genres for sure.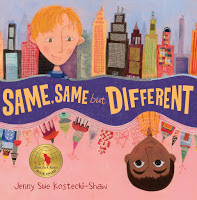 #ownvoices and diversity have been very big topics for kidlit recently. What are your thoughts on the subject and has this changed the way you work? or the way you present yourself?
Felia: I think I didn't realize how much I wanted to see more diversity in children's books until I read Same, Same But Different (Henry Holt, 2011) by Jenny Sue Kostecki-Shaw a long time ago.
As an Asian, I was always enamored by the grand European castles and architecture, but I never thought I would feel glad to see other parts of the world being represented.
I think it's especially nice for children to find something they can relate to–a part of themselves–in the book they're reading.
I wouldn't say it has changed the way I work because personally I draw a lot of Asians, but whenever possible, I love to draw people from different parts of the world. It's fun to construct characters with different cultural backgrounds.
I was born and raised in Bali where tourists of many countries gather. I lived in San Francisco for nearly five years and got to see a lot of different people and their stories. This seeps into how I perceive and see things. So when I tell a story… I want it to be inclusive.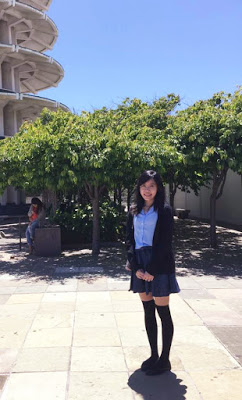 Felia
For my "First Day" as an example, I guess I want viewers to acknowledge the fact that it is okay to feel nervous about your first day of school, wherever you are, whoever you are.
Toshi: Even though I grew up in Tokyo where is globalized and many from different cultures live, living there still feels somehow closeted.
The idea of diversity really kicked in my mind when I moved to San Francisco to attend the school. As big as the issue of diversity in kidlit currently is, it is very big topic in animation industry, too.
I believe that the content of animated TV shows and feature films has been getting more diverse the past years, but I'd love to see more cultures and ethnicities involved in the animation and kidlit industry.
I agree with you, Felia. It's fun to draw from different cultural backgrounds, and it hugely inspires me and teaches me a lot of things.
It's great when a client chooses you for a book because you may be familiar with the content of the book because of your cultural background. It's certainly an advantage in a way, but I also would love to work on children's books that include any subjects and/or cultural contents because as an illustrator I think it is such an amazing thing that I can be a part of stories that may inspire and encourage kids and maybe even adults from all over the world.
Alex: What you've both said about how fun it is to research and show other cultures and world views really speaks true!
For all my works, the research aspect is always the most fun – in a weird way, the simple things fascinate me the most! Textiles and crafts from around the world and through time, those little details I think can make a piece, and make it feel more real in a way.
For diversity in my paintings, I think our first instinct is to draw our own experience – so for a long time, and even still – I fell into the bad habit where my portfolio is full of white men.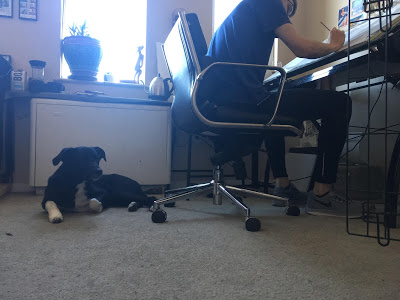 Alex at work in his studio
Listening to other illustrators and writers has been hugely helpful with how I want to display diversity in my work, listening to how I can still help while seeing that the best way at times is to step back and listen.
I think I've first had to notice my own huge bias, and then realize that the most beautiful part of this movement is that it calls for all voices to be heard – like what we said earlier, we all have a voice and have to be able to share it.
For diversity in art, Geena Davis' work on representation of women in film comes to mind first: "if you can see it, you can be it."
I think we don't just need diversity in the illustrations and the stories, but in the authors and illustrators themselves. We have so many rockstar and diverse authors and illustrators in the world, it's important for kids to see that and be able to say, "it's not impossible! I can do it, too!"
We have to listen to each other, see stories that are different from our own, to see how connected we really are.
Moving forward in my work I see this as a challenge to live up to: to represent diversity and to check and push back my bias.
I think that illustrators especially have to include diversity, because children need examples (in fiction as well as reality) to inspire them.
The key is you have to really connect to and understand the diversity you're trying to depict, and find common ground with your own experience: because kids especially can see if work is genuine or not!
I've heard Laurent Linn, art director/designer for Simon & Schuster, say that he looks for illustrations that have an emotional connection because readers need to be emotionally invested in a book's characters… is this something you think about when you work on an illustration?
Toshi: Absolutely. It would be much more interesting especially if you had personal history behind an image that you'd create.
As someone who has some animation background, I've been told the importance of 'emotional connection' a lot of times.
For example, I have been going to portfolio reviews by pros from major animation studios so many times the past few years since I was a student. They could tell at a glance, what draws their attentions the most, emotionally. Usually it'd turn out to be something I'd spent very much and often based off my personal story.
The term I've heard when animation peeps talk is 'Believability,' which is very essential when I work on an illustration or concept.
Realism is not something I pursue when I create an image, but realism can be replaced with believability. As a newbie in the publishing industry, I can't say this applies always, but if I were a reader, I would definitely feel more emotionally connected to a picture that has something believable or speaks something relatable to me.
Alex: I love that phrase "believability" for work, Toshi!
I think that's been a big struggle for me to overcome as an illustrator, when I look back on work I made in the past and even some work now if I don't focus on this. It's about translating that story you need to tell as an illustrator, and making that visible to the reader.
For Poirot, I let my own fears and anxiety about the "mystery" of what to do with the future try to fuel the piece. I made this piece as I was struggling to discover whether I should keep pursuing illustration as a career, and Poirot's frustration in the Murderer leaving the scarlet kimono in his luggage to taunt him felt like the kind of teasing life sometimes throws at you. I needed his little grey cells to help me figure out my own mystery as well.
One of Alex's pieces in progress
And just like Toshi was saying, the pieces I've done that I've loved the most have been connected to the personal, not just the surface.
I wish I learned that lesson earlier, to always let my own vision show through – for the longest time I had this rigid idea of what "art" was, and it was full of works decades or centuries old.
I think those heroes of mine kept me from being loose and free and honest about my emotions in my work. That kind of raw feeling is what I think is so stellar about illustrations today!
Felia: Great topic, I love it! I agree with both of you. Believability is very important in storytelling.
Personally I love anything fantasy or magical. I watch a ton of magical girls and superheroes shows. For the longest time, I wondered what made me drawn to them so much – and then I realized, aside from the fantastical elements, it's the "realistic, relatable" characters that connected to me on a personal level. They had their own flaws and struggles, and they experienced the same things I did. I think strong story-telling has that.
Nowadays readers always want to find something fun, something they can easily engage with – and the fastest way to establish reader-viewer relationship is by creating something that is emotionally strong and relatable.
It's the same with my "First Day" piece. I wanted to show anxiety and fear and loneliness. I've felt how it's like to be very far from home, alone, on your first day of school, and you know no one. It can get scary. (But you'll be fine!)
Some friends actually came to me after I showed "First Day" to them, and they said, "that feel though, I can relate. I was clinging to my mom on my first day of school when I was a kid."
I'm always amazed at how story-telling can do so much in sequential art, and I will do my best to improve my skills as well!
Thank you all for your enthusiasm and taking the time to chat! I've really enjoyed our discussion and learning more about each of you and the way you see illustration. Congratulations once again – your pieces are truly beautiful!

Cynsational Notes
Alexander Rowe was born in Tucson, Arizona and has always wanted to illustrate books for young adults and middle grade kids.
As a kid, the works of Harry Clark illustrating the stories of Edgar Allan Poe, first drew him to the craft, and illustrators like J.C. Leyendecker and Brett Helnquist confirmed his love of book illustrations.
Alex graduated from the Rhode Island School of Design in 2013 and lived with his brother, a writer in Boston, before moving to Denver.
He is now working to build up his portfolio for children's and middle grade books, as well as writing and preparing dummies of a few book projects and one graphic novel.
When not painting, Alex is a TA and contributor for artprof.org, a barista at Steam Espresso Bar, a dog owner to the talented Amelia, and a jogger of the greater Denver area.
Felia Hanakata is an Indonesia-based illustrator represented by Lemonade Illustration Agency.
She grew up believing in magic, dragons, and all things fantastical. She was a Visual Communication Design student for two years before she decided to focus on drawing, illustrating, and story-telling more.
She went to Academy of Art University and completed her BFA in Illustration in Spring 2017. To her, storytelling breathes life and colors into the world.
Her work is inspired by anime/manga, Alphonse Mucha, Henri Matisse, and Bernie Fuchs.
When she is not drawing, she usually reads, drinks lots of coffee, plays video games, or looks for inspiration in nature and her surroundings.
Right now she lives in the sunny island of Bali, Indonesia, where she works from home as a freelance illustrator. Aside from working with clients on different projects, she also dreams of one day writing and illustrating her own picture book and graphic novel.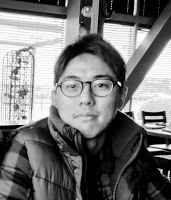 Toshiki Nakamura is a born and raised Japanese illustrator/designer.
He graduated from MFA in visual development at Academy of Art University in San Francisco in 2016. He was a politics major in his undergrad at university in Japan before he pursued art .
Toshiki is currently working as a freelance character designer/visual development artist in animation industry.
As much as he likes working independently, he loves to work in a team and has been working on a few collaborative animation projects as a visual development artist and character designer as well.
He's currently represented by Shannon Associates for illustration work. Toshiki is a newbie in kidlit and very excited to work on picture books hopefully near future. When he's not drawing, he enjoys running, cooking and playing the piano. He lives in Vancouver, Canada.
Dina von Lowenkraft is regional advisor for SCBWI Belgium + Luxembourg and a writer of YA currently working on a PhD in Cultural Studies at KU Leuven in Belgium.
Dina worked as a graphic artist for TV for seven years and as a business consultant in the fashion industry for five years.
Her doctoral research project is based in the Arctic Archipelago of Svalbard (1,200 km north of the Arctic Circle), where she is studying the impacts of climate change on the community of Longyearbyen that has about 2,200 residents.
Dina spends her time between Longyearbyen, Luxembourg and Leuven.
The Bologna Interview series is coordinated by Elisabeth Norton, SCBWI regional advisor for Switzerland.