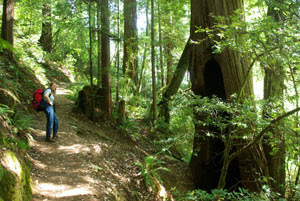 Redwood Trail
I don't know how strong a trend this is, but in the past couple of years I've heard of several writers setting up "treadmill desks."
As I understand it, this consists of a treadmill (set on very slow speed!) and a shelf with a computer. The writer walks while working. It's supposed to be healthier than sitting at a desk for hour after hour.
I love walking and I love writing, but I'm not sure I could do both at once—or at least, that I could compose on a keyboard while walking. (I write while walking all the time, as I'll explain later.)
Treadmills make me dizzy. And even though the treadmill in this case would be set to a low speed, my writing sometimes requires moments of absolute stillness for an idea to work its way from my brain to my fingertips.
But for writers who can work this way, it sounds like a great idea. I'm all for movement, however it's achieved. Writing can be a very sedentary profession. We need to get our blood flowing, our muscles working.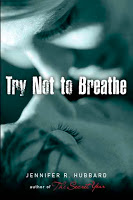 I walk or hike daily. This serves a few purposes, beyond the basic need of exercise. It serves a few writing-related purposes, in fact.
(I also use a stationary bike, but I find I can't think writerly thoughts while doing that, so I read or watch TV instead.)
Walking enables me to take a break from the writing desk. Sometimes I need to stop engaging my conscious mind with the story at hand, and let the subconscious work. I get fresh air and exercise and mental rest.
But other times, as I walk, my mind will keep working on the story. New scenes and bits of dialogue will come unbidden as I walk. This is how I first learned to tell stories: they unreeled in my head while I went about the daily business of living. A good long walk, with nothing else required of me, allows my mind the freedom and focus to compose.
Hiking vacations also take me to interesting new places, some of which end up in stories.
The waterfall in Try Not to Breathe (Viking, 2012) was inspired by years of hiking trips, many of which included visits to waterfalls. (In fact, as my husband plans our vacation hikes, he knows that anything featuring a waterfall will get an automatic "yes" from me.)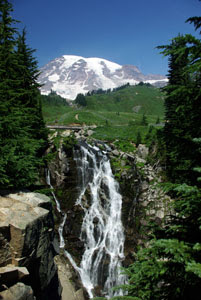 Myrtle Falls
The river in The Secret Year (Viking, 2010) was a composite of several rivers and creeks that I've lived (and walked) near. The feel of moss, the scent of pine needles, the crunch of fallen leaves, the glint of mica in the sun: all of these have found their way from my hikes into my stories.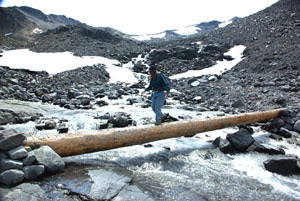 Panhandle Bridge
Writers put a lot of stock in the "butt in chair, fingers on keyboard" moments, as well we should. But sometimes it's useful to stand up at, or even step away from, the desk.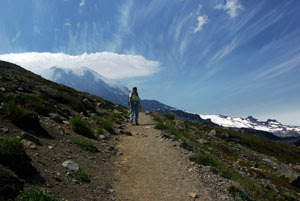 Trail to Burroughs