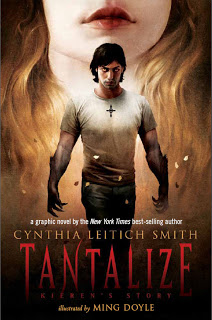 Illustrated by hot new talent Ming Doyle, Cynthia Leitich Smith's Tantalize is re-imagined as a graphic novel—seen through Kieren's werewolf eyes.
As a hybrid werewolf, Kieren is destined to join an urban Wolf pack and learn to master his shift. Soon, he'll leave everything behind: home, school, his family, and Quincie, his human best friend . . . who's beginning to be a whole lot more than a friend.
For years, Kieren has managed to keep his desires—and his wolf—at bay. But when the chef at Quincie's family restaurant is brutally murdered, Kieren resolves to be there for her, even if it means being framed. Even if it means watching Quincie's beloved restaurant morph into a vampire lair.
But when the new chef begins wooing her, how long can Kieren control his claws? How long can he protect Quincie—and himself?
In an elegant graphic edition featuring cinematic sequential art by debut artist Ming Doyle and lush, romantic cover art by Sam Weber, best-selling author Cynthia Leitich Smith re-envisions her delicious dark fantasy through wolfish eyes.
Cynsational Notes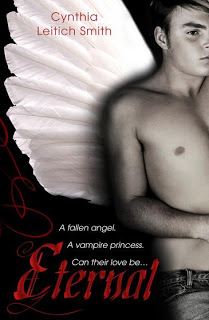 Walker Aus & NZ cover.
Cynthia Leitich Smith is the acclaimed author of the prose novel of Tantalize as well as Eternal, a New York Times and Publishers Weekly bestseller, and Blessed, all set in the same fictional universe. She says of Tantalize: Kieren's Story, "An unjust accusation. A true love in peril. It's enough to make you open your teeth and howl."
Ming Doyle was born in 1984 to an Irish-American sailor and a Chinese-Canadian librarian. Since earning her BFA from Cornell University in 2007, she has depicted the sequential exploits of zombie superheroes, demonic cheerleaders, vengeful cowboys, and dapper mutants. Tantalize marks her first full-length graphic novel as well as her first encounter with a were-opossum. She lives in Boston.
More on Tantalize: Kieren's Story from Walker Books Australia and New Zealand. Note: the graphic novel is also available from Candlewick Press in the U.S./North America and will be released by Walker Books (U.K.) later this week.
Cynsational Giveaway Coming Soon
Readers from Australia and New Zealand will be eligible for a Tantalize series giveaway to be announced here on Cynsations later this week! Check back for details!
Boston Event — Illustrator Ming Doyle
Illustrator Ming Doyle will be signing Tantalize: Kieren's Story at 2 p.m. Oct. 2 at Brookline Booksmith (279 Harvard Street) in Brookline, Massachusetts in the United States. Guests are invited to participate in a vampire/werewolf costume contest for a chance to win prizes.