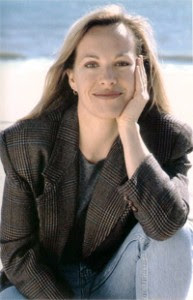 From her website: "Emma Walton Hamilton is an author, editor, arts educator and arts and literacy advocate. She has co-authored twenty children's books with her mother, Julie Andrews…"
How did you first get involved with writing and publishing children's books?
I've been a book lover all my life, and I wrote stories all the time when I was a kid. My mom and I actually wrote our first story together when I was five–which my father illustrated, and which several decades later we re-wrote and published as the book Simeon's Gift (HarperCollins, 2003), so my love of reading and writing goes back as far as I can remember.
About 12 years ago, my mom and I started writing the Dumpy the Dump Truck series (Hyperion, 2000-), inspired by my son Sam's obsession with trucks and our inability to find enough substantive reading material in the "truck genre" to satisfy his passion.
That series led to more books – we're up 18 now! – and eventually to the formation of our own publishing program, The Julie Andrews Collection, for which I serve as the Editorial Director.
From there, I moved into freelance editing, and teaching children's book writing for Stony Brook Southampton's MFA in Writing and Literature program – and most recently to my appointment as director of their annual Southampton Children's Literature Conference.
What have you found most rewarding doing this work?
Without hesitation, I'd say it's making a difference in the lives of children. There is nothing that can compare to seeing a child's face light up when listening to a story, or hearing them say that they loved one of our books–or better yet, that they want to be writer when they grow up.
Yesterday I was reading our newest book, The Very Fairy Princess, illustrated by Christine Danevier (Little, Brown, 2010) to a group of elementary school students from kindergarten through 4th grade, and you could have heard a pin drop!
The book is all about finding and sharing your own inner sparkle, so at the end I asked the students what made each of them sparkle.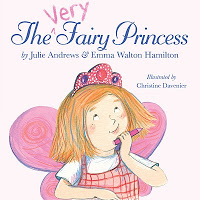 The hands shot up in the air, and the excited responses ranged from "swimming!" to "reading!" to "playing with my friends!" and even "sleeping!" It was enchanting–and all the more wonderful when scores of them, boys included, then turned up at the book fair following to tell me how much they loved the story. If I can help turn even just a handful of kids on to reading or writing, that's the greatest reward of all.
How do you work when you collaborate with your mother on a book?
Generally speaking, we start with the seed of an idea, brainstorm an outline, then sit down to write. It's a very organic process of literally just finishing each other's sentences. I type as we go, and then email each installment or chapter and we edit like crazy. We tend to overwrite a lot at the beginning, and then streamline as we go.
We used to have to be in the same room when writing together, but that got more and more difficult since we live on opposite sides of the country.
For a while we were on the phone a lot–but that got very expensive (and hard on the neck)! For the past few years, we've been using webcam, and that's worked great for us.
How does this dovetail with the other work you do in the arts?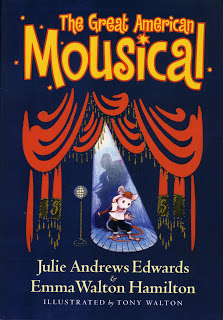 Everything is related. Much of my background is in theatre–producing, directing, acting–and the principles of good storytelling are the same for theater and film as they are for books.
Whether you are telling a story on the page or on the stage, you are dealing with compelling characters trying to solve a problem or pursue a goal, and you have to chart a journey for them from beginning to middle to end.
For the past fifteen years, I've also taught playwriting to middle and high school students, and this has been a great feeder for my own writing. I often find I'll come home from teaching a class on conflict, for instance, and say "Now I know what's wrong with this scene in the book! The conflict isn't strong enough!" or whatever it may be.
In addition, I think our shared background in the arts has made my mom and I more aware of–and passionate about–trying to incorporate them into our books as much as possible.
We love artwork that gives children a real appreciation for painting, and we often try to include original music or a CD with our books so children can have a rich auditory as well as visual experience with a story. We sometimes use theatrical, cinematic or musical techniques when writing narrative (a 'heraldic' opening, for instance, or a pulling of focus at a certain point in a scene).
Of course, the arts are also a frequent subject in our books–such as The Great American Mousical (HarperCollins, 2006, 2007), which is about the theater; Simeon's Gift, which is about music; and the Julie Andrews Collection of Poems, Songs and Lullabies (Little, Brown, 2009), which includes song lyrics as poems in their own right, and also a number of poems that celebrate the arts.
How long have you been involved with the Southampton Writers Conference?
Three years ago, I was invited to give a talk at the Children's Literature Conference. That same year, my husband Steve (who is an actor and producer) and I also performed in a reading for the Writers Conference. The following year, we were invited to become faculty members of the MFA in Writing and Literature program, which sponsors the Conferences.
We created the Southampton Playwriting Conference for the program, as well as the Young American Writers Project, or YAWP – an interdisciplinary writing program for area middle and high school students. I also began teaching picture book workshops, and was subsequently invited to take over the directorship of the Children's Literature Conference.
One of the most exciting things about SBS's MFA Writing program and Writers Conferences is their diversity–in addition to Children's Lit, they encompass Screenwriting, Playwriting, Fiction, Poetry and Memoir–all happening concurrently, so it's a very fertile creative environment.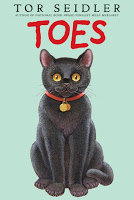 We are also lucky to have some of the most esteemed writers in the country on our faculty, such as Roger Rosenblatt, Jules Feiffer, Billy Collins, Alan Alda and Marsha Norman… and for Children's Literature this year, we'll have Caldecott Medalist Ed Young, Amy Krouse Rosenthal, Tor Seidler, Margaret McMullan, Jim and Kate McMullan and Arlene Alda joining our faculty, among others.
Where do you see new opportunities going forward with books, theater, music and art?
New media is of course presenting us with all kinds of opportunities, and an even richer overlap between mediums. People often lament the death (or anticipated death) of live theater, or of books, but I'm a relentless optimist.
Actually, I think there has probably never been a time when society was as deeply engaged with text and storytelling as we are now, albeit much of it electronic. If you think about it, almost everything we do digitally depends on reading or writing.
I think we'll see even more adaptation from one medium to the next in the days ahead, and I think smart authors, artists and creative types will take advantage of the new technologies, and inspire us with all the innovative possibilities.
We've always needed storytelling and the arts in our lives, all the way back to when we were sitting around the fire in the cave. That won't change. It's how we understand ourselves, and how we communicate with one another and with future generations. And people will always gather together to exchange ideas – in theaters, galleries, libraries.
We are by nature social creatures, and my view is that there is only so much sitting alone in front of the computer we can tolerate before we crave communion. The challenge is to remain optimistic about, and open to, these new mediums…and see the opportunities they offer to create and learn, and to share our stories.
What are the particular challenges you think we'll face?
I think one of the challenges is keeping young people's skill and interest in reading high enough to take advantage of the opportunities that will be waiting for them.
In my book Raising Bookworms: Getting Kids Reading for Pleasure and Empowerment (Beech Tree, 2008), I talk about how much reading skills correspond to our ability to be confident, engaged, informed citizens.
They affect how well we communicate, succeed in school and in our chosen careers, and ultimately our level of personal fulfillment. In fact, order to participate fully in society and the workplace in 2020 and beyond, we will all need powerful literacy abilities. But with all that competes for our attention these days, from television to the internet to electronic games and social networking, we face the possibility of a serious decline in the reading and writing skills of the next generation.
Our strength as readers and writers is profoundly influenced by how much of it we do – the more we read, the easier it gets. The easier it gets, the more we enjoy it, so the more we read. But we have to start by actually reading – and the key lies in making that activity as attractive as all the other temptations out there. We achieve that by focusing on activities that support the joy in reading (as opposed to reading as chore, or duty)…and by ensuring that what is being read is so good that the reader gets hooked and comes back for more.
That's why I'm dedicated to supporting children's book authors in the continued development of their craft. We have a huge responsibility on our hands. It only takes one great book to turn someone on to reading… but those great books need to keep being written and gotten into the hands of children!
Cynsational Notes
Meet Emma in these video interviews from Reading Rockets. See transcript.