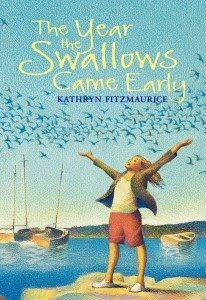 Kathryn Fitzmaurice is the first-time author of The Year the Swallows Came Early (HarperCollins, 2009). From the promotional copy:
Eleanor "Groovy" Robinson loves cooking and plans to go to culinary school just as soon as she's old enough.
But even Groovy's thoughtfully—planned menus won't fix the things that start to go wrong the year she turns eleven—suddenly, her father is in jail, her best friend's long-absent mother reappears, and the swallows that make their annual migration to her hometown arrive surprisingly early.
As Groovy begins to expect the unexpected, she learns about the importance of forgiveness, understands the complex stories of the people around her, and realizes that even an earthquake can't get in the way of a family that needs to come together.
Kathryn Fitzmaurice's lovely debut novel is distinctively Californian in its flavor. Her rich characters and strong sense of place feel both familiar and fresh at first meeting—and worth revisiting, again and again.
Who has been your most influential writing teacher or mentor and why?
I have taken many wonderful writing classes, but my grandmother has been the greatest influence and mentor on me becoming a writer.
The summer I turned 13, my mother sent me to New York City to visit my grandmother, who was a science fiction author. This was in the 70s, when science fiction was becoming very popular.
My grandmother led a very eclectic lifestyle. I remember we never did anything until late afternoon, and then we stayed up until 2 or 3 a.m. Sometimes, we went to dinner as late as 11 p.m.
Then when we returned, she'd sit down to write until very early in the morning. She told me she did this because the middle of the night was when people said and did things they normally wouldn't. She had a collection of porcelain owls, because they were creatures of the night. She studied paranormal events. She discussed things like inner motivations and secret desires.
She helped me to write my very first story that summer and stayed up all night typing it so I could have a real story like she had. At thirteen, it was one of the best times I'd ever had.
She worked very hard that summer revising a novel entitled Chrysalis of Death. And one day, we met her agent for lunch, and after listening to them discuss how my grandmother could make her characters into whomever she wanted, I decided that someday, I'd like to be a writer, too.
So after I announced my decision, my grandmother proceeded to send me books about writing techniques, books by classic authors, and literary essays for every birthday and Christmas holiday after. One of my favorite books she sent me when I was deep into a teenage poetry stage was a volume of poetry written by Emily Dickinson.
Inside the front cover, she wrote: Emily Dickinson is a revered poet. Perhaps the same can be said of K.H. someday. Love, Grandma Eleanor.
When she passed away, she left me a big box with all of her unfinished manuscripts in it [see photo below]. The box of manuscripts has been a huge inspiration to me. One of her short stories that I found inside the box is entitled "The Lake" and is about a group of zombies that take over remote area of a forest next to this lake.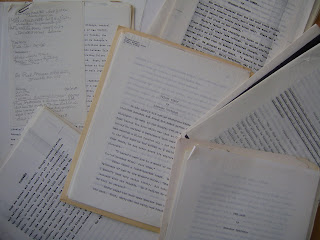 So because of all of the encouragement she gave me and to honor her, I decided that when I sat down to write my own novel many years later, that I would name my main character after her and give her a grandmother very much like my own. I gave the grandmother in my story the same characteristics and even had her give a box of manuscripts to her granddaughter.
In fact, because I remember her revising Chrysalis of Death the summer I visited, I decided to include it in The Year the Swallows Came Early. So on page 148, my main character and her best friend find this manuscript and talk about it, along with a few of her others stories. I included her book, Chrysalis of Death, inside my book.
She never got to read even the first draft of my novel. But I did send it to her agent three years ago, who is still alive and working in NYC. After reading my book, my grandmother's agent made the comment that she liked how I included my grandmother's books in my own books, and she thought my grandmother would have been very proud.
How have you approached the task of promoting your debut book? What online or real-space efforts are you making?
Well, like many other authors, I have a website. In addition, I recently started blogging about my experiences as a first-time author. My blog is linked to my website. I also joined facebook and recently participated in a short blog tour.
One very exciting effort is through a group of 25 other debut authors called The Class of 2K9. We band together as a group to help promote each other's work, and for moral support.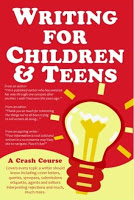 Another source for debut authors is AuthorsNow! This group evolved largely through the efforts of Cynthea Liu, who provides not only a huge source of information for writers through her own website and reference book, but has two teen debut books coming out this year, The Great Call of China (Speak Puffin, 2009) and Paris Pan Takes the Dare (GP Putnam's Sons, 2009)
In addition, I've offered school visits and one very special appearance where I was at the Mission in San Juan Capistrano, California; for the celebration of the swallows retuning from Goya, Argentina, on March 19, St. Joseph's Day.
The swallows fly 7500 miles in just 30 days to return from their winter annual migration. Their return reminds me of a promise that can never be broken.
Cynsational Notes
Read an interview with Beverly Patt on the Class of 2k9 and an interview with Cynthea on AuthorsNow!
The New Voices Series is a celebration of debut authors of 2009. First-timers may also be featured in more traditional author interviews over the course of the year.