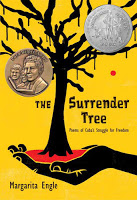 Margarita Engle's Historic Newbery Honor by Debra Lau Whelan from School Library Journal. Peek: "Margarita Engle's The Surrender Tree (Holt, 2008), a verse novel about Cuba's fight for independence, just received a Newbery honor, marking the first time that a Hispanic author has ever received such a distinction."
The finalists for the Oklahoma Book Award are: Chosen by P.C. and Kristen Cast (St. Martin's Press); On a Road in Africa by Kim Doner (Tricycle Press); It Wasn't Much: Ten True Tales of Oklahoma Heroes by Jana Hausburg (Forty-Sixth Star Press); The Trial of Standing Bear by Frank Keating (Oklahoma Heritage Association); Spy by Anna Myers (Walker); The Spectacular Now by Tim Tharp (Random House).
Pairing Nonfiction Books & Web Sites by Jessica Mangelson and Jill Castek from Book Links: Connecting Books, Libraries, and Classrooms. Peek: "In the examples we describe, the online resources can be used before reading to provide a backdrop for activating background knowledge or explored after reading as an extension that supports the interpretation of information found in books. Both approaches give multiple options for delving deeper into a topic."
"Beyond the Shamrock: An Irish Dozen" selected by Deborah Stevenson, Editor from the Bulletin of the Center of Children's Books. Peek: "With Saint Patrick's Day approaching, we offer a generous collection of Irish-themed material; there's nonfiction history and historical fiction, contemporary fantasy and folkloric picture books, contemporary adventure and broad-ranging collections. Those looking for a way to take the holiday beyond the Lucky Charms leprechaun will find a hundred thousand welcomes here."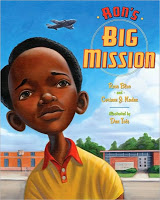 Radio Interview with Illustrator Don Tate by Rodney Lear NPR Cincinnati. Note: a wonderfully thoughtful and inspiring audio interview. Highly recommended.
Featuring Valeri Gorbachev by Eisha and Jules from Seven Impossible Things Before Breakfast. Peek: …what I love…The colors, always cozy, always warm; the expressive, detailed character work (always anthropomorphized animals who are endearing, yet Gorbachev's never saccharine or cloying about it); the subtle humor; the sense of community that pervades his titles…his ability to create original cumulative tales that work; and, last but not least, if any illustrator today is working in a Richard-Scarry-esque vibe…"
Cynsational Tip: most authors hold the copyrights to their books, but that doesn't extend to everything written about them. If you are republishing reviews or articles in full on the Web (or elsewhere), you may be violating someone else's copyright.
Congratulations to author Mary Dodson Wade and illustrator Joy Fisher Hein on the release of Sam Houston: Standing Firm (Bright Sky, 2009)!
Top Ten Verse Novels for Young Readers from Jame Richards at 2010: A Book Odyssey.
Who's Moving Where?: News and Staff Changes at Children's Book Publishers from Harold Underdown at The Purple Crayon.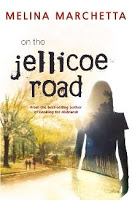 The Booklist Interview: Melina Marchetta from Booklist Online. Peek: "Australian author Melina Marchetta is the recipient of the 2009 Michael L. Printz Award for On the Jellicoe Road (HarperCollins, 2008), a suspenseful, complex novel about a boarding school student who becomes a reluctant leader in the school's territory wars. From her home in Sydney, Marchetta discussed the process of creating Jellicoe and how her experiences as a former high-school teacher continue to inform her writing."
Mothers and Fathers in Children's Literature: two lists of recommendations being compiled by Susan Taylor Brown at Susan Writes. Chime in with your suggestions.
Bid to win an Original Painting by Children's Book Author Grace Lin at Ebay. Proceeds will benefit the Foundation for Children's Books.
Question and Naming Contest from editor Alvina Ling at Blue Rose Girls. Alvina is interested in what you want to know about North of Beautiful by Justina Chen Headley (Little, Brown, 2009) and she is looking for suggestions as to what to title her "insider" book posts. Peek: "If I pick your question and/or naming idea, I'll send you a Little, Brown book of your choice! This contest will close at 5 p.m. EST on Sunday, March 15, and you'll find out if you've won when I post on Monday morning."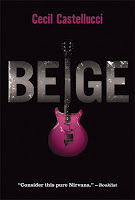 Congratulations to Cecil Castellucci on the paperback release of Beige (Candlewick, 2009)! Peek: "Exiled from Canada to Los Angeles, Katy can't believe she is spending the summer with her father–punk name: the Rat–a recovered addict and drummer for the band Suck. Even though Katy feels abandoned by her mom, even though the Rat's place is a mess and he's not like anything she'd call a father, Kathy won't make a fuss. After all, she is a girl who is quiet and polite, a girl who smiles, a girl who is, well, beige. Or is she? From the author of Boy Proof and The Queen of Cool comes an edgy L.A. novel full of humor, heart, and music." Read a Cynsations interview with Cecil Castellucci on Beige.
Marvelous Marketer: Laini Taylor (Author of Dreamdark series) from Shelli at Market My Words: Marketing Advice for Authors/Illustrators from a Marketing Consultant & Aspiring Children's Book Author. Peek: "…through blogging (which I started shortly after selling my first book, long before it came out), I lucked into some getting some interview requests and articles that helped spread the word about my book, and I started to become familiar with many review sites. I also went to the first Kidlit Bloggers Conference, right after my book came out, and then I co-organized the second one."
Congratulations to Carrie Ryan on the release of The Forest of Hands and Teeth (Delacorte, 2009)(excerpt). See the book trailer below.
Congratulations to Andy Auseon on the release of Jo-Jo and the Fiendish Lot (HarperCollins, 2009)! From the promotional copy: "Jo-Jo Dyas doesn't believe he has any reason to live, but then he finds the naked black-and-white dead girl in the culvert and she convinces him otherwise. She is the drummer for a punk rock band called the Fiendish Lot, and for a dead girl, she has more life and spark than anyone Jo-Jo's ever met. She and her band come from the Afterlife, a strange, colorless world where souls sometimes pause on the journey between life and death. Jo-Jo follows her into the depths of the Afterlife, where gets a twice-in-a-lifetime opportunity to make right all the things that have gone wrong in his life."
Visit P.J. Hoover at the Book Roast today and enter to win a copy of The Emerald Tablet (Blooming Tree, 2008). Answer this question in the comments at the Book Roast: "Whose mind would you like to be able to read, and why?"
Resource Recommendations
Writing Past Dark: Envy, Fear, Distraction, and Other Dilemmas in the Writer's Life by Bonnie Friedman (HarperCollins, 1993). From the promotional copy : "The first book for writers that explores the emotional side of writing–dealing with everything from envy to guilt to the dreaded writer's block." Note: Worth twice the cost for the chapter on envy and the "anorexia of language" alone. I've noticed lately that community morale is a tad shaky. If you're going through a hard time, please don't think you're alone or that no one cares. Be good to yourselves and each other, and, if the TV news is freaking you out, just turn it off for a while. Seriously. Hugs.
See also Fear of Browsing by Kristi Holl from Writers First Aid. Peek: "If I found my books on the shelves, I'd wonder why they hadn't sold. If I didn't find my books on the shelves, I hoped they were sold out, but I never had the nerve to ask if they'd ever been on the shelf in the first place."
The Forest for the Trees: An Editor's Advice to Writers by Betsy Lerner (Riverhead, 2000). Everybody Hurts says: "Far more than a how-to manual, this book offers inspiration, inside views, and a colorful, anecdotal look at the publishing world-all delivered in the smart, funny, unpretentious voice that has helped to make Lerner one of the most prominent names in the business."
Reminder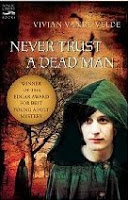 Enter to win a paperback copy of Never Trust a Dead Man by Vivian Vande Velde (Magic Carpet Books/Harcourt, 2008)(originally published in 1999) from Cynsations. To enter, email me (scroll and click envelope) with your name and snail/street mail address and type "Dead Man" in the subject line. I'll touch base if you win. Deadline: March 18! All Cynsational readers are eligible!
GregLSBlog
My husband and sometimes co-author, Greg Leitich Smith, recommends A Kiss in Time by Alex Flinn (HarperCollins, 2009), The Books of Pellinor (Candlewick, 2005-2009), and discusses literary coincidences–the latter being a must read for those with any interest in cannibalism, the Titantic, or the way fiction mirrors/predicts reality.
More Personally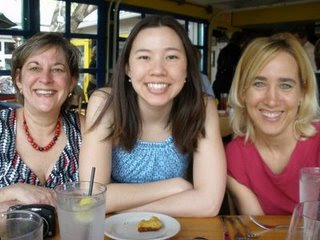 Authors Unplugged: author P.J. Hoover reports (with exciting Q&As) on my lunch with her, and fellow authors Jody Feldman and Jo Whittemore at Z'Tejas on 6th Street in Austin. Peek: "We each brought questions for the others. I agreed to do the abridged version, though those around us…definitely got the unabridged version. I think we were getting a few strange looks." See Jody's report.


Review: 'Eternal' by Melissa Medore-Moore from San Antonio Express-News. Peek: "The offer of redemption sets this tale apart from others that feed upon the current fascination with vampires and the occult that possesses preteens and teens." Note: at at time when review columns are being trimmed, it's so wonderful to see such thoughtful coverage devoted to YA literature in a daily newspaper.
Once Upon A Romance's Review Of… Tantalize by Cynthia Leitich Smith from Amy Lignor. Peek: "Not only is this a good read for 14-year-olds, but I believe that mothers will truly enjoy the wit as well."
Eternal by Cynthia Leitich Smith: a review by eplteenlibrarian from The Cool Cafe @ Englewood (Colorado) Public Library. Peek: "The ending to the love story (because it does become one, though a twisted one) is moving and hopeful in a way you don't expect."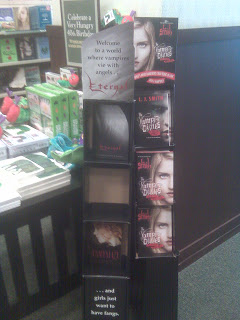 Thanks to Melissa Walker for the (above) photo of the almost sold-out display form a bookstore in Utah.
Thanks to Janet Fox at Through the Wardrobe for letting me know that Tantalize (Candlewick, 2007) and Eternal (Candlewick, 2009) are on the shelves of her local bookstore in College Station and to Debbie Reese at American Indians in Children's Literature for letting me know that Tantalize is at her local Meijer in Urbana, Illinois.
Thanks also to Cecil Castellucci for the snapshot of a young girl at an LA restaurant reading Rain Is Not My Indian Name (HarperCollins, 2001).
And thanks to Don Tate who highlighted Cynsations ("Your Blog Is Fabulous") at The Brown Bookshelf. Don says: "There are so many social networks now, and the kidlitosphere has grown so large that it's hard to keep up with all that's going on. So Cynsations and/or SpookyCyn has become my main source of industry news." See more recommendations!