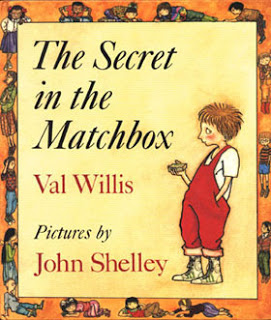 John Shelley studied illustration at Manchester under Tony Ross. His first major picture book The Secret in the Matchbox was shortlisted for the Mother Goose Award and received a Parents' Choice Award in the U.S. Twenty-one years ago, John moved to Japan and became a successful commercial illustrator, as well as continuing to illustrate children's books, such as King Smelly Feet and The Boat in the Tree. Recently, he moved back to Europe. He was interviewed in December 2007 by Anita Loughrey, as one of the speakers at the SCBWI Bologna Conference 2008 (scheduled for March 29 and March 30 in Bologna, Italy).
Are you a writer as well as an illustrator and, if so, which comes first the images or the words?
JS: I write and illustrate, though illustration is my chief profession. I develop ideas both ways, sometimes building up from images, sometimes working from a story concept. Each has its merits and disadvantages. As an illustrator, I've found working from pictures up tends to be a smoother process, though the plot and structure may need later work to bring it up to scratch. Working from the story is more of a struggle at the beginning, but gives a more solid foundation to work on later. I suppose the ideal is a combination of both–pictures and story growing together.
What made you decide to be a children's book illustrator? Did you always want to be an illustrator?
JS: I was set on being a graphic artist from a fairly young age. I had a pretty clear idea what I wanted to be from at least 10 years old. Discovering early 20th Century Golden Age illustrators focused me on children's books when I was around 15.
What were your other career choices, if any?
JS: I was pretty set on being an artist, but I also fancied being an historian, especially underwater archeology and scuba diving on shipwrecks; and sitting in dusty, old libraries looking up old books seemed like a great way to spend my time. Unfortunately, hunting for shipwrecks on the Spanish Main remains an unfulfilled dream. I suppose there's always tomorrow.
Do you have favorite medium you work in? If so, did the medium choose you or did you choose it? Can you elaborate?
JS: Pen and ink has always been my core technique; all the artists that have ever inspired me from Rowlandson onwards were "pen people." As a teenager, I'd fill sketchbooks with observed drawings using black ball pens; I began working with India ink at school on a teacher's suggestion. I remember the first drawing I ever did in pen and India ink was a copy of a Victorian engraving of Henry Hudson's last voyage. I never looked back. Learning to paint properly came later. I've tried other materials over the years, but pen drawing is still the start point.
What are you currently working on?
JS: Finishing off a 24-page picture book for Japanese publisher Benesse, The House of the World.
What is the hardest thing about illustrating for you?
JS: Procrastination.
Do you have a favorite children's book that you wish you had illustrated? Why?
JS: Many! Some books I'd like to illustrate because they're classics and I'd be crossing pens with some of the Greats (The Wind in the Willows, etc.), but I'd particularly like to have a crack at illustrating fantasy novels that have never carried text illustrations before. Children's novels (in the U.K. and U.S.) are not illustrated to the extent they were in the past, which is a great shame.
How far ahead do you work? Six months, a year? Longer?
JS: For picture books, I like at least six clear months to give planning time to develop fully. Like fine wine, books are generally better if given time to "mature," though final artwork is usually turned around in three months or less. Black-and-white work for novels is much quicker though, two months or less depending on number of drawings.
Do you have a blog or website to showcase your work, and if so, how often do you blog? Do you get lots of feedback from readers? Has it proved to be useful?
JS: Yes, both website and blog. The former is essential, the second I've paid sporadic attention to. It's been useful as a way to blow off steam and show new work I wouldn't otherwise put on a website. I've not developed enough readers to warrant major effort so far. The blog is currently dormant due to unforeseen changes in my personal life.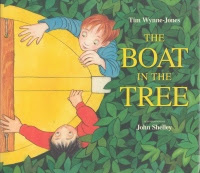 If you could be a character from one of your illustrations who would you like to be and why?
JS: The main boy character in The Boat in the Tree is semi-autobiographical (at least for the illustrations!).
What drew you to Japan?
JS: I became fascinated by Ukiyo-e woodblock prints, and through that became involved with a Japanese society in London. Eventually after making many friends there I decided it was time to see the country myself, so took a "year off" to soak up the culture. It ended up as 21 years.
Do you speak/write in Japanese or do you have a translator when you are illustrating a Japanese book?
JS: I'm a fairly fluent speaker, but regrettably do not read and write quite as well. I can read Japanese texts, but it takes me a long time. For commercial illustration, the briefs are always in Japanese, but for children's books, often I'm approached by Japanese publishers to illustrate translations of Western texts, in which case it's naturally easier for me to use the original English version as a guide.
Is it difficult to illustrate somebody else's writing? Has it ever caused any problems?
JS: I don't find it difficult. In fact, I prefer working with other people's texts. Problems are usually smoothed out by the editor (that's their job!).
Could you talk us through the process of how, after you are presented with a book a publisher would like you to illustrate, you generate your ideas for illustrating that book?
JS: I first go away and doodle a lot, then (for picture books) pull my ideas together using a storyboard. Then I do full size sketches for presentation as a dummy to the editor.
Ideas come from a lot of places–the text often immediately conjures up a strong image in my mind (especially if it's a novel), or the setting may encourage me to look at a lot of background material which in turn sparks ideas for the illustrations. Occasionally I might have a previous unrelated doodle from my sketchbook which I can fit into the book. Once I get really focused on thinking about a text, I might get inspired by the most unrelated things–something I see on the train like the pattern on a bag or shirt, or something on TV.
Cynsational Notes
Anita Loughrey writes teacher resources and children's non-fiction. Her books have been published by A&C Black, Hopscotch and Brilliant Publications. She also writes regular features for Writers' Forum in the U.K. about authors and the writing industry. She recently interviewed all 31 speakers for 2008's Bologna Conference.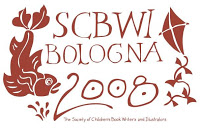 The SCBWI Bologna 2008 interview series is brought to you by the SCBWI Bologna Biennial Conference in conjunction with Cynsations.
To register for the SCBWI Bologna Biennial Conference 2008, please visit http://scbwi.org/events.htm and click on SCBWI@Bologna. Queries? Bologna@SCBWI.org