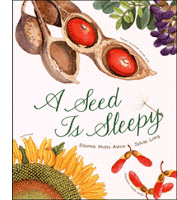 Chronicle Books is offering a giveaway contest featuring A Seed Is Sleepy by Dianna Hutts Aston, illustrated by Sylvia Long (Chronicle, 2007). Read a Cynsations interview with Dianna and Sylvia about the companion book, An Egg Is Quiet (Chronicle, 2006).
Mechele R. Dillard from Teen Fiction @ Suite 101 offers new interviews with author Justina Chen Headley (on giving back), fantasy author Dia Calhoun, and author Janet Lee Carey.
Surf by the YA Authors Cafe to read an interview and visit with Paula Chase, author of So Not The Drama (Dafina, 2007).
Morals, Lessons, Preaching and Judgment in YA Novels by Gail Giles at The YA Novel and Me. Gail muses about student questions related to Shattering Glass (Roaring Brook, 2002). Read a Cynsations interview with Gail.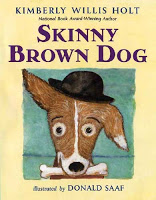 Congratulations to Kimberly Willis Holt on the publication of Skinny Brown Dog, illustrated by Donald Saaf (Henry Holt, 2007). See the animated introduction, find out about the inspiration for the story, get a Skinny Brown Dog bookmark, and enjoy a fun activity. Trivia: The words "Kimberly Willis Holt" were the #8 most popular key words to my author site in March.
Reader Views seeks enthusiastic YA and middle grade (ages 8-11, specifically boys) readers to review books for online publication. Young readers, teachers, librarians, caregivers, and other interested parties may contact admin@readerviews.com for more information.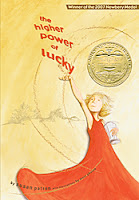 Susan Patron, author of The Higher Power of Lucky (Simon & Schuster, 2006)(excerpt), discusses her Newbery Medal-winning book in an interview by fellow Newbery Medalist Cynthia Kadohata. Watch the video from Simon & Schuster. Source: AS IF! Authors Support Intellectual Freedom. Read a Cynsations interview with Cynthia.
Check out a book trailer for The Rainforest Grew All Around by Susan K. Mitchell, illustrated by Connie McLennan (Sylvan Dell).
Virginia Driving Hawk Sneve by Debbie Reese at American Indians in Children's Literature.
More Personally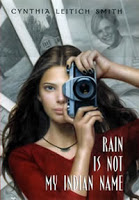 Debbie Reese at American Indians in Children's Literature recommends my tween novel Rain Is Not My Indian Name (HarperCollins, 2001) along with Joseph Bruchac's The Heart of a Chief (Puffin reprting, 2001) in conjunction with her post on American Sociological Association statement on Native American nicknames, logos, and mascots.
My chapter book short story collection Indian Shoes, illustrated by Jim Madsen (HarperCollins, 2002) was among recommended titles in "Promoting Intergenerational Understanding through Books" by Melissa Harker Ridenour in the March issue of Book Links. She writes: "Smith powerfully evokes the cross-generational bond and simple pleasures of these two charming characters."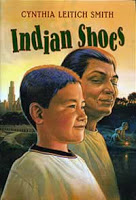 See "Don't Forget the Pants" a free online readers theater from Indian Shoes by Sylvia M. Vardell of Texas Woman's University. Syliva is the author of Poetry Aloud Here! Sharing Poetry with Children in the Library (American Library Association, 2006).
Karen's Book Nook is a new YA literature blog. Karin is a middle school librarian in Oklahoma who's working on her Ph.D. in Reading Education. Of my new YA gothic fantasy, Tantalize (Candlewick, 2007), she says: "Tantalize by Cynthia Leitich Smith is a stimulating paranormal mystery mixed with romance."
Jen Robinson's Book Page features a link to my recent interview with the Readergirlz.
April Lurie blogs about the Tantalize launch party. April is the author of the upcoming Brothers, Boyfriends, and Other Criminal Minds (Delacorte, 2007).
so tomorrow: thoughts from a future librarian (with a focus on youth services) says of Tantalize: "This book is great for fans of Stephenie Meyer's and/or anyone who loves a story with a love triangle that includes vampires and werewolves! I read this book in one sitting, which is exceptionally rare for me." Read the whole post.
AmoxCalli says "Tantalize is a very delicious and thrilling dark fantasy. It was a page turner that kept me glued to the book till the very unexpected ending." Read the whole review.
Author Liz Garton Scanlon chimes in, "…whoa Betty, was this a fun ride! I won't be doing any spoiling here, but suffice it to say that you're gonna be looking askance at folks out there for a few days after reading this. Ca-REEEEPY. Now, lay in some seriously sensual props and food stuffs, and get reading." Read the whole post. Liz is the author of A Sock is a Pocket for Your Toes: A Pocket Book, illustrated by Robin Preiss Glasser (HarperCollins, 2004)(author interview).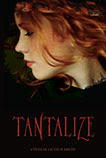 Thanks to all! I'd also like to thank A Wrung Sponge for listing Cynsations among blogs that make one think and ...whimsy… for reading Tantalize and Jennifer Ziegler for her–LOL–subliminal message break. Jennifer is the author of Alpha Dog (Delacorte, 2006)(author interview). Thanks too to Alex, the intern at The Bookworm in Omaha, Nebraska, for his newsletter recommendation of Tantalize.
Reminder: time is running out to enter the Tantalize giveaway contest at Young Adult (& Kids) Book Central. The challenge is: "Make up a favorite recipe/dish for either a vampire or a werewolf. Be Creative! And remember, answers DO count!" Twenty copies are available! See the entry form. The event is co-sponsored by YABC and Candlewick Press.