Congratulations to Varsha Bajaj on Thirst (Nancy Paulsen Books, July 2022), a New York Times Bestseller!
Take a look back at Varsha's thoughts about her debut novel, Abby Spencer Goes to Bollywood (Albert Whitman, 2014). This post originally appeared on Cynsations March 3, 2014.
Varsha Bajaj is the debut novelist behind Abby Spencer Goes to Bollywood (Albert Whitman, 2014). From the promotional copy:
What thirteen-year-old Abby wants most is to meet her father. She just never imagined he would be a huge film star—in Bollywood! 
Now she's traveling to Mumbai to get to know her famous father. 
Abby is overwhelmed by the culture clash, the pressures of being the daughter of India's most famous celebrity, and the burden of keeping her identity a secret. 
But as she learns to navigate her new surroundings, she just might discover where she really belongs.
How did you discover and get to know your protagonist? How about your secondary characters? Your antagonist?
I wanted to write a book that I would have liked to read when I was twelve and I loved books with a sense of humor which I could connect with emotionally. ASGTB is a fun journey, but at the heart of the story is a father-daughter relationship. Abby is a teenager defining her cultural identity.
I was watching an interview with Liv Tyler (actress) and she shared that she didn't know Steven Tyler was her father till she was a pre-teen.
It set me thinking.
What if a girl discovered that her absent father was a celebrity in another country/culture? The premise intrigued me. A Bollywood star is the epitome of celebrity in India, and I thought what if my protagonist discovers that her father is the equivalent of Brad Pitt in India.
It was a happy coincidence that I grew up in Mumbai, on a street where some of my neighbors were Bollywood directors and stars. In fact, one of my childhood friends starred in a Bollywood movie.
My family also hosted international students during my late teen years. I therefore witnessed teenagers from the West navigate cultural differences in India. I have also been seen the reactions of my own American born teenagers to Mumbai and India.
Journey stories, like The Princess Diaries by Meg Cabot (HarperCollins, 2000), have always drawn me in, maybe because I love to travel.
The idea of taking the reader on a fun journey to Mumbai with my protagonist was simultaneously daunting and appealing.
From these cumulative experiences, Abby Spencer was born.
Abby had to have spunk, to make that journey and own it. A sense of humor, and adventure and fun are also handy when visiting a new country. She had to be intelligent so she could be receptive to a foreign culture and sensitive so she could deal with being in a country with vast disparities between people.
I did not gloss over some of the harsher realities of Mumbai and neither did I want to skimp on the playful, glamorous aspects of Abby's setting.
Striking a balance at times felt like walking on a razor's edge.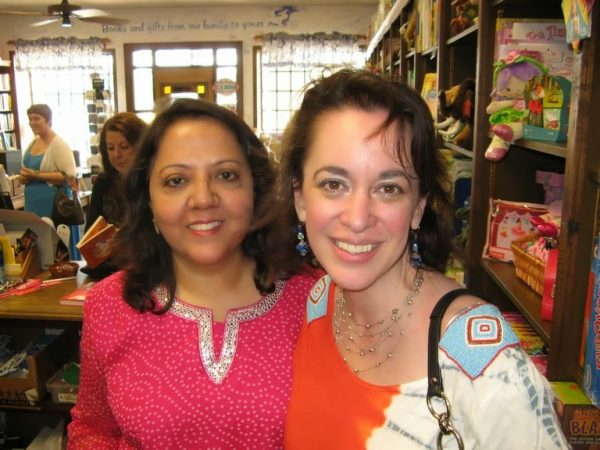 Abby's imaginary string quartet reflected her moods. In the first draft of the novel, it did not go to India with her. I missed it and so wove it as a theme through the story. The city of Mumbai is also a secondary character.
The antagonists in this story are the circumstances and the foreign culture and city that Abby has to adapt to. Neither parent is clearly to blame. The media/paparazzi that stalk her father are obstacles to Abby wanting to get to know him without prying eyes.
As a contemporary fiction writer, how did you deal with the pervasiveness of rapidly changing technologies? Did you worry about dating your manuscript? Did you worry about it seeming inauthentic if you didn't address these factors? Why or why not?
I did use existing technologies to allow my protagonist to "see" her father. Abby's first introduction to her father is over Skype, and I did worry about the device dating the book.
On the other hand, it would have felt forced and unreal to have Abby merely talk to her father who lives in India over the phone.
Later in the story, Abby wants to introduce her beloved Grandma Tara to her mother and again she turns to Skype. Both times Abby does think/feel that Skype falls short and is two dimensional, but she appreciates its ability to connect the people she loves who live in different continents.
Abby also does a web search for her father, and it felt natural. I had to in fact explain why she had not done so sooner.
Contemporary fiction cannot help being dated by the time in which it is written, but I hope that it is part of its charm.
I recently re-read Little Women by Louisa May Alcott, which was first published in 1868, and it engaged me all over again. It is so important that the characters and their emotions are real and timeless. The other aspects are secondary when the characters are authentic.
How have you approached the task of promoting your debut book? What online or real-space efforts are you making? Where did you get your ideas? To whom did you turn for support? Are you enjoying the process, or does it feel like a chore?
I became a part of the Class of 2k14, and they have made the process much less daunting. Not being very tech savvy, I am so in awe of their talents. I have learned so much from them.
It has been a cohesive, fun and supportive group. It has made the process less lonely. It's been interesting to see the difference in how a range of publishers promote books and writers.
Cynsational Notes
See the discussion guide for Abby Spencer Goes to Bollywood here.
Varsha Bajaj is the New York Times bestselling author of the middle grade novel, Thirst, Count Me In (Nancy Paulsen, 2019), and Abby Spencer goes to Bollywood, which was shortlisted for the Cybils Award and included in the Spirit of Texas Reading program. She also wrote the picture books The Home Builders (a Dolly Parton Imagination library selection) and This is Our Baby, Born Today (Nancy Paulsen, 2016)(a Bank Street Best Book). She grew up in Mumbai, India, and when she came to the United States to obtain her master's degree, her adjustment to the country was aided by her awareness of the culture through books. She lives in Houston, Texas.
Cynthia Leitich Smith is a NSK Neustadt Laureate and NYT bestselling author. Her novel Hearts Unbroken (Candlewick, 2018, 2020) won an American Indian Youth Literature Award, and her recent books include Ancestor Approved: Intertribal Stories for Kids (Heartdrum, 2021), an ALA Notable Book and winner of the Reading of the West Book Award for Young Readers as well as Sisters of the Neversea (Heartdrum, 2021), which received six starred reviews and made numerous "best of the year" lists. Her debut tween novel Rain Is Not My Indian Name was named one of the 30 Most Influential Children's Books of All Time by Book Riot. Her 2023 releases are the YA novel Harvest House and the MG graphic novel, The Blue Stars: Mission One: The Vice Principal Problem, co-authored by Kekla Magoon and illustrated by Molly Murakami (both Candlewick). Cynthia is the author-curator of Heartdrum, an imprint of HarperChildren's, and was the inaugural Katherine Paterson Chair at the Vermont College of Fine Arts MFA program.