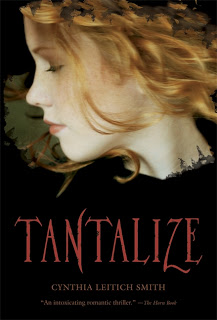 Have you been waiting for a chance to read Tantalize (Candlewick, 2007, 2009)?
It's a highlighted October sale title for Kindle readers! You can purchase the e-book for $2.99 (67% off)! See a complete list (with links) of children's-YA ebooks on sale for Kindle/Amazon.com readers from author Cheryl Rainfield.
Limited time only!
Last Call! Tantalize Series Books & T-shirt Giveaways
Attention U.S./Canada/U.K./Aus./N.Z. Readers! Enter to win:
1rst prize: Blessed, Tantalize: Kieren's Story, and your choice of Tantalize series T-shirts, designed by Gene Brenek
2nd and 3rd prize: winner's choice of Blessed or Tantalize: Kieren's Story
See this post to view various T-shirt designs. Winner will be invited to specify style, size, color.
Drop in for a Late Night Bite
To enter, comment on this post (click immediately preceding link and scroll) and include an email address (formatted like: cynthia at cynthialeitichsmith dot com) or a link to an email address.
Or you can email me directly with "Blessed/TKS Giveaway" in the subject line.
Author-publisher sponsored.
Deadline: Oct. 17.