From YALSA: "Teen Read Week is an initiative of the Young Adult Library Services Association (YALSA). Teen Read Week started in 1998. This year's theme is Picture It @ your library®, which encourages teens to read graphic novels and other illustrated materials, seek out creative books, or imagine the world through literature, just for the fun of it. Libraries across the world celebrate Teen Read Week with a variety of special events and programs aimed at encouraging teens to read for pleasure and to visit their libraries for free reading materials.
"Best-selling author Jay Asher is the spokesperson for 2011 Teen Read Week. Learn more about Jay. Artwork was created by Gareth Hinds. Learn more about Gareth."
Cynsational Notes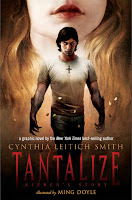 Part 1: The Cynsation of Cynthia Leitich Smith from Teen Voices: Changing the World of Girls Through Media. Peek: "To me, diversity means that anybody can be a hero that everybody cheers. It's important because it's true and because it's wonderful news. Both in the real world and in the worlds of our imaginations, we need all the heroes we can get."
After my debut graphic novel, Tantalize: Kieren's Story, illustrated by Ming Doyle (Candlewick, 2011), my most "Picture It" book is definitely Rain Is Not My Indian Name (HarperCollins, 2001).
Learn more about Rain, read a few reviews, and check out the teacher guides. Note: You may also want to consider it among your Native American Heritage Month titles for November, even as you integrate Native literature into your reading all year long.
Watch the trailer below!