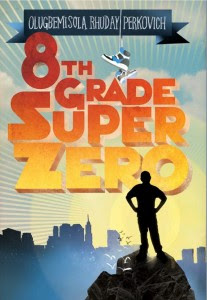 Patchwork Collective Virtual Mentors for Writers of Color is accepting applications for its Virtual Mentoring Program. Peek: "Participants will be invited to join an online group and receive personalized advice from mentors on manuscripts and technique (no more than one critique of 10 pages of a long-form work, or one PB over the eight-week period), industry- and craft-related information (books, conferences, helpful organizations, Web sites, etc.), and more. Mentors will not be offering referrals to any agents or editors. If you are a writer of color in the 'intermediate' stage of your pursuit of a career in children's literature, this is an opportunity for one-on-one online communication with a published children's book author (PB-YA)." Via Olugbemisola Rhuday-Perkovich. Source: Mitali's Fire Escape.
Strauss-Gabel Named Publisher at Dutton Children's Books from Publishers Weekly. Peek: "Dutton will become a "boutique middle grade and young adult imprint with a focus on titles of exceptional literary quality and strong commercial appeal…"
How Writing Careers are Like Snowflakes by R.L. LaFevers from Shrinking Violet Promotions. Peek: "The fear of failure nips at our heels no matter what stage of our career we're in. It is so, so easy to sit from the outside looking in and be certain–absolutely certain–that Author A is a raging success and has it all and their books are selling like hotcakes. But the truth is rarely that simple."
China: A Kaleidoscope Kids Book (Williamson Books, 2008) Giveaway from Debbi Michiko Florence. Deadline: Feb. 2.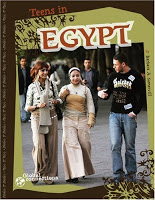 English-Language Children's Books Related to Modern Egypt, compiled by Bernadette Simpson (PDF/bilbiography). Source: Mitali Perkins.
The Future of Publishing Poetry for Kids: an interview with Lee Bennett Hopkins by Sylvia Vardell from Poetry for Children. Peek: "So many factors enter into a book doing well in the marketplace. A strong collection with a fine artist will do as well as any picture book might."
New Agent Alert: Stephen Barr of Writers House by Chuck Sambuchino from Guide to Literary Agents. Note: Represents picture books (from author-illustrators) through YA.
Williams-Garcia's New Children's Novel Gains National Attention: an audio interview with Rita Williams-Garcia from Vermont Public Radio.
How to Mingle at Publishing Events by Alvina Ling from Blue Rose Girls. Peek: "The best 'pick-up line' is to simply say 'hello' and introduce yourself. Honestly, everyone at these type of events should be there to mingle, and even if they're not, they at least expect others to introduce themselves."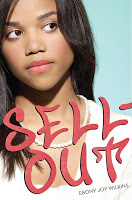 28 Days Later: A Black History Month Celebration of Children's Literature from the Brown Bookshelf. Check this link daily to learn about terrific books, authors and illustrators. Note: highly recommended.
Places in the Heart: Celebrating Black History Month by Rick Margolis from School Library Journal. Peek: "…we asked some of the top kids' book creators to choose their favorite children's book about the black experience. The title could be for kids of any age—from a picture book or graphic novel to a chapter book or collection of poems. We told them it could be new or old, fiction or nonfiction. The only requirement? It had to be a book that they truly loved—and, of course, it couldn't be one of their own." See also Black History Month: 15 Fabulous Reads for Children from Donna Bowman Bratton.
What Do Children's Book Consumers Want? A new study looks at how they decide what to read—and where they buy from Publishers Weekly. Peek: "Moms, teachers, and dads, in that order, affect book selection for 7–12-year-olds. Teens overwhelmingly turned to parents, teachers, and close friends for book suggestions. Librarians affected 24% of YA reading decisions, bookstores not so much."
Blogging Dos and Don'ts by April Aragam from The Institute of Children's Literature. Peek: "Remember that anything you say in your blog can be read by anyone including the person, editor or publication you are criticizing."
Tips to Surviving Book Promotion (How to have fun storycatching too) by Kerry Madden from A Good Blog is Hard to Find. Peek: "Begin laying the groundwork for your book promotion six months before your book is published. Write a press release and fax it to newspapers and TV stations closer to the pub date along with a review or two if you have them."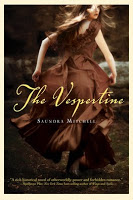 Win Your Dream Gown with The Vespertine from Saundra Mitchell from An Incident We'd Rather Not Discuss. Peek: "I'm offering you a chance to win your dream gown. Or, more accurately, this Visa Gift Card, worth $300.00…" Deadline: March 6.
Roxie Munro/Artist: official website of the author-illustrator of Hatch (Marshall Cavendish, 2011), Ecomazes (Sterling, 2010), and many more. Note: though currently based in Long Island, New York, Roxie was born in Mineral Wells, Texas and has created six books on Texas and environs.
Writers Links: Promotion: a mega compilation of tips, resources, and insights from Cynthia Leitich Smith Children's-YA Literature Resources. See also agents, editors and publishers, education, and publishing.
Exploring Diversity through Children's and Young Adult Books: Background Reading from Cynthia Leitich Smith Children's-YA Literature Resources. See also Themes & Communities.
Wedding and Funerals and Everywhere in Between by Diane Roback from Publishers Weekly. Peek: "We asked editors about the strangest place they've been pitched a book, and have collected a number of their stories." Note: best to stick to the submission guidelines.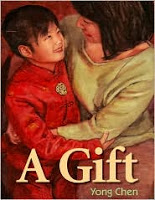 Celebrate Chinese New Year with Dragons, Dumplings, Drums…and Books by Joy Fleishhacker, Curriculum Connections from School Library Journal. Peek: "In China and across the globe, billions of people are preparing to celebrate Chinese New Year, which falls on February 3, 2011, and ring in the Year of the Rabbit. Determined by the Chinese calendar, this important holiday begins on the night of the first new moon of the year and ends 15 days later with the Lantern Festival, when the full moon is welcomed with cheerful parades of lights." Note: includes annotated bibliography.
Analyze Your Plot Arc for Action by Chris Eboch from Write Like a Pro! A Free Online Writing Workshop. Peek: "Hopefully you have a strong emotion in every scene, probably a negative one—fear or grief or anger, for example. Strong emotions drive the story forward. But any emotion, no matter how strong, seems to flatten out over time."
Save Libraries
Library Issues and Taking Action from the Texas Library Association.
Save Our Texas Libraries! Peek: "Proposed state and local budget cuts are threatening the provision of local library services. From school libraries to public and academic libraries, our local libraries are in danger of losing significant funding for staff, programs, digital and print resources, and hours of operation."
Authors for Librarians from the Association of Library Trustees, Advocates, Friends and Foundations. Peek: "ALTAFF is bringing authors and libraries together in a unique partnership to connect authors with libraries, Friends of the Library groups, and library Foundations as well as to keep authors informed about issues and concerns affecting libraries on a national level." Source: Liz Garton Scanlon at Liz In Ink. Note: soak up some Library Love at Liz's LJ today.
Visit the new Austin Public Library Friends Foundation website!
Cynsational Screening Room
Check out the book trailer for Cloaked by Alex Flinn (HarperCollins, 2011).
Check out this book trailer for Attack of the Fluffy Bunnies by Andrea Beaty, illustrated by Dan Santat (Amulet, 2010).
In the following video, Brent Hartinger offers Seven Reasons You Should Read Shadow Walkers (Flux, 2011)(excerpt)(discussion guide):
Meet the Author: Kate DiCamillo from Adlit. Peek: "After college, Kate wrote mostly short stories for adults, submitted them, and collected hundreds of rejection letters. During a long, cold Minnesota winter, Kate felt homesick and wrote a story for kids that took place in the warm South. That story, Because of Winn-Dixie (Candlewick, 2000), was not only published; it received a prestigious Newbery Honor. When The Tale of Despereaux (Candlewick, 2003) won the Newbery Medal, Kate solidified her place as one of today's most popular authors for young people."
"The Bookanistas are dancing because we're so excited that Beth Revis hit the NY Times Bestseller List for Across the Universe (Razorbill, 2011)." – Shana Silver
More Personally
Snow is on the ground, the rolling brownouts are over (we lost power nine times), my work in progress is resting, and I'm packing to leave town.
So, Cynsations is going on hiatus as I take off for my N.E. U.S. Blessed Tour! Those of you in New York, New Jersey, Philly & surrounding areas, I hope to see you on the road Feb. 6 to Feb. 12. I'll resume posting on Feb. 14!
Blessed is now available from Walker Books Australia and New Zealand! See details!
Cat Calls (Candlewick, 2010), an e-book offering a short story set in the Tantalize series universe, is #15 of the Free Books on the Kindle bestseller list!
The winner of the Blessed Grand Prize Giveaway is Melissa in Washington! Congratulations! Thanks to everyone who entered. Cynsations giveaways will resume once I'm back in town.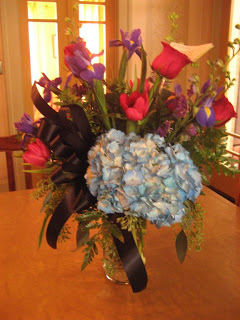 Thanks again to everyone who attended or raised awareness of the Blessed and (Mari Mancusi) Night School Launch Party last weekend at BookPeople in Austin.
See the party pics and event report! You can order/pick up signed stock from BookPeople! Budget a little thin? Look for the Tantalize series at your local public library. If it's not there, request it on loan.
Is the series not yet available in your country? International releases are still forthcoming (and I'll keep you posted), but you can order the books from Book Despository, which ships free to anywhere in the world? Click to order Tantalize, Eternal, and Blessed. Note: my Native American powwow picture book, Jingle Dancer, is also available.
On a related note, see information from Mari on Finding Night School.
See also congratulations flowers from my mom (side) and a dear pal (below).
Blessed Blog Tour: Interview with Bradley and Giveaway from Pirate Penguin Reads. Peek: "Cursed Internet. Deception was such a readily available snack in the early-to-mid twentieth century." Giveaway deadline: Feb. 6.
Blessed Blog Tour: Secondary Characters & Giveaway by Cynthia Leitich Smith from Badass Bookie. Peek: "Secondary characters mirror individual qualities of the hero. Illuminate them. Secondary characters challenge the hero. Fuel their growth. Secondary characters comment on the main characters. They help tell the readers what we need to know." Giveaway deadline: Feb. 4.
Blessed Blog Tour: Top Ten YA Recommendations & Giveaway by Cynthia Leitich Smith from A Good Addiction. Giveaway deadline: Feb. 6.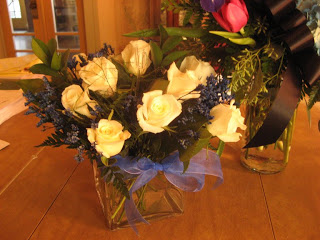 Cynsational Events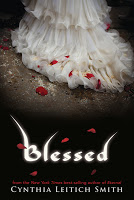 Blessed In-Person Author Tour Schedule in Central Texas and the Northeastern U.S.: sponsored by Candlewick Press. Are you in Austin, New York, New Jersey, or the Philly area? Come join me along the way!
12th Annual Southwest Florida Reading Festival will be from 10 a.m. to 4 p.m. March 19 in Fort Myers, Florida. Note: speakers include Cynthia Leitich Smith.
SCBWI-Wisconsin Novel Revision Workshop with author Cynthia Leitich Smith from March 25 to March 27. Note: "Registration is limited to 25 persons."