Arte y Pico Award: Recognizing Blogs That Inspire Others
Children's author Anastasia Suen at Picture Book of the Day has chosen Cynsations for an Arte y pico Award!
Q. What is Arte y pico?
A dollmaker in Uruguay created this award to recognize blogs that inspire others.
Rules:
1) You have to pick five blogs that you consider deserve this award, creativity, design, interesting material, and also contributes to the blogger community, no matter of language.
2) Each award has to have the name of the author and also a link to his or her blog to be visited by everyone.
3) Each award-winner has to show the award and put the name and link to the blog that has given her or him the award itself.
4) Award winners and those who give the prize must show the link of "Arte y pico" blog, so everyone will know the origin of this award.
5) To show these rules.
So, in turn, it's my pleasure to present five blogs with this award:
The Class of 2k8: a cooperative blog by 2008 debut authors. Read a Cynsations interview with Marissa Doyle and Jody Feldman about the class.
Liz in Ink from author Liz Garton Scanlon, who's goddess poet-ness shines through, no matter whether she's talking craft or daily life.
The Longstockings: For the Love of Pippi and All Things Children's Books: a cooperative blog from authors Kathryne B Alfred; Daphne Grab; Lisa Greenwald; Siobhan Vivian; Lisa Graff; Jenny Han; Caroline Hickey; Coe Booth.
Shrinking Violet Promotions: Marketing for Introverts: a team blog from Mary Hershey and Robin LaFevers. Highly recommended to writers of all personality types.
Through the Tollbooth: Thoughts on Writing for Children and Young Adults: a cooperative blog from Carrie Jones; Helen Hemphill; Kelly Bingham; Liz Gallagher; Sarah Aronson; Sarah Sullivan; Tami Brown; Stephanie Greene; Zu Vincent. Note: I'll admit a bias here as the authors are Vermont College alumni, but that aside, the Tollbooth is a craft oasis for serious writers.
Brillante Weblog Premio Award
Thanks to Cynthea Liu at Writing for Children and Teens for honoring Cynsations with a Brillante Weblog Premio Award!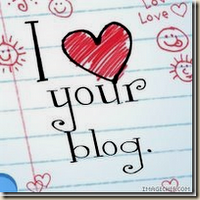 I "Heart" Your Blog
Thanks to Carlyn Beccia at The Ballyhoo for "hearting" Cynsations!
Read a Cynsations interview with Carlyn!