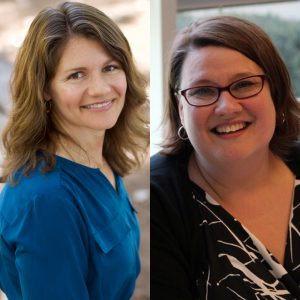 Books have power. They can make us laugh, cry or keep us up late into the night when we just have to find out what happens. Books can also inspire action or influence other authors, even many years later. In 1873, when Jules Verne published Around the World in 80 Days, it's unlikely he had even an inkling of the chain reaction his novel would ignite.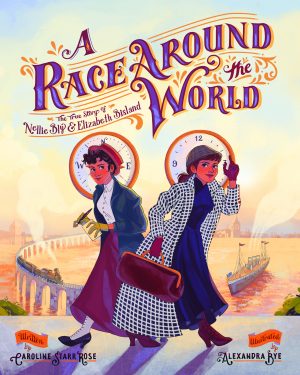 Aside from too many film, television and radio adaptations to count, Verne's book also prompted many people to travel the path described.
An early attempt to beat the fictional record set by Phileas Fogg happened in 1889 when two women writers, Nellie Bly and Elizabeth Bisland competed to see which could circumnavigate the globe in the shortest amount of time.
Their journey is the subject of an exciting new nonfiction picture book, A Race Around the World: The True Story of Nellie Bly and Elizabeth Bisland by Caroline Starr Rose, illustrated by Alexandra Bye (Albert Whitman, October 2019).
As a writer also inspired by Verne's iconic novel, I'm very excited to welcome Caroline and her editor, Wendy McClure, to Cynsations!
You grew up with a book about Nellie Bly. What do you remember about it? What do you remember about Nellie from your younger days?
Caroline: My book was called The Value of Fairness: The Story of Nellie Bly (by Ann Donegan Johnson, (Value Communications, 1977)). It had cartoon-like illustrations and included Nellie's monkey McGinty that she bought on her round-the-world trip.
Parts of the book were exciting and other parts felt scary, like the section that covered her ten days undercover in an asylum for the mentally ill.
As I girl, I saw Nellie as bold and brave, willing to face down any challenge.
Wendy: Mine was called Nellie Bly, Girl Reporter, and it was an old '60s-era paperback in the classroom library of my fourth grade class.
I picked it up thinking it was fiction and was amazed that it was a real story—this woman I'd never heard of who'd had these incredible adventures.
When and how did you learn Nellie's around-the-world race wasn't a solo endeavor but a contest between Nellie and fellow journalist Elizabeth Bisland?
Caroline: In January 2017, I was on the hunt for a new picture book idea, and a story about Nellie felt like a perfect fit. I knew nothing of Elizabeth Bisland until I stumbled on Matthew Goodman's book, Eighty Days: Nellie Bly and Elizabeth Bisland's History-Making Race Around the World (Ballantine, 2013).
Nellie's already exciting adventure became even more compelling. She didn't even learn of Elizabeth until day 39 of the race! I knew their story would be the focus of my new book. I sent a quick email to Wendy, asking what she thought. Her message ended with one word in caps: INTRIGUED.
Wendy: My childhood book on Nellie had mentioned another woman racing around the world in the opposite direction! It didn't mention Elizabeth by name, but I'd always remembered that detail.
While Nellie and Elizabeth shared some similarities, they were very different women. Nellie was plucky and quick. Elizabeth was thoughtful and reserved. Whom do you most relate to and why?
 Caroline: While I admire Nellie to pieces, it's Elizabeth I relate to. She loved to read. She enjoyed writing poetry. She was moved by the beauty of the natural world and fell in love with travel as a result of the race.
Wendy: I relate to Elizabeth too. But I like to think I share Nellie's penchant for planning and problem-solving. I love how she figured out how to travel so light with just the single bag!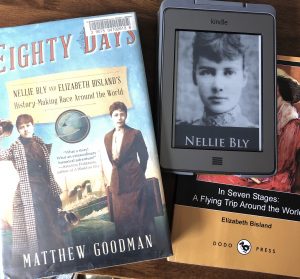 What was it like to work on this book?
Caroline: This book felt like a true collaboration.
Knowing Wendy also had a childhood book about Nellie and happened to read Matthew Goodman's work a few months before I did felt like more than a fluke. It felt like this story was meant to be!
She brought insight to the piece I wouldn't have considered but nevertheless was key. That was all due to her careful reading, her general knowledge of the late 1800s, and her enthusiasm for Nellie and Elizabeth.
Wendy: This was so much fun to work on with Caroline. I don't think I've ever worked on a nonfiction story about a span of time that was so well-documented… Nellie and Elizabeth wrote accounts of their travels, plus there were tons of contemporary news stories of their trips; on top of that there's the modern bios, and the Matthew Goodman book.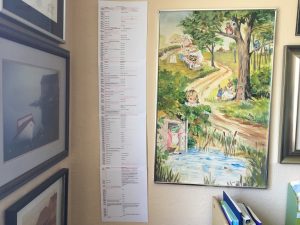 Then Caroline created this amazing spreadsheet that broke down the race day-by day and indicated where the women were and what happened each day. It was so helpful to have that as a reference as we worked to pace the story over thirty-two pages and figure out the visual storytelling.
Cynsational Notes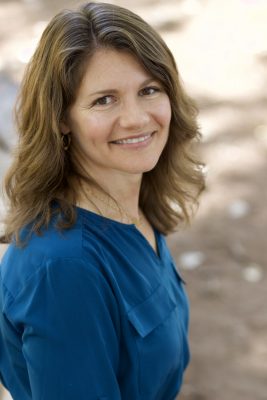 Caroline Starr Rose is an award-winning middle grade and picture book author whose books have been ALA-ALSC Notable, Junior Library Guild, ABA New Voices, Kids' Indie Next, Amazon's Best Books of the Month for Kids, and Bank Street College of Education Best Books selections. In addition, her books have been nominated for almost two dozen state award lists.
Caroline was named a Publisher's Weekly Flying Start Author for her debut novel, May B. (Schwartz and Wade, 2012) She spent her childhood in the deserts of Saudi Arabia and New Mexico and taught social studies and English in four different states.  Caroline now lives with her husband and two sons in New Mexico.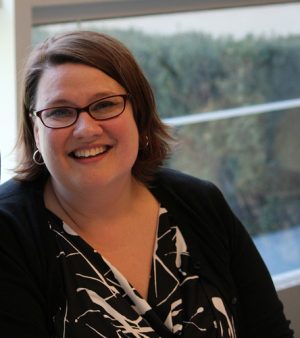 Wendy McClure is an author, a columnist, and a children's book editor.  Her books for adults have received numerous awards, including the Midwest Booksellers Choice Award for nonfiction for The Wilder Life: My Adventures in the Lost World of Little House on the Prairie (Riverhead, 2011). She has an MFA in poetry from the Iowa Writer's Workshop.
Her work in children's books includes her historical fiction series, Wanderville (Razorbill), and she has edited over fifty novels and picture books for children as a senior editor at Albert Whitman & Company. She was born in Oak Park, Illinois; and now lives in Chicago with her husband, Chris, in a neighborhood near the river.
Gayleen Rabakukk holds an MFA in Writing for Children and Young Adults from Vermont College. She's worked with Cynthia Leitich Smith as a Cynsations intern since 2016 and also serves as assistant regional advisor for the Austin chapter of the Society of Children's Book Writers and Illustrators. Gayleen is represented by Andrea Cascardi of Transatlantic Literary Agency.