By Skila Brown
Skila Brown is the author of verse novels Caminar and To Stay Alive, as well as the picture book Slickety Quick: Poems About Sharks, all with Candlewick Press.
She received an M.F.A. from Vermont College of Fine Arts. She grew up in Kentucky and Tennessee and now lives in Indiana where she writes books for readers of all ages.
We all reach a point when writing doesn't feel very fun. Maybe because we've read too many rejection letters. Or maybe because we've revised so much we can't recognize our story. Or maybe because we're under a deadline and the pressure to finish takes away all the enjoyment.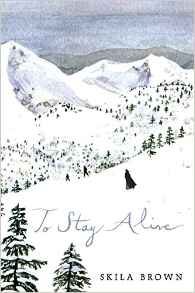 October, 2016
But remember why we started doing this? It wasn't because we wanted to get rich quick. (Ha!) Or because it was the only job we could do. Or because anyone was making us write. It was because it was fun.
The art of creating story was fun. We became writers because we like telling stories—we like making up details, researching history and narrating events. All of that was fun.
Six years ago, I got serious about becoming a writer and applied to an MFA program. When I got a call from the admissions office saying, "Hey – we're doing this intensive picture book semester and we have room for one more student. Would you like to try it?"
I thought, That could be fun. And I soon found myself immersed.
Six months of reading almost nothing but picture books. Dozens of picture books. Hundreds of picture books. Rhyming ones, silly ones, concept books, fairy tales. Biographies, bedtime stories, wordless books and—poetry.
The thing about sitting down at the library and reading through a knee-high stack of poetry books is that after reading a dozen, two dozen, I started to see really fast what makes a certain one good. I really liked the ones that were centered around a theme, with varied types of poetry and bonus little nonfiction facts sprinkled on top.
I should try to do that, I thought. Being enrolled in a class that expected me to produce many picture book drafts in a short period of time didn't let me dwell on whether it was a good idea or not. It just demanded that I try it out. That I play with it.
And I did. It was fun to research shark breeds and learn about sharks I'd never heard of before. (Hello, cookie-cutter shark!)
I spent a lot of time on YouTube watching sharks swim and thinking about their rhythm and shape and how that would feed into a poem. It was fun to learn new stuff. And it was really fun to try my hand at writing all different types of poems.
To challenge myself to make sure the next one didn't rhyme or the next one was a concrete poem or the next one was a haiku. Not all of the experimenting worked. But every bit of it was fun.
As writers we need to remember what drew us to this field to begin with and do whatever we can to find the fun again. Here are 4 quick ways you can find the fun in writing this week:
Be a spy. Go outside and find an animal or a plant and just sit and watch it for 10 minutes, writing down whatever comes to mind. See if you can take that and shape it into a poem when the time is up.
Play a game. Find a Mad Libs. Caption a funny photo.
Have fun with first lines. Opening sentences can be really fun to make up. Write a list of ten of them and then send the list out to your critique group. Let them vote on one that you'll turn into a short story.
Write something that is completely out of your comfort zone. If you normally write YA contemporary, try writing a scene of a middle grade historical novel. Write the end of a story. Write in second person. Do something new and fresh that shakes it up a little in your routine.
It's worth it to take a break from the WIP and play a little. Remembering what's fun about writing will improve your energy level on your current project.
But that's not why you should do it. You should do it because it's fun.
Cynsational Notes
Skila's new book, Slickety Quick: Poems About Sharks, was illustrated by Bob Kolar (Candlewick, 2016). From the promotional copy:
Fourteen shark species, from the utterly terrifying to the surprisingly docile, glide through the pages of this vibrantly illustrated, poetic picture book.
These concrete poems about a selection of sharks will tickle the fins of many an aspiring marine biologist. —Booklist