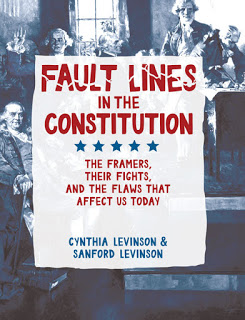 Many of the political issues we struggle with today have their roots in the US Constitution.
Husband-and-wife team Cynthia and Sanford Levinson take readers back to the creation of this historic document and discuss how contemporary problems were first introduced—then they offer possible solutions.


Think Electoral College, gerrymandering, even the Senate.
Many of us take these features in our system for granted. But they came about through haggling in an overheated room in 1787, and we're still experiencing the ramifications.
Each chapter in this timely and thoughtful exploration of the Constitution's creation begins with a story—all but one of them true—that connects directly back to a section of the document that forms the basis of our society and government.
Most middle grade nonfiction is either biography or focuses on a particular event. Here you're examining the structure of our government and highlights of United States history since 1787. What inspired you to take on this monumental task?
The short answer to your question is that my editor, Kathy Landwehr, at Peachtree Publishers "inspired" us to write it by asking my husband, Sandy, a legal scholar, and me if we would. She had given her father a copy of one of Sandy's previous books that critiques the Constitution—he writes for law students and faculty as well as adult readers in general—which he had found interesting. In talking about it, Kathy realized that there is no book like it for kids.
In a bigger sense, this question is really interesting because, even though I've published five nonfiction books (and written many more!), I've never thought about this distinction between biography, on the one hand, and event, on the other, as a way to organize nonfiction. It generally works, though it leaves out some science books.
Melissa Stewart, an amazing author, researcher, and presenter on science topics, proposes another way to categorize the genre: narrative and expository.
Your question has made me realize that Fault Lines in the Constitution contains some of all of these—biographies, events, narrative stories, and exposition of facts.
In that way, it does sound monumental! But, actually, because of the way the book is organized, it didn't seem monumental while writing it (well, for the most part it didn't). And we hope it doesn't come across that way to readers.
You're right that the scope might appear huge because we drop in on events in American history from the Revolution through this past summer. There probably aren't many books that mention both the Continental Congress convening in a tavern in New Jersey and the fate of undocumented aliens under President Trump.
Yet, Fault Lines is not a textbook. We don't march through either American history or the Constitution. Every story and every event is closely tied to and illustrates a problem—or, fault line—in the Constitution.
You co-authored Fault Lines In The Constitution with your husband. Tell us about the collaboration process and how the book came together.
Fault Lines was very much a collaborative process. It is definitely ours, not his or hers.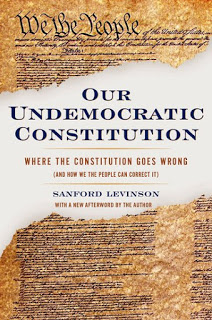 We had already joined forces in writing an article together for
Cobblestone Magazine
titled "
Calling the Constitution's Bluff
," in which we had ticked off three of the fault lines.
So, when we started on the book, I naively thought that I could re-read Sandy's previous works—especially, Framed: America's 51 Constitutions and the Crisis of Governance (Oxford University Press, 2012) and Our Undemocratic Constitution: Where the Constitution Goes Wrong (And How We the People Can Correct It) (Oxford University Press, 2006)—mine them for ideas, issues, and stories, and then summarize them. Done! Ha!
Though they're persuasive in laying out his concerns about the Constitution, these books don't tell the kinds of stories that draw in young readers.
Also, Sandy's writing style is, um, fluid and, because he's so knowledgeable, digressive. Consistent structure and short blocks of text broken up by sidebars and illustrations are not his forte. (Nor, given his usual audience, do they need to be.)
Furthermore, even though I had often heard him urge people to "follow the dots" from problems in the Constitution to political dilemmas today, I felt that the dots in his books needed clearer highlighting. Suddenly, I could see why our daughters, both of whom had written journal articles with him, asked me if I was really sure I wanted to take on this job!
For our middle-grade audience, I realized we had to start from scratch, and I laid out ground rules for the sections he would draft:
• No sentences longer than three lines or with more than one dependent clause.
• No extraneous words or vague phrases, like "indeed" or "in the grand scheme of things."
• No adverbs.
• No parentheticals.
None of these ground rules was met! Here's one brief example from an early draft of Chapter 4, which is about the filibuster:

Fortunately, as Sandy says, he has no pride of authorship. He does not mind being edited. You can see us working together in the photo. Note that I'm the one holding the red pen!
As a result, we managed to write the book in one voice. There is one exception, though: In writing the last chapter, we disagree and openly debate each other.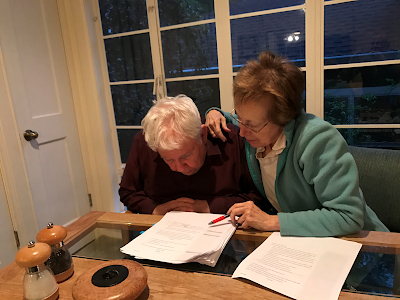 I'm also curious about the timeline – how long did it take to write, what was the editorial process was like?

I never know how to answer the question about how long it took me to write a book, partly because I work on several things at different stages simultaneously and partly because there are the inevitable lulls.
In this case, the lull lasted a full year. We started sometime in 2013, and Fault Lines was supposed to come out in September 2016. But I had to postpone it when I was asked me to write a biography,
Hillary Rodham Clinton: Do All the Good You Can
(Simon & Schuster, 2016), which had an obvious deadline. That delay turned out to be fortuitous, as the book evolved after the election of President Trump.
Kathy Landwehr, my editor at Peachtree Publishers for We've Got a Job (2012) and Watch Out for Flying Kids (2015) did her usual exemplary, thoughtful, and indefatigable job.
She did not hesitate to take out her red pen, too! In fact, we wrote three entire stories for the book, including a moving one about a fugitive slave named Anthony Burns, all of which got axed for various necessary reasons. We recycled the story about Burns into
a blog post.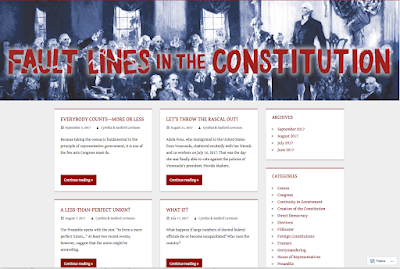 One of the aspects I found most fascinating is that each chapter opens with a contemporary anecdote – the college student who successfully changed the Michigan constitution regarding public university admission seems particularly relevant to students. How did you find those stories? And, how did you decide which ones to use in the book?
Sandy knew about many of the events, including the opening one about the lynching of a black man named Richard Puckett in South Carolina in 1913. This tragic act leads to a discussion of the first fault line, bicameralism—the need for both houses of Congress to pass a bill before it can become a law.
Through my experience writing for kids, I was able to turn historical artifacts into gripping stories. And, with additional research, I added moving details, including the fact that Puckett's niece attended the ceremony in 2005 when 80 (but not all 100) senators apologized for the Senate's inability to pass anti-lynching legislation.
Other stories popped up in the news. The situation you mention is a recent legal case related to direct democracy, which some state constitutions—but not the U.S. Constitution—allow. Another uses the jailing of a nurse who had treated Ebola patients in West Africa in 2014 to show that our Constitution is out of date.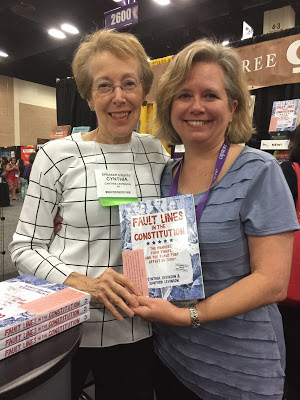 Cynthia and Gayleen at TLA conference
The ARC I received at the Texas Library Association conference in the spring had a sticker on the cover noting the date the text was approved, "but this is a book inherently influenced by current events."


Less than a week later, the Senate voted to change the filibuster rules. You and your publisher have a blog dedicated to posting updates to the book.


Is the United States government changing faster now than it has in the past?
I doubt that the government is changing faster now than in the past. Conservatives who want a smaller role for government and lower taxes would argue that it changed vastly during President Franklin Roosevelt's first hundred days in office when he pushed 15 major bills through Congress.
That perspective is a large part of the opposition to the Affordable Care Act, passed under President Obama. It is true, though, that the Trump administration is undoing this so-called "deep state" very rapidly.
Publishers Weekly called Fault Lines "exceptionally topical." To keep up with the times and to show how much the Constitution influences current events, we blog every two weeks.
So far, as you can see in the picture, we've written about gerrymandering, Texas Boys State (which voted to secede!), the shooting of Republican Congressmen and problems with continuity in government, and the under-funding of the 2020 Census, among other topics.
We invite readers to join the conversation!
Given current events, I'm guessing this book has a lot of crossover appeal for adults. Have you noticed that with the events you've had so far?
Everyone tells us that! We've been invited to almost two-dozen radio interviews and talk-shows, and grown-ups are as engaged in our presentations as kids. School Library Connection even said, "While written for students, the book is a worthwhile read for adults as well."
Cynsations Notes



A discussion guide for Fault Lines in the Constitution is available from the publisher. The book has earned four starred reviews, from Publisher's Weekly, Booklist, School Library Journal and Kirkus Reviews.
Cynthia Levinson holds degrees from Wellesley College and Harvard University and also attended the Lyndon B. Johnson School of Public Affairs.
A former teacher and educational policy consultant and researcher, she is the author of the award-winning and critically-acclaimed We've Got a Job: The 1963 Birmingham Children's March (Peachtree, 2012), along with Watch Out for Flying Kids (Peachtree, 2015), Hillary Rodham Clinton: Do All the Good You Can (Simon & Schuster, 2016) and The Youngest Marcher, illustrated by Vanessa Brantley-Newton (Simon & Schuster, 2017).
She has also published articles in Appleseeds, Calliope, Cobblestone, Dig, Faces, and Odyssey.