By Varsha Bajaj
On November 9, 2016, I was at my local Target store.
I had bought milk, eggs, bananas and dog treats and I wandered into the books section because that's where I am known to stray when I need comforting.
Right there beside Dr. Seuss and under Eric Carle was This is Our Baby, Born Today (by Varsha Bajaj, illustrated by Eliza Wheeler, Nancy Paulsen Books, 2016).
I pulled out my phone and clicked a picture, as if I needed proof for my friends and family, in case it was a huge mistake and they pulled the copies off the shelves the next day.
Then, I lurked around the aisle trying to collect my errant thoughts.
This book was born in January 2012 during my son's senior year when the school requested that I send pictures of him between the ages of 0-5. I sat surrounded by hundreds of pictures with the impossible task of selecting five. Babies were now on my brain and in my words.
After months of writing and many failed versions and drafts, I realized the heart of my story.
While the baby is the mother's alone in the womb, the circle of love gradually expands after birth and includes at first the family and then the world. The arrival of a baby is cause for celebration.
Around the same time, I read about the plight of elephants and their dwindling numbers.
My connection to elephants goes way back. I remembered the wooden elephant from my childhood home in India who was the hero of some of my earliest stories.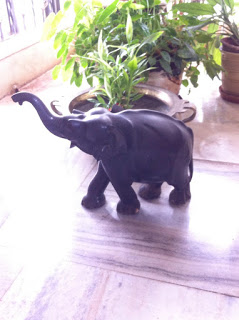 It struck me that if we celebrated the birth of every elephant, they would not be endangered today. The baby in the story became an elephant and the rest of the words followed.
This manuscript found the right editor thanks to my agent, Jill Corcoran.
The words found the perfect illustrator, Eliza Wheeler, thanks to my extraordinary editor, Nancy Paulsen.
I've been lucky to see my books grace the shelves of bookstores before.
But this was different.
While I wish everyone visited a bookstore, I realize and mourn the fact that only a small section of people frequent and support their local indie or Barnes and Noble.
Target manages to reach a much wider base.
I hope that the readers of this book will be sympathetic toward elephants and realize that these gentle giants need our help.
I hope that these young readers will wander into a bookstore or their local indie as teens or adults.
I hope there are people who will wander to the book section after buying their milk, eggs, bananas and dog treats and pick up a copy of This is Our Baby, Born Today.
Cynsational Notes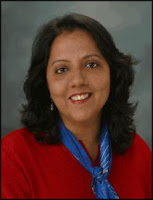 Kirkus called This is Our Baby, Born Today a gentle rhyming story and said it "works on two levels: the playfulness of the young elephant and its friends ensure that young children will be able to see themselves in the story, and given the depiction of the natural scenes, at least some young readers will become fascinated with the lives of elephants as well."
Varsha Bajaj came to the United States as a graduate student in 1986. She earned her master's degree in counseling from Southern Illinois University and worked as a Licensed Professional Counselor in St. Louis. This is Our Baby, Born Today is her third picture book, and she is also the author of the novel Abby Spencer goes to Bollywood (Albert Whitman, 2014). Her next book, Our Earth, Our Home, illustrated by Simona Mulazzani will be published by Nancy Paulsen Books in 2018.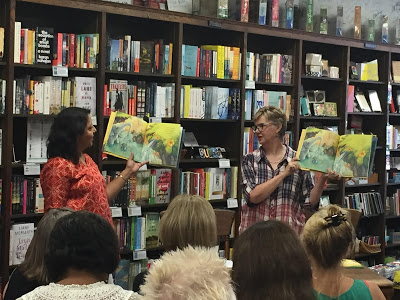 Varsha with Kathi Appelt at the This is Our Baby, Born Today launch party.