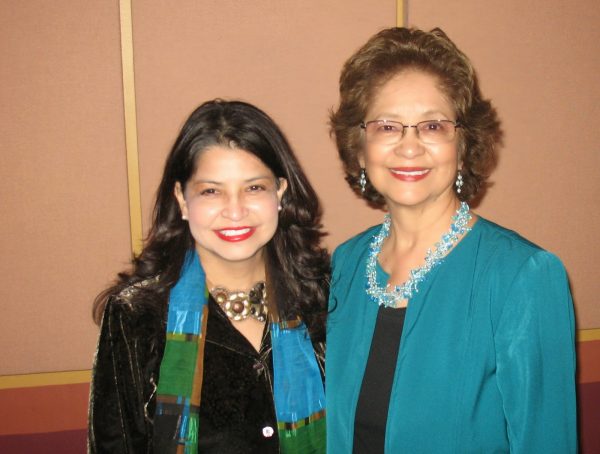 Carolyn & Lupe AKA "Team Flores"
By Carolyn Dee Flores & Lupe Ruiz-Flores
LR: We call ourselves "Team Flores."
Although my daughter, illustrator Carolyn Dee Flores, and I have never worked together on a book, we hope to someday.
We team together when we make joint presentations and provide the moral support for each other.
Carolyn Interviews Lupe
CDF: What is the most surprising aspect about being from a kidlit family?
LR: I don't think it's surprising at all. We love books!
Before my firstborn (you) even arrived, I spent money we could not really afford on a volume of encyclopedias that came with an entire set of children's books.
That was one of the best investments I made.
CDF: What is the most interesting thing you have learned about illustrating a picture book because your daughter is an illustrator?
LR: I found out how hard and dedicated the illustrators work to bring a writer's text to life. I've watched the enormous hours of research that go into creating just the right art, images, and scenes that will make the book come full circle.
I've learned that an illustrator reads and rereads the writer's manuscript until they come up with a concept that makes the book sparkle. Then they spend months creating and recreating until they are satisfied with the final art.
CDF: How does your family (past and present) affect what you write about and how you approach your craft?
LR: I come from a large family of eleven brothers and sisters.
There was no money for books when I was growing up. But we had storytellers—my father and my grandmother.
There's an art to storytelling, I think. My siblings and I were mesmerized on those evenings on the porch listening to the cuentos about legendary myths. The stories sparked my imagination.
I hope to create an emotional experience for the readers of my books and a chance for their imagination to soar like mine did on those magical nights. I like to think of myself as a storyteller.
CDF: What is your latest work?
LR: A YA historical fiction set in the late 1930s in San Antonio, Texas. I feel passionate about this story because it comes from my background and culture. I believe this gives authenticity to my piece.
It takes place during the aftermath of the Great Depression and is reminiscent of the Lower East Side New York sweatshops that were in operation at the turn of the 20th century. I've done extensive research, both primary and secondary sources.
I feel blessed that I live in the city where the story takes place because I've been able to physically visit some of the places that I write about in my story and conduct interviews.
CDF: What is the hardest thing about working on a novel as opposed to a picture book?
LR: With a picture book, you're limited on word count so every word must carry its weight.
With a novel, you have more freedom to develop your characters, the setting, dialogue, etc. The hardest thing for me in writing a novel is the middle part. I have to make sure it doesn't sag.
CDF: How are the two processes similar? How do the two processes differ?
LR: The storyline is what is similar. With only 32 pages in a picture book, you still need a story.
With a novel, you can thread your storyline with expanded scenes, action, dialogue, and character development. What matters most is a good story.
Lupe Interviews Carolyn
LR: You have illustrated picture books as well as a middle-grade book about historical figures (Daughters of Two Nations, written by Peggy Caravantes (Mountain Press, 2013)). What is the difference?
CDF: Canta, Rana, Canta/Sing, Froggie, Sing (Piñata, 2013) and Dale, Dale, Dale/Hit It/Hit It/Hit It, written by René Saldaña Jr. (Piñata, 2014) are my two bilingual picture books.
Daughters is a collection of biographies about nine Native-American women and is for readers ages fourth grade and up.
I think the short answer to the question is that the pictures for each book differ in the same way that the text differs for each book. Every book is unique. In general, though, with picture books, the illustrations must be narrative, character-driven, and sequential. It's all about the page-turn.
A nonfiction history book for older readers requires illustrations that are authentic, factual, and absolutely accurate. With teens, however, you really want to create pictures that are also really intriguing and dynamic. Something, for instance, they would wear on a T-shirt. But, still, the emphasis must always be on the facts.
With Daughters, I studied two different maps from the time period to get details for the exact placement of the houses in the background behind my portrait of Mary Musgrove – including where each gate was, and even the exact location of the flag. With Nancy Ward, I had to make sure there were no seams or stitches in her clothing, as she would've worn deerskin that was tied together.
However, you cannot copy a copyrighted art piece. If a piece of clothing has a unique pattern, or a medal worn by one of the women is copyrighted, then I have to alter the image in order to include it in the book. I did my best to retain the authenticity. But it can sometimes be a complicated process.
I focused on representing the dignity of the character of each one of these wonderful women, because I felt it was a privilege and an honor to draw them. And that led me.
LR: What is your art style? What medium do you use?
CDF: I am very conscious of my medium as an illustrator. In a way, your medium is your trademark.
I started out as an oil painter, but I use Prismacolor colored pencil for all of my illustrative work … usually. Right now, I am painting in watercolor, because it best represents the tone and the period of the book I am working on. It is more organic. But, I am very true to drawing in Prismacolor.
LR: Briefly walk us through from when you first get a manuscript to when you actually start drawing.
CDF: If it is a picture book, the answer is easy: I read the text aloud at least 30 times, before I ever start to zero in on an image, even in my mind. It can be such a mistake, jumping in and sketching, before you truly understand the text and allow it to breathe.
But the very second thing I do, for any book, is research. The day I get the contract, is the day I am off to the library. Even for a picture book, you still have to do research.
For Froggie, which was a story about an underwater singing frog, I learned as much as I could about frogs, and also, as much as I could about singers. I surrounded myself with pictures of frogs and Pavarotti in my studio for nine months. You have to immerse yourself in that world.
LR: When did you become an illustrator and why? What have you learned about the business of illustrating?
CDF: I was an illustrator and a writer when I was born, before I knew I was anything, I think. I used to draw on my mother's curtains, and I carried books around with me before I could ever read. I would pretend I was reading them – not knowing they were upside down.
The one thing I've learned about the business of illustrating is that there are many, many layers to this craft and, also many, many layers to this industry.
It is such an adrenaline rush to be creative and see where it leads. Drawing, research, narrative, storytelling, style, design, composition, listening, craftsmanship, vision, rendering. It's all fantastic!
Ultimately, the greatest rush about working in the children's book industry is that as you work, you are always learning something new about people. There is not a day that goes by, that I don't just swoon on the new ideas I've discovered.
LR: Do you think it would be hard working with your mother on a book?
CDF: Since you are the one asking me this question, Mother, I'm going to have to be honest with you. It has always been my dream to work with you, Mother, on a book. We work very well together. Especially, this book that we are collaborating upon currently. I'm putting everything I have into it, because I believe in it so much!
It is about Las Carpas, the Mexican-American tent circuses of the 1930s. I am just bowled over by how interesting these people were and how visually exciting this period in time was.
We have both done a tremendous amount of research on the subject, and it has just come alive!
LR: What advice would you give to aspiring illustrators?
CDF: If you are older, join SCBWI. If you are a child, write your own book now.
Every writer and illustrator I know, carries around with them the book they wrote when they were in second or third grade. You will treasure it always!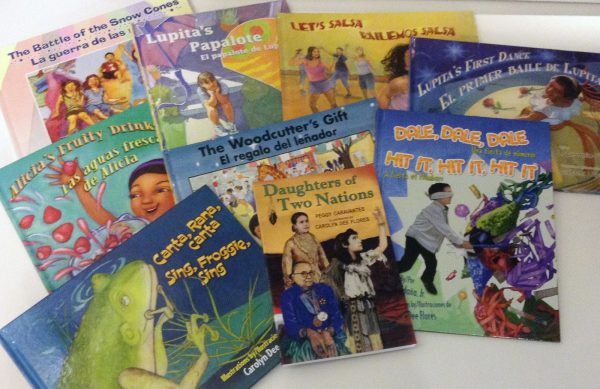 Books by Carolyn & Lupe
Cynsational Note
Carolyn Dee Flores and Lupe Ruiz-Flores are both represented by Mira Reisberg of Hummingbird Literary.
Cynsational Giveaways
Enter to win an autographed copy of Lupita's First Dance/El primer baile de Lupita by Lupe Ruiz-Flores, illustrated by Gabhor Utomo (Arte Publico, 2013). Author sponsored. Eligibility: U.S.
Enter to win autographed copies of Daughters of Two Nations, by Peggy Caravantes, illustrated by Carolyn Dee Flores (Mountain Press, 2013) and Canta, Rana, Canta/Sing, Froggie, Sing (Piñata, 2013). Author-illustrator sponsored. Eligibility: U.S.