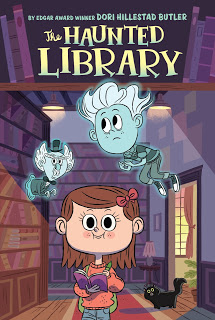 Cheers to your upcoming series, The Haunted Library (Grosset & Dunlap, 2014)! Could you tell us about it?
It's a chapter book mystery series, just like my Buddy Files series (Albert Whitman). But instead of a canine protagonist, my main character Kaz is a ghost.
He's spent his whole life (and he is "alive"…this is a chapter book series so my ghosts aren't dead people, they're simply transparent people with superpowers) living with his ghost family in an old, abandoned schoolhouse.
But when the "solids" come and tear down the schoolhouse, Kaz and his family are separated as they blow away in the wind. Kaz ends up in a city library, where he meets a solid girl named Claire. Claire can see Kaz when he's not "glowing." She can hear Kaz when he's not "wailing." No one knows why.
Kaz and Claire form a detective agency to solve ghostly mysteries and help Kaz find his family.
What are the challenges of writing chapter books? How about writing a chapter book series?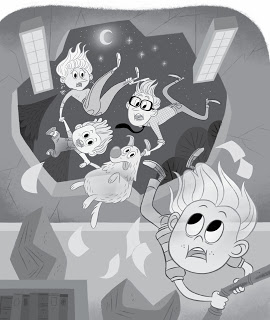 interior illustration
I think one of the main challenges to writing a chapter book is first understanding what a chapter book is.
I hear a lot of parents say, "my child is reading chapter books."
What do they mean when they say that? Do they mean their kids are reading Frog and Toad? Yes, Frog and Toad has chapters, but it's an easy reader. Are they reading A Wrinkle in Time? That's a middle grade novel. Or are they reading The Magic Tree House? Those are chapter books!
You can't go by the age of the child…kids learn to read at different ages. Though, if pressed, I would say most chapter book readers are between ages 7 and 10. They're able to read and comprehend easy readers, but they maybe don't have the stamina to stick with a middle grade novel yet.
Chapter books tend to have spot illustrations, large type, lots of write space. Chapters are short. So are paragraphs. Sentences tend to be simple, but not too simple. Main characters are spunky and fun, and plots are fast-paced with lots of action. You don't see a lot of explanation and description in chapter books. Everything moves along at a good clip.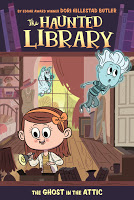 As for chapter book series, writing a chapter book series really isn't any different from writing any other series. For me, the biggest challenge to writing a series is I'm limited by what I've already written. I often get three books in and wish I'd established some key element to the series back in book one. But it's usually too late to go back and change book one. That can be frustrating.
What advice would you give to writers interested in creating a chapter book series of their own?
First, read some chapter book series. I don't think you can write one if you've never read one or if you haven't read one since you were a kid.
Read a bunch of them. Get a feel for chapter book characters, plot, and pacing. Get a feel for how series are put together. That will help you as you craft your own series.
Keep in mind that each book in a series should be a stand-alone story, but it should also advance the series arc. Create a series character and/or concept that's interesting enough to follow through multiple books. Readers like series because they connect with a character and want to follow that character into other adventures. Give yourself enough to work with.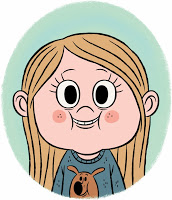 author portrait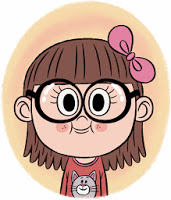 illustrator portrait
What are your thoughts on the cover art? How does it draw readers into your series?
I love the cover art! I'm usually pretty happy with the covers of my books, but these may be the best covers of any of my books. I think Aurore really captured the personalities of the ghosts and she makes the books look fun.
I'd pick these books up if they weren't already mine.