The Canadian Library Association/Association canadienne des bibliothèques has announced its winning title for the 2013 CLA Book of the Year for Children Award: The Reluctant Journal of Henry K. Larsen, by Susin Nielsen (Tundra Books). My Book of Life by Angel by Martine Leavitt (Groundwood, House of Anansi Press), is the winner of the 2013 CLA Book of the Year for Young Adults. The 2013 Amelia Frances Howard-Gibbon Illustrator's Award Winner is You are Stardust, illustrated by Soyeon Kimand and written by Elin Kelsey (Owlkids). Note: see links for honor books and more. Source: Cynsations Canada reporter Lena Coakley.
Drop Everything and Read Month by Uma Krishnaswami from Writing with a Broken Tusk. Peek: "…begun in honor of Beverly Cleary. Dropping everything to read seems like a call to action that anyone who cares about literacy and kids ought to get behind." Learn more about Drop Everything and Read Month.
"You Should Do a Book Trailer" by Keith Cronin from Sarah Pinneo at Query Tracker Blog. Peek: "Inspired, she wrote the words and melody in a single day, and I have to say, the song sounded great. And her inspiration was contagious: suddenly I had a rush of ideas for how the video could flow."
Poet
and children's author share Lieutenant Governor's Award for Literary Excellence: Lorna Crozier and Sarah Ellis named at BC Book Prizes Soiree by Mike Hager from Vancouver Sun. Peek: "Each will receive a $5,000 award from B.C. Lieutenant-Governor Judith Guichon at Victoria's Government House on May 4, at an event hosted by CBC broadcaster Grant Lawrence."
Interview with Independent Editor Harold Underdown by Jennifer Swanson from The Mixed-Up Files…of Middle Grade Authors. Peek: "Amazon seems to be growing in influence. The major trade publishers are discussing a merger. Some small presses are closing while others are opening. Editors who've worked for years developing wonderful children's books are leaving or being downsized."
Three Ways to Improve Your Author Website Today from Jane Friedman. Peek: "…your homepage may represent only 25-30% of new visits. The long tail of visits may be spread over dozens or hundreds of pages, especially if you have a blog."

Skip the Boring by Mindee Arnett from Adventures in YA & Children's Publishing. Peek: "If the scene doesn't aid in the development of two or more aspects of the story (e.g. character development, main plot development, subplot, development, etc.) then something is wrong."
2013 E.B. White Read-Aloud Awards from Waking Brain Cells. Note: from independent booksellers.
Author Insight: Personal-Professional Separation from Wastepaper Prose. Peek: "Do you feel a need to divorce your personal life from your writing career on social media, etc. or are they too difficult to separate?"
Cobbling Together an Income from Marion Dane Bauer. Peek: "Deciding to write a long novel when I can sell shorter, younger work is hardly practical. It may not even be wise. Longer means, inevitably, more time committed, and more time committed doesn't mean more income when the book is published."
Six Reasons to Attend a National Conference by Darcy Pattison from Fiction Notes. Peek: "This past weekend, I attended the National Science Teachers Association conference and it was a great way to meet my audience. Here are some specific things that I thought were a benefit of attending."
Infographic: How to Create a Book Trailer by Naomi Bates from YA Books & More.
Building Autism-Friendly Collections by Kiera Parrott from ALSC Blog. Peek: "Displaying books specific to identifying and characterizing autism is a great start. But to build truly autism-friendly collections that will be used and appreciated all year long, it is important to look for subjects that go beyond the basics and help support the physical, social, and emotional development of children with autism."
Should a Cliffhanger's Synopsis Hang, Too? by Deborah Halverson from DearEditor.com. Peek: "You'll have already pitched your full trilogy or series in your query letter; adding the hook here gives context for the thread you've left dangling in this synopsis."
Why Writers Need Boundaries by Kristi Holl from Writer's First Aid. Peek: "When you begin to set boundaries of any kind—and start defining who you are and what you stand for—there will be opposition from certain people. Not from everyone, but some." See also Kristi on Four Essential Types of Personal Boundaries for Writers.
Working on Multiple Projects by Elizabeth S. Craig from Mystery Writing Is Murder. Peek: "I know which question I'll be getting. "Do you work on all three series at once?'"
Five Dialogue Dilemmas to Avoid by Stina Lindenblatt from QueryTrackerBlog. Peek: "…scour your manuscript to ensure they don't exist."
Author Twitter Etiquette by Yahong Chi from Project Mayhem. Peek: "Don't clog up people's feeds. An overwhelming social media presence might just be worse than no social media presence."
Cynsational Giveaways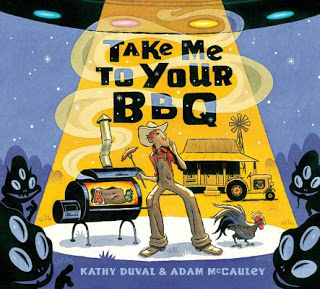 The winners of The Reluctant Journey of Henry K. Larsen by Susin Nielsen are Joy, Sandra, Andrea, Carl and Kristen.
Elsewhere on the Web, enter to win Mermaid Tales: The Lost Princess by Debbie Dadey (Simon & Schuster) from Noodling with Words. See also New Releases & Five Giveaways from Adventures in YA & Children's Publishing.
Congratulations to Teaching Authors on their fourth blogoversary! They're giving away four $25 gift certificates to Anderson's Bookshops, and Anderson's is offering the winners a 20 percent discount ("which will help defray the shipping costs if you're unable to redeem your gift certificate in person").
This Week at Cynsations
More Personally
Here comes the judge(s)! Guess who's on this list? Announcing Judges for the May Pitch +250 Contest from Adventures in YA & Children's Publishing. See also Contest Details.
Last Thursday, I had the honor of appearing with fellow Texas authors Chris Barton and Tim Tingle at a Reading Is Fundamental event at the LBJ Presidential Library and Museum in Austin.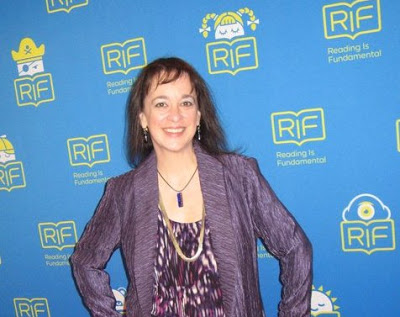 I love RIF!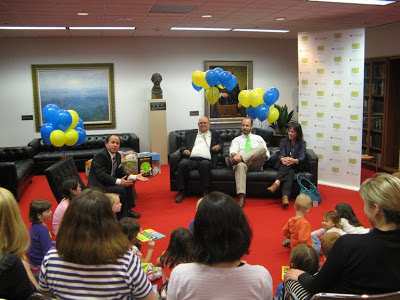 With Tim & Chris on the sofa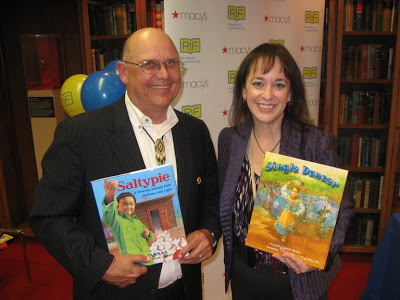 Tim models Saltypie (Cinco Puntos) & I model Jingle Dancer (Morrow/HarperCollins) from RIF's multicultural list.
More Personally
I'm honored to say that Greg Leitich Smith and I hosted Jenny and Chris's wedding at our home last Saturday.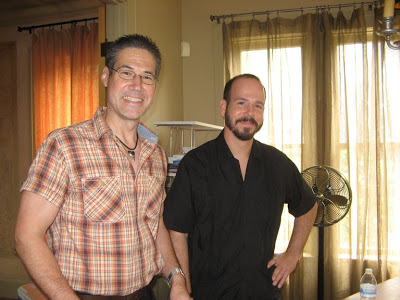 Greg and Chris before the guests arrive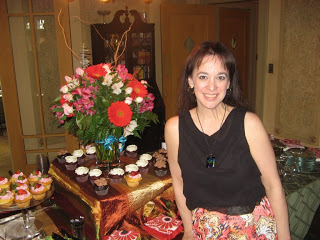 Here I am at the buffet table!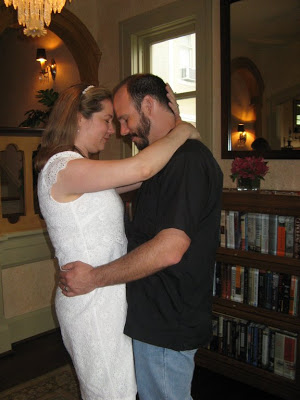 Many blessings to you both, Jenny & Chris!
Reflecting on Tragedy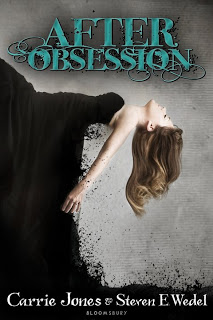 YA author Carrie Jones is brilliant and gentle and funny and formidable. She not only cares deeply about individuals and the world as a whole but also takes steps big and small to make it better. Really, she's adorable.
Carrie was at the Boston Marathon and witnessed much of what happened that day. She shares her experience in this post, Boston Marathon. Peek: "Their ultimate goal was suddenly gone, devastated by two bombs. Those of us who were there to watch, gave them our cell phones so they could call family members who were waiting for them. They were waiting for them right by the bombs. We gave the runners money so they could get on the T when it worked again. We gave them our coats."
To help the victims of the Boston Marathon tragedy, Jean Reidy, Tammi Sauer and Tara Lazar are auctioning off picture book manuscript critiques. Bid from now until 4/30/13. Proceeds will benefit One Fund Boston.
Personal Links
From Greg Leitich Smith
Cynsational Events
Celebration of Poison & Author Bridget Zinn: "Come to a celebration of Bridget Zinn's Poison at 7:30 p.m. April 19 at BookPeople in Austin. We're honored to be part of a nationwide series of events remembering
Bridget and celebrating her book and thrilled to welcome the following
local Austin authors to celebrate with us: Lindsey Lane; P.J. Hoover; Cory Putnam Oakes; Nikki Loftin; Susan Kralovansky; Greg Leitich Smith; Cynthia Leitich Smith. P.J. Hoover, Cory Putnam Oaks and Nikki Loftin will read an excerpt from Poison. Everyone will be available to sign copies of the book!"
Authors/Speakers at TLA 2013 from April 24 to April 27 in Fort Worth from the Texas Library Association. Look for Cynthia Leitich Smith's signing and Spirit of Texas High School author panel. See also the Itsy Bitsy Gallery to "take a chance on art at the TLA 2013 raffle" to benefit the Texas Library Disaster Relief Fund. Note: featuring an original illustration by Tom Shefelman from I, Vivali by Janice Shefelman (Eerdman's).
YA lit readers! Join Cynthia Leitich Smith at 6:30 p.m. May 25 at Round Rock Public Library.
Join Cynthia and Greg Leitich Smith at 11 a.m. June 11 at Lampasas (TX) Public Library.
Join authors Cynthia and Greg Leitich Smith, Nancy Werlin and ICM Partners literary agent Tina Wexler at a Whole Novel Workshop from Aug. 4 to Aug. 10, sponsored by the Highlights Foundation. Peek: "Our aim is to focus on a specific work in progress, moving a novel to the next level in preparation for submission to agents or publishers. Focused attention in an intimate setting makes this mentorship program one that guarantees significant progress." Special guests: Curtis Brown agent Sarah LaPolla, authors Bethany Hegedus and Amy Rose Capetta.