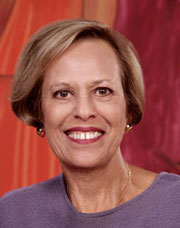 From the Mixed-up Files of Mrs. Basil E. Frankweiler was the story that taught me, as a child, that books could so convincingly take you to other places that you felt like you'd been there and that you'd been fundamentally changed by those experiences.
I met Elaine Konigsburg only once. It was at an SCBWI National Conference when she signed my copy of the novel.
I was a beginning children's writer in my late 20s, and it was the first conference I'd attended. I felt overwhelmed and starstruck. I went mute and teared up when I reached the front of the line. It surprised me, the strength of my reaction, and I felt like an idiot standing in front of someone I so admired and who'd never be such a dork. But she was gracious and answered my babble-fest of a question about why she went with her initials on her byline rather than her full name (so as not to alienate boy readers, she said).
In my newly purchased copy of Mixed-up Files (not the only one I own), she wrote: "Thank you for loving this book so much for so many years."
I'm the one who's grateful. I can only imagine how many times she scribbled that sentiment, or one very much like it, for readers who were starstruck, too.
From Publishers Weekly: "Esteemed children's author E.L. Konigsburg, a two-time winner of the Newbery Medal (From the Mixed-Up Files of Mrs. Basil E. Frankweiler, in 1968; The View from Saturday, in 1997) and the only writer to have received both the Newbery Medal and a Newbery Honor in the same year, died on Friday, April 19 at age 83."
From The Washington Post: "Her son Paul Konigsburg says the longtime Florida resident died Friday at a hospital in Falls Church, Va., where she'd been living for the past few years with another son. She had suffered a stroke a week before she died."
From The Huffington Post:
"Her first book, Jennifer, Hecate, MacBeth, William McKinley, and Me, Elizabeth, was also a Newbery honor book in 1968, making her the only
author to be a winner and runner-up in the same year."
From Houghton Mifflin Reading, her writing advice:
Finish. The difference between being a writer and being a person of talent is the discipline it takes to apply the seat of your pants to the seat of your chair and finish. Don't talk about doing it.
Do it. Finish.
From Children's Literature Network: "Reading A View from Saturday touched my heart. I had grown up with kids like this. The notion of an Academic Bowl was so appealing that I wanted to slip back to my childhood, go to that school, and be on the team. Elaine Lobl Konigsburg told stories about real children, kids that many of us could side with, laugh with, cry with, and not feel alone."
From NPR: "Konigsburg won two Newbery Medals, and actresses Ingrid Bergman and Lauren Bacall both played Mrs. Frankweiler — Bergman in a film called 'The Hideaways,' and Bacall in a TV movie."