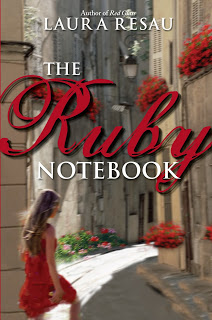 Congratulations to Laura Resau on the release of The Ruby Notebook (Delacorte, 2010)! From the promotional copy:
Sixteen-year-old Zeeta and her flighty English-teaching mom, Layla, have traveled the world together, settling in a different country every year, making a whole new set of friends and adopting new customs.
This year, they've chosen to live in Aix-en-Provence, France, an enchanting city full of fountains, creamy yellow light, and a fascinating group of scarlet-clad street performers.
Zeeta soon begins to receive mysterious notes and gifts from someone she calls her fantôme, or ghost. But she is expecting her boyfriend, Wendell – the love of her life, as her friends call him – to arrive in Aix for a summer program very soon.
Zeeta brushes off her curiosity about her fantôme, and her simmering attraction to one of the street performers, Jean-Claude, until Wendell arrives and she begins to fear that her feelings for him have truly changed. Perhaps – like Layla – she's simply not made for long-term romance.
As Zeeta tries to draw away from Wendell, however, circumstances seem to force them together. Zeeta's friendship with a local antiques dealer and his reclusive artist friend leads to a dangerous adventure. When Zeeta and Wendell join forces to find a secret underground spring whose water is rumored to bring immortality, they are forced to reconsider their own desires, and their beliefs about true love.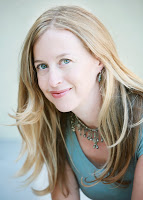 Yet as soon as Zeeta decides that her mind has cleared, she's confronted with the biggest shock of her life: the incredible true identity of her fantôme.
Vibrant, warmhearted, and evocative, The Ruby Notebook is a remarkable novel about learning to accept love in all of its wondrous and imperfect forms.
In a starred review, Kirkus Reviews says, "Weaving bits of magic, city lore and bittersweet romance into each of the many plot lines, Resau has again crafted a complex and satisfying novel that is both a mystery and a tender, wise meditation on love and self-identity."
Read an excerpt and learn about Laura's inspiration for the novel.
More News & Giveaways
Arrested Development? Young-at-heart Austin is home to a booming Young Adult literature scene by Melanie Haupt from The Austin Chronicle. Peek: "In many ways, the wedding of Victorian gothic to Austin's buzzing eclecticism within the context of Young Adult literature – itself a crazy amalgam of genres – is the perfect metaphor for the town itself. And it just so happens that Austin is a literary hotbed for the production and consumption of YA fiction. Austin and YA lit offer something for everyone, from dark, paranormal romances featuring werearmadillos to powerfully realistic portrayals of Southern racism during the Civil Rights movement."
I Got the Call! Um, Now What? by Jennifer Laughran from Jennifer Represents. Peek: "Let the other agents who are considering your work know that you have an offer. Give them a few days or a week to read and respond."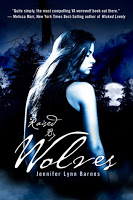 2010 Trends and Industry Predictions by Jennifer Lynn Barnes and Ally Carter from Jennifer. Peek: "High concept historical fiction might be poised to make a move if, like paranormal, it has a mix of commercial elements. From crime-fighting flappers to Austenian assassins, historical might be a very interesting place to be in 2011 and beyond."
Should You Post Your Writing Online? by Mary Kole from Kidlit.com. Peek: "Even though most editors and agents don't like to work with previously published material, whether posted online or self-published, a short sample on your blog may not be enough to put them off your project. (Careful, though, as individual policies here do vary greatly.)"
Listen. Listen. by Jane Lebak from QueryTracker.net Blog. Peek: "For Christmas or whatever holiday you celebrate, give yourself the gift of believing you have something important to say."
Triaging Rejection Pain by Laurie Halse Anderson from The Debutante Ball. Peek: "Maybe you say prayers, or light candles, or visit shrines like Mark Twain's house and leave small offerings of cigars and pots of ink. And then you wait."
For Better or Verse: Writing Short Fiction and Poetry by Elizabeth Barrette from John Gibbs at An Englishman in New Jersey. Peek: "First, when I get an idea, I have to decide what format suits it best. If the concept itself packs the most punch, then it usually winds up as poetry. If the development of process and detail carries the weight, then it turns into fiction."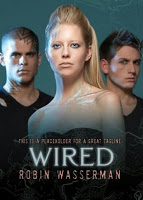 Interview with Robin Wasserman by Debbi Michiko Florence from One Writer's Journey. Peek: "…you just have to keep reminding yourself that you have no control over how a book is received by the world. The only part of the publishing process that writers actually have control over is the writing. And I've found that focusing on that makes for a much saner Robin."
Dealing with Rejection by Mary Kole from Kidlit.com. Peek: "…cast off your unsuccessful projects and work on something else. Focus on your craft. Plod along toward mastery."
A Case for Villains by Danyelle from QueryTracker.net Blog. Peek: "No villain=no conflict=no plot=no point."
Developing Your Writer's Intuition by Angela Ackerman from Adventures in Children's Publishing. Peek: "Trust your intuition and if you think there's a problem, get some fresh eyes and opinions. You only get one chance to impress, so send out your best."
Bibliography of 2011 Children's-YA Books By/About People of Color from Color Online.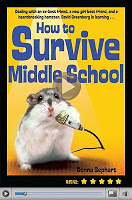 Mini Writing Conference — 6 1/2 Lists of Advice from Editors, Agents, Authors and a Really Cool Kid from Donna Gephart at Wild About Words.
SCBWI Team Blog Interview with Art Directory Lucy Ruth Cummins by Jaime from CocoaStomp. Peek: "Often if I'm totally 'in the zone' working on a book, I'll have a hard time checking out the moment the whistle blows. Really flowing with a project is such a wonderful feeling, and squandering that flow is something I try never to do."
Writers Links: Promotion: a round-up of ideas, tips, and resources from Children's & YA Lit Resources.
Cynsational Screening Room
In the video below, René Saldaña, Jr. reads A Good Long Way (Arte Publico, 2010).
New Blessed Interview & Giveaway
Chatting with Cynthia Leitich Smith & Blessed ARC Giveaway by Chris Eboch from The Spectacle. The full scoop on my YA Gothic fantasy series, how Stephen King scared me, the challenges of writing speculative fiction, connecting with a publisher, reaching readers, the sci-fi/fantasy world I'd want to live in, my favorite actors, and my feelings about Aquaman.
Comment for a chance to win an ARC of Blessed (Candlewick, Jan. 25, 2011)!
See also the Blessed media kit (PDF). See also Chris's blog Write Like a Pro! A Free Online Writing Workshop.
Cat Calls: Free E-book Release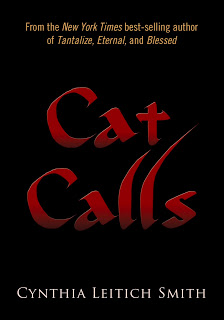 Cat Calls by Cynthia Leitich Smith (Candlewick, 2010) is now available for free as an e-book from Amazon.com!
As additional online retailers make the e-book available, I'll update you with that information.
"Cat Calls" was originally published as a short story in Sideshow: Ten Original Tales of Freaks, Illusionists and Other Matters Odd and Magical, edited by Deborah Noyes (Candlewick, 2009).
More Personally
I'm honored to be included among nominees for Writers Against Racism Person of the Year from Bowllan's Blog at School Library Journal.
Link of the Week: One of the Many Reasons I Love My Agent, Ginger Knowlton by Debbie Ridpath Ohi from Inkygirl.com: Daily Diversions for Writers. Note: Ginger is my agent too.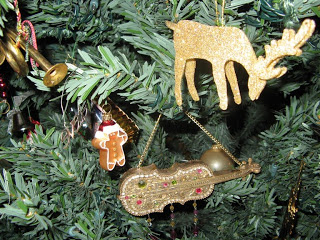 I'm spending this holiday in deadline mode, but here's a peek at the tree.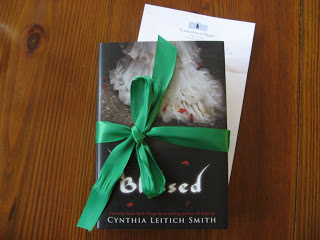 And here's my before-Christmas present from Santa Claus AKA my Candlewick editor, Deborah Wayshak–my first author's copy of Blessed (Candlewick, Jan. 25, 2011).
Giveaway Reminder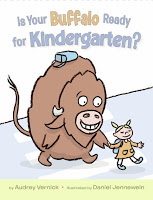 Enter to win a illustrator-autographed copy of Is Your Buffalo Ready for Kindergarten? by Audrey Vernick, illustrated by Daniel Jennewein (Balzer+Bray/HarperCollins, 2011)! The book will include a customized drawing–the winner can pick the buffalo's pose!
To enter, email me (scroll and click envelope) and type "Buffalo" in the subject line. Facebook, JacketFlap, MySpace, and Twitter readers are welcome to just privately message or comment me with the name in the header/post; I'll write you for contact information, if you win. Deadline: Dec. 31. Sponsored by the illustrator; world-wide entries.
Cynsational Events
Jessica Lee Anderson will speak on seven things she's learned through her publishing journey…using songs at the Austin SCBWI monthly meeting at 11 a.m. Jan. 15 at BookPeople in Austin. Read an interview with Jessica and P.J. Hoover.
Save the Date! Joint Launch Party: Blessed by Cynthia Leitich Smith (Candlewick) and Night School by Mari Mancusi (Berkley) book party and signing at 2 p.m. Jan. 29 at BookPeople in Austin. Read a guest post by Mari on Kids Don't Read Like They Used To…And That's a Good Thing (on connecting books to technology). Don't miss the Night School blog tour!
A Cacophony of Conference Contests from Austin SCBWI in conjunction with Books, Boots, and Buckskin, the chapter's regional conference on Feb. 18 and Feb. 19. Note: includes drawings for saved seats and both author/manuscript and illustrator/portfolio critiques.