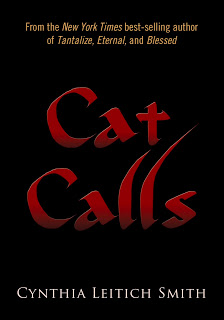 Cat Calls by Cynthia Leitich Smith (Candlewick, 2010) is now available for free as an e-book from Amazon.com!
Cat Calls is set in the Tantalize series universe and features entirely new characters. Here's a peek:
Tiffany's grandma sees something wild in her future — but is Tiffany prepared for the powerful shape it will take?
I'm what people call "a late bloomer."

This May, not long after my sixteenth birthday, I finally started my period for the first time and shifted from blah to bombshell overnight.

For me, it was a relief.

My mom, on the other hand, had a full-scale panic attack. Before you could say "Xanax," she packed me up and shipped me off to my grandmother, who at the time was predicting the future in Missouri off I-35.
Cynsational Notes
Tiff is claws-down the sassiest point-of-view character I've ever written, and this story radiates "animal" in a fierce, sexy, mind-bending kind of way.
Amazon.com tends to be the first online retailer to roll out new e-releases, but as the book becomes available at other outlets, I'll update you on that information. If you want it now, though, you should order here.
"Cat Calls" was originally published as a short story in Sideshow: Ten Original Tales of Freaks, Illusionists and Other Matters Odd and Magical, edited by Deborah Noyes (Candlewick, 2009).
It also will be featured at the back of the Blessed (Candlewick, Jan. 25, 2011) e-book.