short stories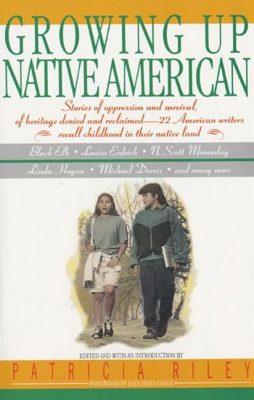 GROWING UP NATIVE AMERICAN: STORIES OF OPPRESSION AND SURVIVAL, OF HERITAGE DENIED AND RECLAIMED ' 22 AMERICAN WRITERS RECALL CHILDHOOD IN THEIR NATIVE LAND edited and with an introduction by Patricia Riley (Cherokee), foreword by Ines Hernandez (Nimipu/Mexican Indian) (Avon Books, 1993). Stories by some of the most talented voices in Native literature, including Louise Erdrich (Turtle Mountain Band of Chippewa) and Linda Hogan (Chickasaw). Ages 12-up.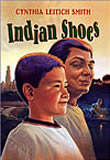 INDIAN SHOES by Cynthia Leitich Smith (Muscogee (Creek) (HarperCollins, 2002). Ray and Grampa Halfmoon face the challenges of daily life with love and humor in this collection of short stories set in Chicago and rural Oklahoma. Together, they encounter homesickness, bad hair cuts, mystery, artistic competition, and a wedding without proper pants for the ring bearer. Ages 7-up.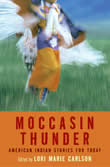 MOCCASIN THUNDER: AMERICAN INDIAN STORIES FOR TODAY edited by Lori Marie Carlson (HarperCollins, 2005). An anthology collection of short stories about contemporary Native American teenagers. Contributing authors: Joy Harjo; Sherman Alexie; Cynthia Leitich Smith; Richard Van Camp; Linda Hogan; Joseph Bruchac; Louise Erdrich; Susan Power; Greg Sarris; and Lee Francis. Ages 12-up. More on this title from Cynsations.
RISING VOICES: WRITINGS OF YOUNG NATIVE AMERICANS selected by Arlene Hirschfelder and Beverly R. Singer (Santa Clara Pueblo) (Ivy, 1993). Real words from real kids. Ages 8-up.
plays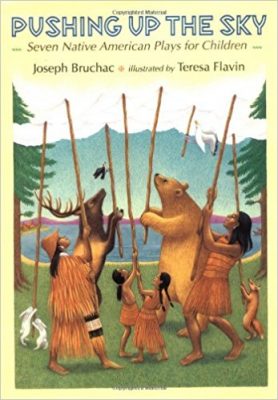 PUSHING UP THE SKY: SEVEN NATIVE AMERICAN PLAYS FOR CHILDREN by Joseph Bruchac (Abenaki), illustrated by Teresa Flavin (Dial, 2000). A collection of seven short plays for children based on traditional stories of the Abenaki, Algonquin and Ojibway, Cherokee, Cheyenne and Lakota, Cree, and Zuni (among others).