Cynsations Reporter Elisabeth Norton is at the Bologna Children's Book Fair this week, where she caught up with Sylvia Vardell. See their 2021 Cynsations interview about the International Board on Books for Young People (IBBY), and watch for Elisabeth's Bologna 2023 post later this spring.
Meanwhile, take a look back at her 2016 interview with SCBWI Bologna Illustration Gallery judge, Naomi Kojima.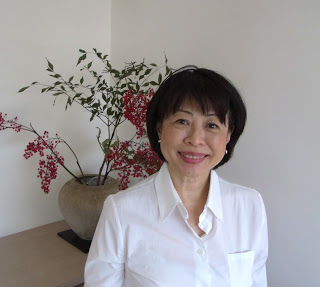 By Elisabeth Norton
for SCBWI Bologna 2016
and Cynthia Leitich Smith's Cynsations
Naomi Kojima is an author and illustrator of children's books. Born in Japan, Naomi has divided her life between Japan and the United States. Her first two picture books, Mr. and Mrs. Thief and The Flying Grandmother were published in New York. 
Since then, her books have been published in Japan, France, Sweden and Indonesia. 
Living and working in Tokyo, she is that author and illustrator of picture books The Alphabet Picture Book and The Singing Clams. She has been a keynote and presenter at major Asian conferences including the Asian Festival of Children's Content in Singapore and has given illustration and picture book workshops in India and Indonesia.
Naomi serves as the illustrator coordinator of SCBWI Japan.
Can you tell us about how you entered the field of illustrating children's books?
When I was a child, I wanted to become a writer of children's books and illustrate my stories. I went to the school library almost every day, and read and talked to the kind librarian until it was time to go home. I would look at the bookshelves and dream that someday, my books would be on these shelves, and a child like me would take them off the shelf, read it and enjoy it.
I made my first picture book for a class assignment during my senior year at Rhodes College in Memphis, Tenn. The story was based on my friend's next door neighbor. We were sure they were thieves!
I wrote the story, drew illustrations, stapled the pages, and called the picture book Mr. and Mrs. Thief. Making the picture book brought back my childhood dream.
I knew in my heart that I wanted to keep on writing and illustrating picture books. But I had no idea how to start on the path as a writer and illustrator of children's books. I went back to Japan after graduation, and worked as an art teacher.
Some years later, my husband and I moved to the U.S., to a college town in Massachusetts, and I met Jane Yolen. It was Jane who helped me start my career in children's books. I went to the monthly meetings Jane organized in a small library in Hatfield. The group was called the Society of Children's Book Writers, now the Society of Children's Books Writers and Illustrators.
By attending the meetings, I learned how to make picture books. I worked on Mr. and Mrs. Thief, and received critique at the monthly meetings. After several revisions, Jane told me that Mr. and Mrs. Thief was ready. I made five appointments with publishers in New York City, and the editor at the second publisher showed strong interest in Mr. and Mrs. Thief and another picture book dummy The Flying Grandmother. Three weeks later, she called and gave me a contract for both books.
It was Jane and SCBWI that helped me make my childhood dream come true. And do you know what? The library at my elementary school in Tokyo has a special shelf for my books!
How did you discover your illustration style?

My illustration style is influenced by the illustrations from the books I used to enjoy as a child. One book I liked was a collection of New Yorker cartoons. It was my parent's book, and I couldn't understand the captions and I didn't get the jokes, but I thought the black and white illustrations were so clever. I was amazed how much could be expressed in just black and white.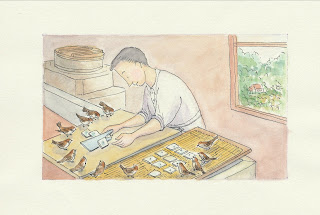 Many years later, I realized the illustrations were by Alice and Martin Provensen. That was a wonderful surprise!
During my school years in Japan, I was fascinated with the illustrations by E. H. Shepard in Winnie-the-Pooh; with Walter Trier, who illustrated many of Erich Kaster's books; with Edward Ardizzone in The Little Bookroom; and Pauline Baynes, who illustrated the Narnia books.
Naturally, I chose pen and ink and water colors for my illustrations.
Do you have a favorite artistic medium for your illustrations?

I like to work in pen and ink and water colors. I like the clear and black lines of pen and ink, and a light layer of water colors over the lines. I also use colored pencils. I like to combine soft and hard colored pencils.
I like to work in pencil too. The illustrations for Singing Shijimi Clams are done in pencil. I used a mechanical pencil to get a very fine and sharp line.
Has that changed over the course of your career?

No, it hasn't changed much. I experiment with markers and crayon, but I go back to pen and ink, pencil, water colors and colored pencils.
Do you illustrate your own stories, the stories of other writers, or both?

I illustrate my own picture book stories. I don't think I would illustrate someone else's picture book, but from time to time, I like illustrating long stories by other writers. As a child, I always looked forward to finding the illustrations in long stories. I think the combination of illustrations and words are beautiful, in picture books and in longer stories.
I have illustrated four stories by Japanese fantasy writer Sachiko Kashiwaba. The most recent book we worked on together is Princess Tapir's Classmate. Her stories usually have mythical beasts and animals, which is a challenge, but also fun to illustrate.
What are the differences and/or similarities in the creative process when illustrating your own or other people's stories?

The biggest difference is, if you are writing and illustrating your own story, you are responsible for everything: the content, the plot, the structure, the quality of writing and art.
When you illustrate other people's stories, your mission is to interpret the story, and make illustrations that represent and enhance the story.
The similarity is that you give your best to make a beautiful book.
Good illustrations have the power to draw you in instantly, and make you want to keep looking. The more you look, the more you see. It seems there are layers of things to look at.
It could be the movement of fine lines, the confident brush strokes, the subtle and rich colors, the careful details, the striking composition, the humor, the playfulness, the expression of the face or body that evokes a feeling, and reminds you of a place or time.
There are illustrations that are successful in catching your eye by using strong colors and composition, but when you look closely, you notice it is a dead end, that you cannot see or feel the artist, and you cannot go any deeper than the surface. Depth is an important quality in good illustrations.
The successful illustrator seems to know when to stop and when to add. This sense of balance, I believe, comes from training and experience, from many hours of drawing.
What are the benefits for illustrators from submitting their work to showcases such as BIG?

The biggest benefit for submitting to BIG is the opportunity of having your work displayed at the SCBWI Showcase at the 2016 Bologna Book Fair, where people in the children's book business from around the world will come to browse.
Another benefit is the digital version of the shortlist portfolio, where thumbnails of artwork and contact information will be on display on the SCBWI website. SCBWI continues to display portfolios from 2010. This is wonderful, as it gives illustrators from around the world an opportunity to show their work on a long-term basis. Many editors come to the SCBWI website to find illustrators.
As you can see from this shortlist, the quality of the illustrations were very high. The judging process required a lot of concentration and energy, but I enjoyed every moment of looking at the submissions.
I know it takes a bit of courage to submit work to illustration contests, but when you submit, you are taking a step forward and making a commitment to your career as an illustrator.
What qualities do you think are important for an artist to have in order to be successful in the field of illustration for children's books?

Good drawing skills, a love for children's books, determination, perseverance, patience, objectivity and believing in yourself. And if you want to be a picture book illustrator, read many, many picture books.
What is the one thing you wish someone had told you at the beginning of your career as an illustrator?

That life is much too short to make all the story ideas I have into picture books!
Thank you Naomi for your time! It's been a pleasure talking to you.

The Bologna 2016 Interview series was coordinated by Angela Cerrito, SCBWI's Assistant International Advisor and a Cynsational Reporter in Europe and beyond.
Cynsational Notes
Naomi Kojima is the author and illustrator of Tetsuko Puu -The Girl Who Turned Into a Balloon, and The Singing Clams, among many other picture books. Her picture books have been published in the U.S. and Japan, and have been translated in France, Sweden, and Indonesia. Her picture books have been selected for the American Institute of Graphic Arts Book Selection and the Bank Street College of Education Best Children's Books of the Year.
Naomi has given presentations at the Asian Festival of Children's Content (AFCC), Singapore, Bookaroo Festival of Children's Literature, India, and the Asia Oceania Regional IBBY Congress, Indonesia. She has served on the judging panel for the Scholastic Asia Picture Book Award, the Scholastic Asia Book Award and the SCBWI Bologna Illustrator's Gallery. Naomi lives in Tokyo and serves as Illustrator Coordinator of SCBWI Japan.
Originally from the U.S., Elisabeth Norton now lives with her family in Switzerland. She writes picture books, chapter books, middle grade novels and educational curriculum for young learners of English as a foreign language. She serves as the Assistant International Advisor for Outreach for the Society of Children's Book Writers & Illustrators (SCBWI).
You can find out more about her writing and involvement in the world of books for young readers on her website.