Happy New Year and welcome back to Cynsations!
We love bringing you upbeat and useful information and inspiration about the children's-YA literature community, writing, illustration, and publishing. And we are particularly excited about what we have lined up for you in the coming months.
As always, we will highlight new voices in picture books, chapter books, middle grade and YA, interviews and guest posts from some of the industry's guiding lights, and we'll continue to shine a light on those whose identities are underrepresented in the conversation of books.
I'm thrilled that our Cynsations team expanded in 2020 adding Suma Subramaniam, Bree Bender, Elisabeth Norton, and Rebecca Kirshenbaum. I hope you'll find that their contributions bring more depth and fresh perspectives.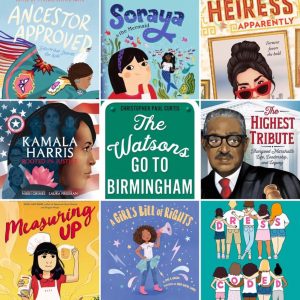 I am especially excited about recent Margaret A. Edwards Award winner Kekla Magoon's series (this week!) of guest posts. She'll be in conversation with Carole Boston Weatherford and Nikki Grimes.
I also can't wait to share the insightful interviews of Christopher Paul Curtis and Lauren Wolk with our readers.
And of course, Cynthia will be sharing some of her journey as a children's-YA author, writing teacher and the author-curator of Heartdrum, a Native-focused imprint at HarperCollins Children's Books. Look for interviews from Kim Rogers that will feature Heartdrum and other wonderful Native creatives.
As always, our emphasis continues to be on thoughtful dialogue with substantive takeaways for readers, writers, and the champions—teachers, librarians and booksellers—who share books with kids. In that pursuit, we center children's-YA writers and their creative journeys while embracing related perspectives.
Thanks so much for joining us! We hope that you'll find Cynsations a source of inspiration in this new year.
Cynsational Notes
Stephani Martinell Eaton holds an MFA in Writing for Children and Young Adults from Vermont College of Fine Arts, where she won the Candlewick Picture Book Award and the Marion Dane Bauer Award for middle-grade fiction. She is represented by Lori Steel at Raven Quill Literary Agency.
From children's author Kate Messner: "Teachers & librarians! To celebrate World Read Aloud Day, we've put together a video with 12 award-winning authors sharing five-minute read-alouds of their new & upcoming books! It's up now so you can bookmark to share with your readers on Wednesday! [Feb. 3]."