By A. Colleen Jones
for SCBWI Bologna 2018 and Cynthia Leitich Smith's Cynsations

Note: This interview is part of a series focusing on the Bologna Children's Book Fair.


SCBWI Ireland Regional Advisor A. Colleen Jones talks with the volunteer team behind the SCBWI Booth at the Book Fair.
The SCBWI Bologna team that plans, organizes, and executes everything necessary to have a booth at Bologna is comprised of many people, including Christopher Cheng (a Cynsations reporter), Kathleen Ahrens, Angela Cerrito (a Cynsations reporter), Dana Carey, Susan Eaddy, Sarah Baker, and Chelsea Confalone.
Chris, Susan, Sarah, and Dana were at the fair along with a handful of volunteers including Teacher/Librarian Bini Szacsvay, me, Elisabeth Norton (Regional Advisor, SCBWI Switzerland), Olga Reiff (Illustrator Coordinator, SCBWI Belgium & Luxembourg), and Ale Diaz Bouza (Regional Advisor, SCBWI Spain).
Special thanks also to illustrator David Liew (Regional Advisor, SCBWI Singapore) for being a funny, cheerful, and thoughtful presence at the booth.
To see our posts on social media, including Facebook, Twitter, and Instagram, our handle is: @SCBWIBologna. You can search for the following hashtags: #scbwibologna #BBF18SCBWI.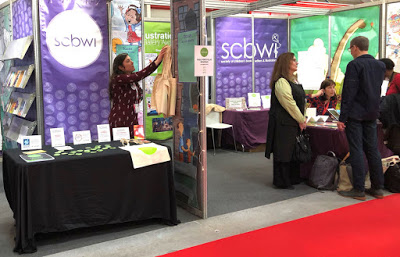 While many of our volunteers were book-fair veterans, Olga, Ale, and I were first-timers.
I was curious to compare experience with them and with Elisabeth on attending the book fair and volunteering in the booth. I asked some questions of all three volunteers. Where I asked a question of just one or two of them, I have included their name in the question.
How much preparation did you do for the fair? Did you bring your portfolio? Business cards?


I know Elisabeth lugged a lot of gear for the booth all the way from Switzerland on (was it) five trains!
Ale: Every year I try to begin with the preparations earlier than the last one. Most of the time, this means I begin with two or three months minimum, and every year when I come back home I think about preparing next year as soon as possible.
I think about improving my portfolio, new projects I would like to show to editors, about people I should like to meet, and promotional material I need to bring with me like postcards, business cards, badges, etc.
Olga: I had business cards and postcards, which I also used as a giveaway. But I would recommend bringing a small poster too, to hang on the illustrator's wall. I had a portfolio, which turned out to be too big. Next time, I will do a smaller and handier one.
Elisabeth in Switzerland
Elisabeth: You're right! It was five trains on the way there, but only three on the way home. My preparation for the fair took place in phases.
The first phase (November) was to find a place to stay and a roommate. The next phase started in February. I inventoried and restocked our booth supplies—everything from markers for the Duelling Illustrators contests to batteries for strings of lights that hung in the booth.
I had a "Bologna Pile" in a corner of the study for more than a month. I did bring my business cards, but not enough of them! My advice is to bring more cards than you think you will need, because you can always bring the extras back home.
Have you volunteered for the SCBWI booth before? What did you do as a volunteer?
Ale: This was my first year at the booth and it was a wonderful experience, very different with regard to other times that I attended the fair.
I helped with little things about promoting our organization, spoke to visitors in Spanish (that brings SCBWI a more international direction), helped members after their portfolio reviews, welcomed members to the booth, and so on.
Olga: It was my first time. During my service hours, I had the chance to explain the SCBWI's activities to young Russian illustrators and an editor from Slovakia. I did a short portfolio review for a young Italian illustrator who visited the booth. That was fun.
A member of my Belgium chapter came along, and we talked about our future activities in the region. I also helped set up an Indonesian colleague's showcase and took photos for her, and followed with some social media activity on Instagram.
Elisabeth, You have volunteered for the SCBWI booth before. How does this time compare to your previous experience of the fair? What did you do differently? What were your primary duties this time?
My primary responsibility this time, as before, was to greet the visitors to the booth. Some publishers or art directors who visit the booth are interested in one of the books that is on display. We talk to them and direct them to the contact and rights information for that title.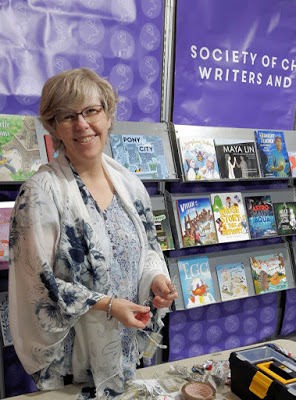 Elisabeth in the SCBWI booth
Many visitors to the booth are creators themselves, mostly illustrators, but a fair number of writers too. Some are members of the SCBWI and have stopped by to see the booth and chat about their experiences at the fair.
Others don't know about our organization, and this gives us the opportunity to explain how the SCBWI supports writers and illustrators at every stage of their career.
I always ask where the person is living. Often, they are in a region where I know their regional team. This means I can tell them a bit about the activities and meetups going on in their area.
I would say the difference between my experience at the fair this time versus the last time had less to do with what my responsibilities were (since they were essentially the same) and more to do with me feeling more comfortable.
The fair can be an overwhelming experience the first time you go! This time the logistics (where the booth is, where the bus stop is, how to get to/from the fair) were familiar, so I was able to focus more on other aspects of the fair.
What was your first impression when you arrived in Bologna? When you first arrived at the fair?
Ale: I feel the fair is more open to artists. I think the fair is expanding their programs for writers and translators, which is a very good thing.
Olga: I was surprised by the dimensions of the fair buildings.
Elisabeth: My first impression of Bologna was the oranges and reds and terracottas of the buildings, because this palette is so different from where I live. Then I was struck by how big the sculpture of Neptune in the famous fountain is. You don't get the sense of the scale in most of the photos.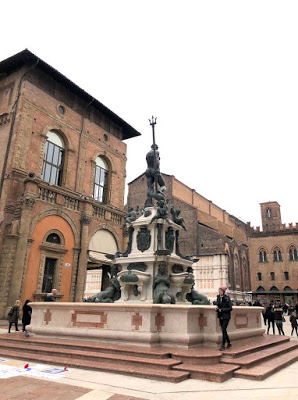 Neptune's Fountain in Bologna
My first impression of the fair was, like Neptune's statue, "This is bigger than I expected!" Each of the halls is huge, and there are four of them.
My next impression was People! There are so many people involved in this fair— both exhibitors and attendees. It is awe-inspiring to realize how many people around the world are focused on making quality books for young readers.
What were the top three things you liked best about the fair?
Ale: The fair is full of opportunities at different levels. You can have professional meetings, learn from trends you can see at different booths that in some way could inspire your work, and also meet and learn from wonderful creators at talks and master classes.
Olga: The fact of being part of the SCBWI and volunteering at the booth was the best part. The variety of exhibitions and conferences, the illustrations, the books. The beauty of Bologna downtown.
Elisabeth: In reverse order—
3. How organized it is. (What can I say, I live in Switzerland. I have a highly developed appreciation for a well-organized public event.)
2. The chance to browse publications on display at the exhibitor booths. It's like the children's section of the world's largest library!
1. The people. The ones you meet who come by the booth, and the ones you work with. I've met so many amazing people through the SCBWI, and working at the booth over a period of several days really gives you the chance to get to know them.
What was one thing you would like to see changed or improved about the fair?
Ale: The corners for writers and illustrators are now great, full of activities and talks. But I think they could grow to become very strong meeting points and a community for sharing much more about the industry.
Olga: It is a huge fair and some things were a bit difficult for me as for many others (food, toilets, crowded halls). I didn't know that the entry is only for professionals. My parents wanted to meet me at my showcase, and they couldn't enter the fair. Perhaps the organizers could put a warning about that on their Internet site? Or is this clear to anybody except me?
Elisabeth: I'm not sure I can think of anything! They do a pretty amazing job of organizing that many exhibitors and visitors.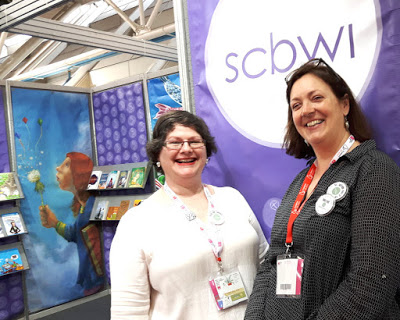 Colleen and Olga at the SCBWI booth
What are your thoughts on the value of attending the fair as an illustrator?
Ale: In some ways, the fair is like a massive bookstore, full of books from all around the world, where you can see trends all together. This could be a great way to know where your path is, taking inspiration from other artists' works, and give you clues about knocking at the right publishing house's door.
Olga: I had some difficulties to get back on my feet and continue my work after seeing the impressive quality and quantity of illustrations at the fair. On the other hand, I understood that there is a market for nearly every style, and that I just have to know what I want and be more consistent with what I do, and to improve the way I do it.
Some editors I spoke to said that my style is too soft, and I took this as very helpful feedback to improve the contrast and variety of value in my illustrations. Perhaps the German market is not the right one for my style.
Elisabeth, What are your thoughts on the value of attending the fair as a writer?
Some writers who attend the fair have appointments or engagements that have been arranged by their editors or agents.
For other writers, I would say it depends on the programs on offer (this can be viewed online). An illustrator might attend the fair on multiple days in order to take advantage of portfolio review opportunities with publishers, whereas a writer might find that a one- or two-day visit is enough to get a sense of what the fair is about and attend any programs of interest.
Ale and Olga, how easy or difficult was it to show your portfolio to prospective clients at the fair?
Ale: As an illustrator, it is not so difficult, because publishing houses are giving more portfolio reviews every year. The difficult thing is to know how spend your time wisely, because you can lose very valuable time in a queue where your work doesn't fit. But on the other hand, very good feedback about your work is always valuable.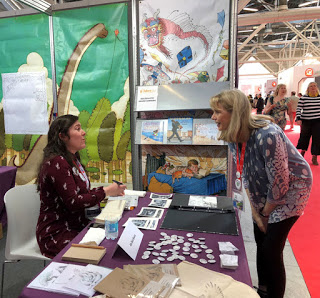 Ale shows her portfolio.
Olga: It was easy to find out when the German editors had their open portfolio hours just by checking every day and writing it down in my notebook. It was more difficult to decide which of them I should choose, depending on their books. I didn't manage to do more than five in two days.
Unfortunately, I didn't manage to speak to any U.K. editors. My schedule was too full.
Ale, you designed and printed up notebooks with samples of your Spanish members' work. What was it like for you to go around giving those notebooks as gifts to publishers and agents?
Since the first time I went to Bologna, I thought about doing a specific collective promotion for the fair. A couple of years ago, we decided to commission a handmade book by a local artisan to give as a SCBWI Spain gift to editors and agents. It was a successful effort, so we keep doing it.
We have a very good team that helps to deliver the notebooks at the fair, and we always receive a very good response.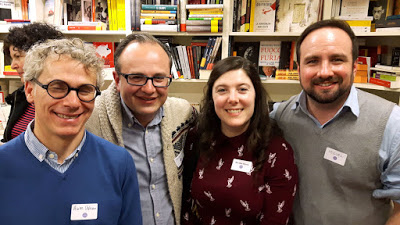 Axier Uzkudun, César López, Ale Diaz Bouza and Miguel Ángel Rodríguez, the SCBWI team from Spain.
Elisabeth, did you make any professional contacts at the fair?
I always try to at least say hello to some of the Swiss publishers and illustration agencies that are at the fair. That said, I find that it's easier to network with them in a more meaningful way when we're not at the fair. I'm mindful of the fact that they have a different focus during that week—the marketing and acquisition of book rights and seeking fresh illustration talent.
Ale and Olga, what did you think about your illustrator showcase? What did you get from that experience?
Ale: I must confess, I wasn't sure about my showcase at home, when I was planning it. But now I think it was a wonderful opportunity to show my work.
Doing live painting and drawing was fantastic. I had the chance to share ideas with people that came to the booth. I could also promote my illustrated products and portfolio works.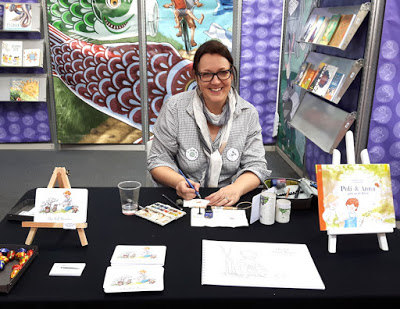 Olga doing live painting during her showcase.
Olga: I was happy to talk to people who walked by, and I was glad they liked my postcards. I did a live watercolour painting session, too. I think the experience of seeing other people's showcases was very valuable. I was very inspired by their work and presentations.
Elisabeth, what was your favourite SCBWI booth event? Why?
I love the illustrator showcases! Many of them were painting or drawing while they attended their display, others had portfolio slideshows on tablets. I love watching artists work. Then when I see an illustration that they've done for a book, I have more insight into how that illustration was created.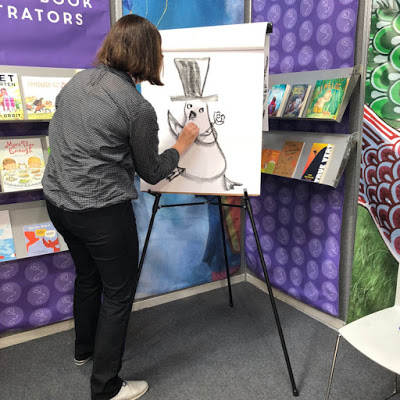 Olga during the Duelling Illustrators event.
Olga, what did you think about participating in the Duelling Illustrators event? What did you like best and least about it?
I was glad I could do it, and it was really fun to duel with David Liew, who is a lovely person! I will bring more charcoal next time!
I also loved watching Paul O. Zelinsky and John Shelley's duel.
I guess it would be very difficult to organize, but it would be nice to have feedback about the duel—like the pros in football do after the play, to see what has been done and what could be improved.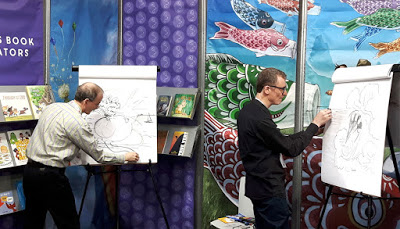 Duelling illustrators Paul O. Zelinsky and John Shelley
Can you sum up in a few sentences your overall impressions and experiences of volunteering at the Bologna Children's Book Fair?
Ale: Bologna Children's Book Fair is a must for the book industry professionals. Every year is full of new opportunities, and you can plan your trip based on your professional goals for your career.
If you don´t want to miss anything, have a good plan for each day before you arrive at the fair, so you can be at the right place at the right time. Planning and saving time for yourself is necessary.
Being part of the SCBWI team at the booth gave me a different and interesting perspective of the fair. The most important thing for me was sharing time and valuable experiences with the other members.
Finally, Bologna is a lovely and very comfortable city. There are lots of activities outside of the fair that you don´t want to miss: sightseeing, dinners out, and our funny SCBWI party at a lovely book shop.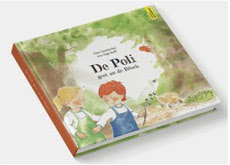 Olga's first picture book in Luxembourgish, De Poli geet an de Bësch,
will be published by Editions Guy Binsfeld in fall 2018.
Olga: It was the best part of being at the fair. Belonging to this community made me very happy, and I was glad I could help. I was impressed by the work of the Bologna team who prepared all this! I was glad to be able to talk to people I knew and feel at home.
Elisabeth: I love volunteering at the SCBWI Booth at Bologna. I love the contact with the people, both the booth visitors and the people I work with at the booth.
It's also exciting to be able to promote the work of our illustrators and writers through the books on display, the Bologna Illustration Gallery (BIG) that hangs in the booth, and the Duelling Illustrators drawing based on the manuscript contest winners.
One of my favourite things about being at the fair doesn't actually happen at the fair—going out to dinner! While in Bologna, I had the chance to have dinner with the SCBWI members from France, Ireland, Spain, Michigan, Australia, and Singapore.
I love talking with people from around the world about their activities in their region, the projects that they're working on, and their experiences at the fair. That's why in my list of "Top 3 Things," "people" was number one.
Thank you all for sharing your thoughts and experiences of Bologna Children's Book Fair 2018!
Cynsational Notes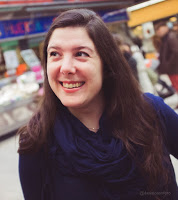 Ale Diaz Bouza spent most of her childhood in Galicia, Spain inside books and secret worlds.
She draws and writes about them all the time. Music, astronomy and cinema (animation) also become her passion. Out of her desire to learn, and to find stories hidden in the stars, Ale studied Physics at the University Santiago de Compostela, at Galicia, Spain.
Later, she embarked on a course in children's illustration and changed her vocation, so she settled in Madrid to study Illustration, Creative Writing, and Graphic Design.
Currently she's immersed in personal projects, like her own line of illustrated products, and is the volunteer Regional Advisor for the Spanish chapter of the SCBWI. Find her on social media: @alediazbouza (Facebook, Behance, Instagram, Pintrest and Twitter.)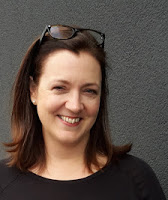 Currently based in Luxembourg, Olga Reiff was born in Austria, and has a master's degree in translation, French, and Russian from Innsbruck University.
After she got married, Olga mainly worked as a freelance translator, loving books passionately, keeping in touch with kidlit through her four children. But then Olga felt that she needed more creativity in her life, so she quit her job and started taking art and illustration classes, read nearly everything about picture-book making, and began to write stories for children—both in German and Luxembourgish.
Finally, Olga started to write and illustrate her first picture book—a story about a kindergarten boy who tries to get along with his best friend, a little girl. For her illustrations, which she does at her workspace at home, Olga uses ink and nib pen and colours her work with light layers of watercolour. Olga found an editor in Luxembourg, and publication of her book is scheduled for fall 2018.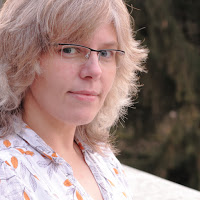 Elisabeth Norton grew up in Alaska, lived for many years in Texas, and after a brief sojourn in England, she now lives with her family between the Alps and the Jura in Switzerland.
Elisabeth writes for a variety of ages and reading levels, including picture books, chapter books, and middle grade books. She serves as the Regional Advisor for the Swiss chapter of the SCBWI.
When not writing, she can be found walking the dogs, playing board games, and spending time with family and friends.
A. Colleen Jones is Canadian, but has lived in Ireland since 2005. She is involved in the children's literature community in both Canada and Ireland.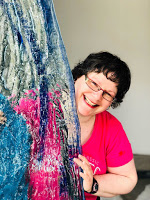 Colleen is the current SCBWI Regional Advisor for Ireland and Northern Ireland, a member of the Canadian Children's Book Centre, Children's Books Ireland and Ibby Ireland, and was the "Social Media Beast" for the SCBWI Bologna team for 2018.
She also volunteers for Fighting Words Cork, which provides creative writing tutoring to groups of both younger children and teens. She is focusing on a younger middle grade novel at the moment while honing her writing skills.
Colleen is not averse to offers of dark chocolate and Sicilian pistachio gelato. Find her on Twitter @acolleenjones