Most people in the children's literature community are familiar with picture book biographies, but did you know that there's a second major category of nonfiction picture books?
It's time to shine some light on concept picture books.
A concept picture book explores an abstract idea or process, and in many cases, offers a unique perspective or new way of seeing things.
This approach works well for authors interested in focusing on patterns and cycles in the natural world, animal behavior and adaptations, and math concepts.
Picture book biographies have a narrative writing style and a chronological sequence structure.
In contrast, concept books usually employ an expository writing style. And they can feature any of the six major text structures now being taught in most schools (description, sequence, compare & contrast, question & answer, cause & effect, problem & solution).
Sometimes they make clever use of a unique text structure that perfectly matches the book's topic.
Here are some examples:
In most cases, a picture book biography has a third-person point of view, and the voice is either lively or lyrical, depending on the subject's personality. Once again, concept picture books offer greater diversity.
The voice can fall anywhere along the lively-to-lyrical continuum.
The point of view can vary, too. Plenty of concept books have a second-person point of view, and a few recent titles boldly employ a first-person point of view. One of my favorites is The Most Amazing Creature in the Sea by Brenda Z. Guiberson, illustrated by Gennady Spirin (Henry Holt, 2015).
With so many choices, how do writers narrow their options? It isn't easy.
What it comes down to for me is finding the best possible way to delight as well as inform young readers. Once I stumble upon the special bit of magic that allows me to accomplish this goal, I take out my writer's toolbox and start tinkering.
I consider various text structures and writing styles. I think about voice and point of view and the best way to use language devices. Then I plunge into the writing and see where the ideas swirling in my head take me.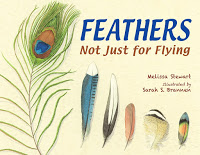 For Feathers: Not Just for Flying (illustrated by Sarah Brannen) (Charlesbridge, 2014), I crafted a lyrical voice that I hoped would awaken the young reader's sense of wonder.
The strong compare-and-contrast text structure assists children in making connections among the sixteen different examples in the book.
For Can an Aardvark Bark?, illustrated by Steve Jenkins (Beach Lane/Simon & Schuster, June 13, 2017), I took a different approach.
The book features an intriguing title, fabulous illustrations by the uber-talented Steve Jenkins, and an interactive question-and-answer text structure that makes it perfect for read alouds.
Secondary text supports and expands on the book's main ideas, allowing readers to thoroughly explore how and why animals use sounds to communicate their thoughts and feelings.
If you're interested in gaining a deeper understanding of concept picture books, I encourage you to read and analyze a broad range of the books listed above, considering (1) what makes them special and (2) what tools the authors employed as they crafted the texts.