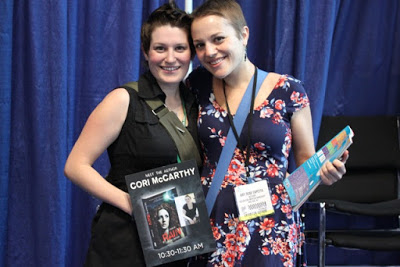 Rainbow Boxes co-founders Cori & Amy Rose
In 2015, it seemed like there was a slowly growing list of excellent YA books with central LGBTQ main characters–but there were clearly still barriers making it difficult for readers, especially teen readers, to find them.
Fellow YA author Cori McCarthy* and I created Rainbow Boxes to help bridge that gap, to directly connect LGBTQ YA to young readers.
We raised funds that allowed us to send a box of fifteen YA titles to LGBTQ centers and community libraries in all 50 states.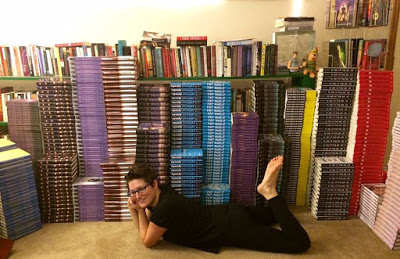 Rainbow Boxes co-founder Cori McCarthy in our living room–with hundreds of LGBTQ books!
Then 2016 happened.
Looking forward at the beginning of this year, I saw new LGBTQ YA titles everywhere–seemingly more in a single year than we had seen in the past five put together.
Looking back now, while the publishing landscape has indeed changed in 2016, so has the world.**
When I first talked to Cynthia Leitich Smith about this blog series, I hoped it would be a celebration of great LGBTQ YA: a call to uplift the excellent books that are being published while we continue to work for a wider range of stories and representation.
Now this series feels more urgently important than ever. In the coming years, LGBTQ people, especially young ones, will need stories. They will need adventure and friendship and truth and love, messiness and beauty, fluff and darkness, a place to see their humanity fully explored, even as other people seek to deny it.
Straight and cisgendered people need these stories, too. Without them, there will be no truthful narratives that push against the limited, distorted, and stereotyped portrayals of the past.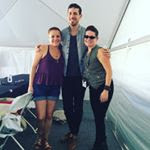 Amy Rose, Adam & Cori
The work is underway. Minds and hearts are changing. LGBTQ teenagers are brave and amazing. But there is still so much we can do. I'd like to start by waving my rainbow flag as hard as I can to celebrate some of the wonderful successes in LGBTQ YA.
Books about gay teenage boys have increasingly been enjoying mainstream success levels. Some of the breakouts include New York Times bestselling More Happy Than Not by Adam Silvera (Soho Teen, 2015), named as "mandatory reading" and selected as an Editor's Choice by the NYT.
David Levithan's many books about gay teenagers, which have been published for over a decade, are considered a YA staple.
Wildly popular Simon Vs. The Homo Sapiens Agenda by Becky Albertalli (Balzer + Bray, 2015) won the coveted Morris Award for debut authors.
Books about queer girls have not enjoyed the same levels of visibility, but there are signs that might be changing. In 2016, Anna-Marie McLemore's When the Moon Was Ours (Thomas Dunne/St. Martin's Griffin, 2016) was long-listed for National Book Award, Emily M. Danforth's The Miseducation of Cameron Post (Balzer + Bray, 2012) was announced as an upcoming movie adaptation, and Marieke Nijkamp's This is Where it Ends (Sourcebooks, 2016) hit #1 on the NYT bestseller list–and stayed on the list week after week.
I asked Marieke: how does it feel to have a #1 NYT bestselling title featuring queer girl main characters? What does it mean for you as a writer? As a queer person? She said:
"It means the world to me. One of the reasons why I started writing was to give a voice and stories to readers who struggled to find themselves in books.
"Like I did, growing up. And as it is, nothing fills my heart more than hearing from those exact readers, who recognize themselves–if only a little–in TIWIE.
"Of course I hoped and dreamed my stories would resonate, but to hear those reactions and to see this queer book of mine do so well…
"It's far beyond even my wildest dreams. It's out of this world. I'm so incredibly grateful for it, and I hope I can pay it forward."
I talked to Anna-Marie McLemore about how she sees the field changing. Her first book, The Weight of Feathers, came out last fall. Her second book, When The Moon Was Ours, features a queer girl and trans boy as main characters, and people of color compose the main casts of both books. She said:
"I have a lot of hope for the future of inclusive literature. We still have a long way to go, but thanks to the conversations taking place, many of them fostered by leaders like those of We Need Diverse Books, we're moving forward."
I asked the same question to Malinda Lo, a well-known author in the LGBTQ community, whose books include Huntress (Little, Brown, 2011) and Adaptation (Little, Brown, 2012). She said:
"When my first novel, Ash (Little, Brown), was published in 2009, very little YA was published that included queer characters who did not have to struggle with coming out. This has changed significantly in the last seven years.
"This change certainly wasn't driven only by my books, because other authors had also been moving in this direction, but I think my books did contribute to the growing normalization of queer characters in YA.
"In other words, you can have a queer character in a book, but it doesn't always have to be about being queer. It can be about falling in love, or saving a kingdom, or simply coming of age, with sexual orientation one issue of many that a character engages with.
"I am really encouraged by this, because the struggle for LGBT rights and acceptance does not end with coming out; it begins there. We can only be full human beings when the whole of our lives and experiences count."
This was a common refrain when I talked to authors. There will always be a place for coming out stories, and a need for excellent books that struggle with the varied and changing realities of coming out. (I'd love to see more books that deal with the fact that coming out isn't always a binary experience dividing life neatly into "before" and "after".)
But focusing on coming out as the only important narrative results in a limited literature that reduces LGBTQ people to a single experience.
I asked Kekla Magoon, author of 37 Things I Love (in No Particular Order)(Henry Holt, 2012) what she's excited about in the field and how she sees it changing.
"It's exciting to contribute to the growing offering of books that deal with sexuality in big and small ways while intersecting with other storylines and multiple layers of character development.
"Around the time I sold 37 Things I Love (2010) and the time it came out (2012), people had begun talking about the need for more books that dealt with LGBTQ characters doing things other than coming out, and the need for books that showed LGBTQ characters of color.
"The need still exists for those books, but it seems as though the conversation has intensified, and is beginning to result in changes. There are more LGBTQ books now than there used to be, and that the door to the industry is cracking open even further now, as we collectively deepen our understanding of identity and intersectionality."
When I asked Corinne Duyvis, author of Otherbound (Amulet, 2014), what she's excited about in LGBTQ YA, she said:
"I'm very excited to be seeing more #ownvoices*** books hit the shelves. The more the better!
"After all, no two people's experiences are the same. The more different voices we have, the more we can show the wealth and breadth of experiences of queer characters–and the less pressure there is on individual authors to 'speak for' queer YA.
"They can just be honest about that one character's experiences instead of being put into the position of representing an entire group.

"I would very much like to see more trans representation both on the pages and behind the scenes. There are still a lot of experiences out there that aren't being written about very much, whether in terms of trans identity or the various angles of intersectionality.
"It's essential that we listen, that we actively seek out and welcome trans voices, and that we do whatever we can to make the industry–and the world–more trans-friendly."
2015-16 saw the publication of a small number of #ownvoices books about trans characters–such as If I Was Your Girl by Meredith Russo (Flatrion) and George by Alex Gino (Scholastic) in the middle grade category.
Lizard Radio by Pat Schmatz (Candlewick) is an excellent sci-fi novel about a nonbinary character.
There is still such a long way to go. Trans characters are consistently underrepresented in LGBTQ fiction.
While celebrating how far LGBTQ YA has come, it's important that we pay attention to areas where representation is seriously lagging. Almost every single person I interviewed for this blog series cited the need for more #ownvoices trans YA.
Vee Signorelli, the co-founder of The Gay YA, is currently running Trans Awareness Week. Please check out their work, starting with this post.
When I asked Vee about the delights and challenges of running a site that covers LGBTQ YA, they said:
"I've gotten to connect with other literary trans people. That… has meant so much to me. The literary community loves to herald any one trans person as the one and only, when in fact, there are many of us here, and that is unhelpfully isolating.
"There is something amazing about creating, theorizing, and working things through in community. Especially when you're all part of such a marginalized identity that has been used and misrepresented, in culture, and in YA. There's so much you're able to reclaim.

"One of the absolute delights is how wonderful, strong, and vibrant the entire community is. Sometimes I get up in my head about the administration work, and I start freaking out about everything I have to do… and then I put something out to the community, like a call for submissions or volunteers, or opinions on a certain book, or anything and they are just there.
"I'm repeatedly amazed by everything the community does to keep this going."
Community is one of the most important words we can keep in mind, and foster moving forward.
Whether you're a reader, a librarian, a teacher, a writer, a member of the publishing industry, a bookseller, there are things that all of us can do to keep this surge in LGBTQ YA going strong. And we can all work to make the YA book community a truly inclusive space.
One of the most obvious and wonderful is to enjoy and share the great books that are being published, so I want to leave you today with recommendations for new and upcoming books from Dahlia Adler, who runs LGBTQ Reads, and Vee Signorelli of The Gay YA.
These two websites are some of the most helpful resources and positive spaces for LGBTQ fiction, and I would greatly encourage anyone who doesn't already check them out regularly to do so. (After adding these books to your TBR, of course.)
Dahlia said:
"I'm really, really into Jaye Robin Brown's Georgia Peaches and Other Forbidden Fruit (HarperTeen, 2016). I think it does a really beautiful job with queerness and religion, and it's also just fun and cute and sexy and everything you want f/f YA to be.
"Anna-Marie McLemore's When the Moon Was Ours is not only remarkably beautiful in itself and its style, but in its representations of sexual orientation and gender identity and intersectionality.
"And for some books I think are just great that center queer characters but not queerness, check out Labyrinth Lost by Zoraida Córdova (Sourcebooks, 2016), A Darkly Beating Heart by Lindsay Smith (Roaring Brook, 2016), As I Descended by Robin Talley (HarperTeen, 2016), and Last Seen Leaving by Caleb Roehrig  (Feiwel & Friends, 2016).
"One I haven't read but am super excited about is Not Your Sidekick by C.B. Lee (Duet, 2016) – it sounds like so much fun.

"Beyond 2016, I can already definitely recommend History is All You Left Me by Adam Silvera (Soho Teen), How to Make a Wish by Ashley Herring Blake (Houghton Mifflin Harcourt), and The Gentleman's Guide to Vice and Virtue by Mackenzi Lee (Katherine Tegen, 2017) — I loved all of them and I'm positive many readers will too!"
Vee said:
"Queens of Geek by Jenn Wilde (Swoon) and Meg & Linus by Hanna Nowinksi (Swoon) are two of my new all time favorite books. I'm also psyched to read Dreadnought by April Daniels (Diversion)(an #ownvoices YA featuring a trans girl), Little & Lion by Brandy Colbert (Little, Brown), 27 Hours by Tristina Wright (Entangled Teen), and It's Not Like It's a Secret by Misa Sugiura (HarperTeen)."
This post is the first in a four-part series. Please come back for part two–I'll be talking about LGBTQ YA genre fiction!
Notes from Amy Rose

Rainbow Boxes co-founders and YA authors Cori McCarthy and Amy Rose Capetta
*Yes, Cori McCarthy is also my girlfriend. Thank you for scrolling all the way down here to confirm this happy fact.
**Please note that all interviews were given before November, which means all answers are reflective of a pre-election cultural landscape.
***If you're not familiar with the term/hashtag "#ownvoices," please check out #ownvoices, where Corinne Duyvis, who coined the term, explains what it means.
Cynsational Notes
Amy Rose Capetta is the author of three YA novels: Entangled and Unmade, a space duet (both Houghton Mifflin Harcourt), and Echo After Echo (Candlewick, 2017), a queer love story wrapped in a murder mystery and set on Broadway.
She is on the writing team for the second season of Remade, a YA sci-fi thriller from SerialBox, and works with writers on their novels through Yellow Bird Editors (with a special interest in genre fiction and LGBTQ fiction of all kinds!)
She is the co-founder of Rainbow Boxes (@rainbowboxesya), and holds an MFA in Writing for Children and Young Adults from Vermont College of Fine Arts.
Amy Rose lives and writes in Michigan with her girlfriend Cori McCarthy, who is also a YA author, and their five-year-old, who wants to be a wizard.