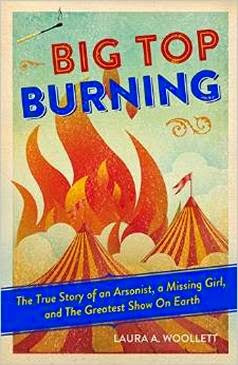 Laura A. Woollett is the first-time author of Big Top Burning: The True Story of an Arsonist, a Missing Girl, and The Greatest Show On Earth (Chicago Review Press, 2015). From the promtional copy:
Big Top Burning investigates the 1944 Hartford circus fire and invites readers to take part in a critical evaluation of the evidence


The fire broke out at 2:40 p.m. Thousands of men, women, and children were crowded under Ringling Brothers and Barnum & Bailey's big top watching the Flying Wallendas begin their death-defying high-wire act. Suddenly someone screamed "Fire!" and the panic began.
By 2:50 the tent had burned to the ground. Not everyone had made it out alive.


With primary source documents and survivor interviews, Big Top Burning recounts the true story of the 1944 Hartford circus fire—one of the worst fire disasters in U.S. history.
Its remarkable characters include Robert Segee, a 15-year-old circus roustabout and known pyromaniac, and the Cook children, Donald, Eleanor, and Edward, who were in the audience when the circus tent caught fire.
Guiding readers through the investigations of the mysteries that make this moment in history so fascinating, this book asks: Was the unidentified body of a little girl nicknamed "Little Miss 1565" Eleanor Cook? Was the fire itself an act of arson—and did Robert Segee set it?
Big Top Burning combines a gripping disaster story, an ongoing detective and forensics saga, and World War II–era American history, inviting middle-grades readers to take part in a critical evaluation of the evidence and draw their own conclusions.
How did you approach the research process for your story? What resources did you turn to? What roadblocks did you run into? How did you overcome them? What was your greatest coup, and how did it inform your manuscript?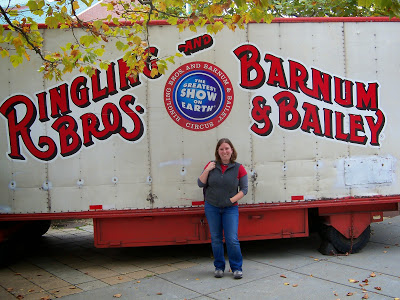 Laura at the circus
When I wrote the first draft of Big Top Burning, a nonfiction account of the 1944 Hartford circus fire, I had only dipped a toe into the giant pool of research that was to inform the final book.
I began the project in graduate school as an independent study in writing nonfiction for young people. That summer, I researched and wrote the entire first draft!
Of course, this was before I was married, before I owned a house, and before I had a child. My research consisted of reading the three (at the time) nonfiction books for adults on the subject, and reading every newspaper article on the fire from 1944 to date that I could find – mostly from the "Hartford Courant" and the now defunct "Hartford Times."
The best thing I did was to interview a few survivors of the fire. They'd been children at the time and were so gracious in sharing the stories of their narrow escapes.
The interviews were gold. However, the newspaper articles, while primary sources, often held inaccurate information. The disaster happened quickly, and as reporters rushed to get information to the public, all sorts of false information found its way into their stories. And the adult books were secondary sources. I needed to form my own conclusions about the tragedy and the mysteries that surrounded it.
Then in 2009, I won the SCBWI Work In Progress grant for nonfiction, and that gave me the inspiration to keep going and to dig deeper. I used the money to travel to Hartford where I discovered the extensive circus fire archives at the Connecticut State Library. I spent several weekends at the library, diving into boxes of police records and witness statements, looking at crime scene photos, and even listening to a tape-recorded interview with the suspected arsonist, Robert Segee.
I'd be immersed for five hours at a time, and when I left I was exhausted, hungry (no food allowed in the archives area), and feeling victorious every time. I truly felt like a detective, collecting the clues to form a complete picture of the events that happened at the circus that day. Thank goodness for the librarians who collected and cataloged boxes and boxes of materials on the circus fire. It's really due to them that authors like me are able to write such complete accounts of the tragedy.
As I continued to revise and send my manuscript to various agents and publishers, I interviewed more survivors. Interestingly, they seemed to appear wherever I went.
At the Boston Public Library, a gentleman who saw my research materials spread out on a table stopped to tell me his tale of survival. When my father was recovering from heart surgery at Hartford Hospital, he discovered his roommate was a survivor. My high school chemistry teacher (who always told us to keep our backpacks out of the aisles) shows up in one of the photos in my book. And I was able to interview my fifth grade teacher, who had been in the hospital having his tonsils out when they brought the first burn victims in.
I feel honored to be entrusted with their stories and proud to have written a book that will pass on the story of the Hartford circus fire to future generations.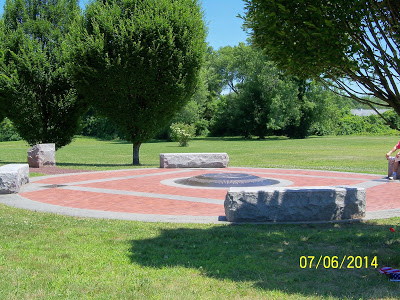 Memorial to the Hartford circus fire victims, built on the former circus grounds. The bronze medallion indicates the location of the center pole of the big top tent.
How did you go about identifying your editor? Did you meet him/her at a conference? Did you read an interview with him/her? Were you impressed by books he/she has edited?
When I sent out my manuscript on submission, I had done my research. (I'm a member of SCBWI after all!) I began by querying agents who represented nonfiction authors, and I looked specifically at those who had worked with narrative nonfiction for older readers. I got some great feedback but no takers.
I turned to querying editors directly, trying all my contacts through writer friends and through SCBWI. Still lots of lovely rejections.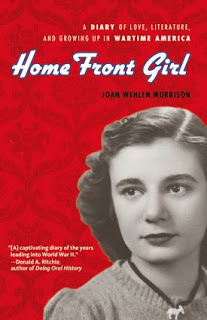 But I had my eyes open. I snoop in the backs of books to find out the names of the author's agent and editors, which are often listed in the acknowledgements. I read quite a few blogs about writing and books for kids and always make note of agents or editors who publish work similar to mine, or work I think I'd like to write in the future.
It was on Cynsations that I found a New Voices post by editor Susan Signe Morrison, who with author Joan Wehlen Morrison, wrote Home Front Girl (Chicago Review Press, 2012), a diary of everyday life of an American girl growing up in the years leading up to WWII.
Because the book was for an older audience, nonfiction, and about the same era as mine, I thought I'd query her acquiring editor, Lisa Reardon at Chicago Review Press.
Two months after my query, Lisa sent me an offer letter.
After this experience I truly believe that if you write a good book, you will find a home for it—you just have to keep your eyes open and stay persistent. I wrote the first draft of Big Top Burning in the summer of 2005 and just a mere ten years later, I'm incredibly proud of its debut in 2015!
Cynsational Notes
For more information on the Hartford circus fire, visit circus fire historian, Mike Skidgell.