One of the things I've noticed my graduate creative writing students struggling with is where exactly to start in a book.
I've had two students fill up the first 40 pages of their novels with excruciating back-story details involving family history, blood-lines, place of birth, and so on.
Another one began her book with a five-year-old protagonist relaying her ideas on life, which might have worked if any of her musings had eventually found their way into her adult life. (They did not.)
The truth is, it is a very difficult process to figure out where in your character's life you should start telling his or her story. But it's not impossible.
Here are a few pointers that have helped me navigate this process in my own writing:
1. Don't ever start at the beginning. Unless you're writing a memoir, starting out with your character as a kid and then following them up through the teen years and into adulthood is not only boring, it's missing the point of writing good fiction.
Most people don't read books to learn how other people navigate their entire lives; they read books to learn how others navigate a certain part of their lives. The hell of eighth grade perhaps, or a loveless marriage. Don't cheat your readers by weighing down enormous life experiences such as these other unnecessary ones.
Start right at the crux of things, where the details are the ugliest. The truest. Your readers will trust you right away.
2. Back off the back-story. Even if writers don't start at the beginning of their characters lives, a lot of them still seem to think that they have to get into all their messy histories, as if apologizing beforehand for all the coming mistakes he or she is going to make.
Don't fall into that sandpit. Not only will your reader get bored by all the unnecessary details, your story will stop dead in its tracks, which is certain death for both the reader and the writer.
That's not to say of course, that you don't need some back-story. Every character needs a little fleshing out when it comes to their pasts. But insert that kind of information sporadically, here and there in little fits and starts, especially when things come up in the present that remind the character of the past.
3. Write big. Right away.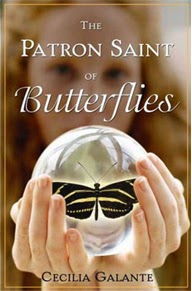 All I knew, when I sat down to write my first book, The Patron Saint of Butterflies (Bloomsbury, 2009), was that I had a scene in my head that had to be put on paper. The scene involved a little boy whose finger was accidentally amputated in a door.
I could see this scene in my head. I could feel it. Taste it. I wrote it out in two days, flush with detail, pulsing with life. And from that scene, the next one came. And then the next, until, a year or so later, the book was finished.
But the finger amputation scene did not end up being the beginning of the book. In fact, it ended up being somewhere in the middle. But because I'd pulled up the anchor and started somewhere, the ship had been allowed to set sail.
Don't get bogged down by the details of starting. Just start. And if you're like me, start with something big. Something exciting. Something that makes you want to get back into the chair every morning and keep writing.
And one day, maybe much sooner than you think, you might find yourself climbing up on that deck to see something that looks very much like the end in the not so distant shore.