David Zeltser is the first-time author of Lug, Dawn Of The Ice Age: How One Small Boy Saved Our Big, Dumb Species (Egmont, 2014). From the promotional copy:
In Lug's Stone Age clan, a caveboy becomes a caveman by catching a jungle llama and riding it against the rival Boar Rider clan in the Big Game.
The thing is, Lug has a forbidden, secret art cave and would rather paint than smash skulls. Because Lug is different, his clan's Big Man is out to get him, he's got a pair of bullies on his case—oh, and the Ice Age is coming.


When Lug is banished from the clan for failing to catch a jungle llama, he's forced to team up with Stony, a silent Neanderthal with a very expressive unibrow, and Echo (a Boar Rider girl!).
In a world experiencing some serious global cooling, these misfits must protect their feuding clans from the impending freeze and a particularly unpleasant pride of migrating saber-toothed tigers.
It's no help that the elders are cavemen who can't seem to get the concept of climate change through their thick skulls.


Could you tell us the story of "the call" or "the email" when you found out that your book had sold? How did you react? How did you celebrate?
On Friday, December 7, 2012, I got an international call. It was my agent, Catherine Drayton, in Sydney, Australia. She told me that Lug: Dawn of the Ice Age and a sequel was going to be published. I started sobbing–which felt strange, embarrassing, joyful and cathartic all at once.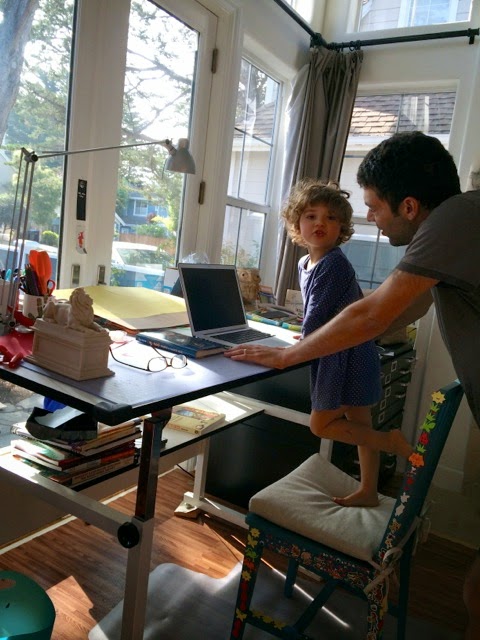 My daughter was two at the time, so I remember feeling especially happy that she might read the books one day. After the call–thinking I was all cried out–I called my wife. I immediately started bawling. Then I called my parents . . . you get the idea.
We celebrated by going out for dinner. I have no idea where or what we ate, but I'm sure there was dessert involved and that it tasted especially sweet that night.
One of the best memories I do have–my mother-in-law emailed me to say: "Congratulations! Don't let it go to your head."
She's from Scotland.
As a comedic writer, how do you decide what's funny?
I have a giant stuffed iguana named Pedro next to my computer. I've noticed that whenever I write something funny, Pedro winks at me and whispers "Bueno."
What advice do you have for those interested in either writing comedies or books with a substantial amount of humor in them?
I wouldn't advise setting out to write in any particular genre or style. I think the key thing is to find a story and characters you love, and then to try various approaches and see what reads best.
Lug started out in third person but–on the advice of the wonderful Deborah Halverson–ended up in first person. It was just more fun to read that way.
More importantly, I would make sure you love the process of creating stories more than anything else. If it's not your true calling, do the thing you love more.
Be completely honest with yourself–are you doing this more for the love of storytelling, or to 'become an author' one day? Are you genuinely enjoying what you're writing? If the answer is 'kinda,' chances are that's how other people will feel too.
Finally, find writer/reader friends and show them your stories. Listen, learn, and rewrite. Put your story away for a while and look at it again fresh. Then, rinse and repeat. Since you usually only have one shot with a manuscript, only go out to agents after you've gone through this process a few times.
Having said all that, I think the funniest books aren't too focused on the funny. They're compelling stories with interesting characters who happen to be in comic situations. We're not going to laugh much if we don't care about the characters or the story.
Personally, my favorite kind of humor is situational. I like building scenes so that the humor comes from what's happening to the characters, rather than from the author commenting on what's happening.
If that's not enough unwanted advice, I recommend The Complete Guide to the Care and Training of the Writer in Your Life.
Cynsational Notes
David Zeltser emigrated from the Soviet Union as a child, graduated from Harvard, and has worked with all kinds of wild animals, including rhinos, owls, sharks, and ad executives. He has a forthcoming picture book, Ninja Baby, with Caldecott Honor illustrator Diane Goode (Chronicle Books). David lives with his wife and daughter in Santa Cruz, California. He performs improv comedy and loves meeting readers of all ages. His second book about Lug is scheduled to publish in Fall 2015. Follow David on Twitter: @davidzeltser