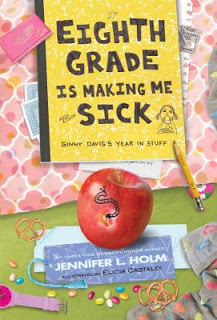 Happy Halloween! Enter to win one of two signed copies of Eighth Grade Is Making Me Sick by Jennifer L. Holm, illustrated by Elicia Castaldi (Random House, 2012). From the promotional copy:
Ginny has big plans for eighth grade. She's going to try out for cheerleading, join Virtual Vampire Vixens, and maybe even fall in love.
But middle school is more of a roller-coaster ride than Ginny could have ever predicted.
Filled with Post-its, journal entries, grocery lists, hand-drawn comic strips, report cards, IMs, notes, and more, Eighth Grade Is Making Me Sick is the sometimes poignant, often hilarious, always relatable look at a year in the life of one girl, told entirely through her stuff.
Author sponsored. Eligibility: U.S.
Cynsational Notes
In Eighth Grade Is Making Me Sick, Ginnny's book reading includes Eternal by Cynthia Leitich Smith (Candlewick/Walker Books, 2007, 2008)–see below–and Rain Is Not My Indian Name by Cynthia Leitich Smith (HarperCollins, 2001). Gasp! Swoon!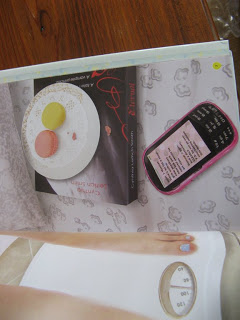 Peeking at the cover of Eternal in the book.